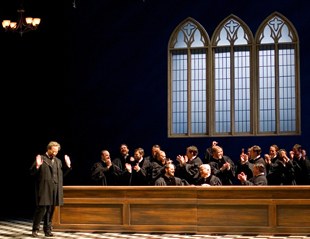 Taking Grammys for the Best Engineered Album, Classical and Best Contemporary Classical Composition categories, Elmer Gantry is a new American opera based on Sinclair Lewis' satirical novel from 1927. The sound, however, is all 21st century…
The stunning recording is the work of the Korean Soundmirror (사운드 미러) team – Byeong-Joon Hwang and John Newton were the session team responsible, with Lewis creating the Grammy-winning master. Soundmirror's producer on the sessions, Blanton Alspaugh, was also nominated in the Producer of the Year, Classical category.
Along with librettist was Hershel Garfein, Robert Aldridge began working on the score in 1990. Elmer Gantry follows the adventures of a fraudulent, womanising evangelist. Elmer, a small-town football hero with the gift of gab, falls in love with and becomes business manager for a beautiful traveling evangelist, Sharon Falconer. He helps her realise her dream of building a magnificent tabernacle before his misdeeds bring ruin to them both.
The music for Elmer Gantry places traditional operatic forms – arias, duets and large ensembles – into a boldly American, vernacular, and 'roots'-based musical language. Original hymns and gospel choruses help to tell this quintessentially American story of religion, love and corruption.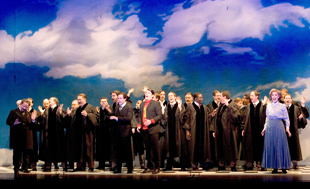 The Opera was given its first complete performance by the Nashville Opera in November 2007. The recording was made on 19 and 21 March 2011 at the Marcus Center for the Performing Arts in Milwaukee. It was conducted from the pit by William Boggs and the performance was directed by John Hoomes, with its release following in July – and being listed by Opera News as one of the top ten opera recordings of the year.
The recordings were made and postproduced on Merging Technologies' Pyramix DAW system.
'Pyramix is really the only solution for us,' Soundmirror's John Newton says. 'It just sounds way better than any other digital recorder and what is great is we can deliver clients masters in the best quality PCM or DSD.
'We are really excited about the Horus Networked Audio convertor,' he adds. 'This is going to be perfect for the way we work and the ability to control the units remotely will be ideal for this type of recording.'
Return to Sound for the 2012 Grammys
More: www.soundmirror.co.kr
More: www.merging.com