The 54th Grammys marked the first use of DiGiCo mixing desks at the prestigious awards ceremony.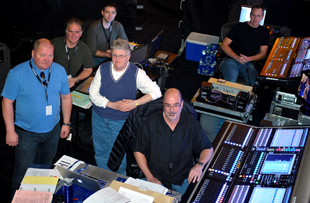 Specified by longtime show production partner ATK AudioTek, a combination of five DiGiCo SD10 consoles along with one of the larger format SD7s handled FOH and monitor duties. This provided a total of 400-plus I/Os and 256 mic preamps – distributed between six SD Racks and used by four engineers in three locations within the Los Angeles Staples Center arena.
The system was connected using a versatile Optocore fiber-optic network, which made it possible for the consoles to tie together and provided a digital signal path from mic preamps to amplifiers. Additionally, the Optocore network cut the wiring down to two runs of fibre per console. (See audio network schematic drawing...)
'The show's producers continue to raise the bar in broadcast entertainment year after year and we needed to follow suit with the technology,' says Mikael Stewart, ATK production mixer and VP of Special Events. 'By using the best and most advanced tools, we guarantee the highest fidelity for every performance. The sonic quality of the DiGiCo consoles was one of the biggest assets this year, in addition to the Optocore infrastructure that allowed complete flexibility and accessibility.'
Selection of the DiGiCo consoles began several years ago – Stewart and audio consultant Jeff Peterson were instrumental in the decision to go with DiGiCo.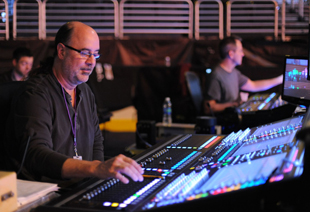 Peterson designed the show's PA and console system and acted as systems engineer during the event, with assistance from audio consultant Andrew 'Fletch' Fletcher. Ron Reaves was at FOH on an SD7 mixing all the musical performances alongside with Mikael Stewart, who handled all the non-music production assets on an SD10. Onstage (right and left respectively), Tom Pesa and Mike Parker handled monitor mixes for the artists on both performance stages on a pair of SD10s with an additional two serving as backups.
Both monitor mix positions had an identical setup of two DiGiCo SD10s operating in a master and mirrored relationship. Thomas Pesa handled all wedge and in ear mixing for stage right and found the SD10 to have a very intuitive layout for monitor mixing.
'We used the Madi output from the FOH DiGiCo consoles into the Optocore system so our two fibre networks were completely isolated that way,' Peterson explains. 'The Madi signals were carried over Optocore to the speaker processors and on to the amplifiers. It allowed me to instantly switch between the production console and the music console in the event of a failure and continue on with little interruption…. But that wasn't necessary, as the consoles performed flawlessly.'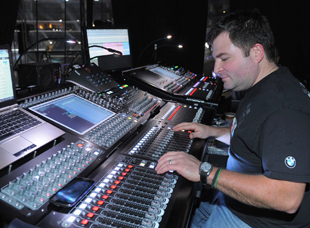 'As FOH music mixer, I'm the only console that sees every band, as we have two monitor guys, and two broadcast mixers,' Reaves says. 'This required that I land 168 lines from the stage – 56 pair mults, one from the A stage, one from the B stage, and the C desk has all of the performance and "production" mics (award stuff) — as well as all of the tape playbacks from the truck, effects returns, etc. This was actually the second show that I'd used the SD7 on. I did the BET Honors show before going to the Grammys, and before that, DiGiCo arranged an SD7 to be sent to my house for five days, which was invaluable as it allowed me to have about 30 hours of programming/practice time on the surface and a big advantage in terms of familiarity with the control surface once I got to the show.'
Reaves relied solely on the built-in effects on the SD7: 'I had a vocal plate, a vocal doubler, a short slap echo, a long echo, plus two or three others that I used on instruments, for a total of eight effects in my console template,' he reveals. 'I was particularly fond of the dynamic EQ, which I came to realise was a "must have" for vocals. I got some of the best vocal sounds I've ever gotten, using this console. Also the tube drive emulator was very cool. I used it a couple of times — Joe Walsh's guitar on the Paul McCartney 'My Valentine' ballad comes to mind — to warm things up a little. It rounded off edgier sounds nicely.'

'We shied away from extensive Waves use,' Stewart adds, 'mostly for noise reduction on the production side. One of the key elements was the flexibility of the Optocore system in allowing us to send signals between consoles, to access any mic at any time, as well as to create paths among the consoles. In particular, on the Beach Boys performance, there were three bands onstage, which required two monitor engineers to mix, and with the Optocore and DiGiCo setup, the consoles were able to tie together seamlessly and create audio paths that allowed them to share inputs and mixes and make something that had 110 inputs within one band happen effortlessly.'
'There was a noticeable difference in how the system sounded this year and the comments and compliments came from touring and recording engineers alike,' Peterson says, 'It's not that the sound was bad in previous years by any means, but the overall intelligibility and the quality of the audio was noticeable. There was detail that we had never heard before, which we attributed to the addition of the DiGiCo consoles.'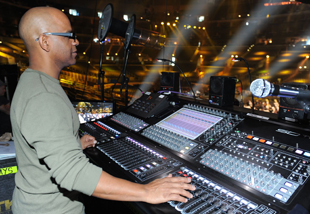 'Between upgrading from copper wire to the Optocore network, and for me, switching to the SD7, there was a night-and-day kind of difference in the sonic quality of this year's show,' Reaves says. 'I don't want to trash the previous console that we used as it served us well for nine years on the Grammys, but there's no comparison, and everyone — from the NARAS members, to the guest mixers, and of course, all of the audio crew, noticed an immediate difference. The SD7 sounds very much like the old English consoles that a lot of us of a certain age grew up learning to mix on, and sounds very smooth, and "expensive".'
'The sonic quality of the SD10 was a leap forward for sure,' adds Pesa. 'I am not one to say that a console sounds this way or that way or is warm or fat. I think a console should be fairly transparent and represent clearly the source of the input. The DiGiCo just seems to have an enormous amount of headroom. Listening to inputs, flat and before any EQ or dynamics, there is a great amount of character to what you are listening to. It is very breathy and extended in both low frequencies and highs, and doesn't sound tight or constricted as though some detail is being lost in the conversion. To the contrary, it sounds brilliant and full. There is very minimal gain changing to get an input to 'open up' or sound good. You can fine-tune the gain to suit your fader throw and mix output levels so they remain familiar to you, but you don't find yourself changing gain to just make things sound different.'
Front of House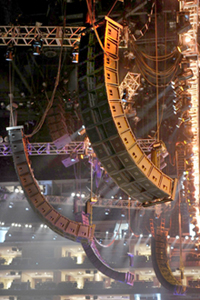 Harman Professional audio components also played their part in the live sound reinforcement system, the main PA system comprising four arrays of 12 JBL VerTec VT4889 full-size line array elements, plus two arrays of six VT4880A fullsize arrayable subwoofers each. An additional 12 VRX932 Constant Curvature loudspeakers were used for front fill.
The Staples Center also features a newly installed JBL VerTec line array system, which ATK Audiotek used in addition to the temporary components. The Staples Center system features eight arrays each comprising between 11 and 13 JBL VT4889DP-DA powered line array elements, plus two fill clusters each of four VT4889DP-DA elements, which are specially positioned to cover the end seating areas. The system also uses four subwoofer arrays, each containing six VT4880A full-size arrayable subwoofers.
'Providing live sound for the Grammy Awards is always a unique challenge, given the variety of performers and elaborate productions,' says ATK Audiotek General Manager, Brett Valasek. 'VerTec line arrays consistently perform well for us and our system, combined with the new in-house PA system at the Staples Center, provided the necessary coverage and output to deliver high-quality sound to the live audience.'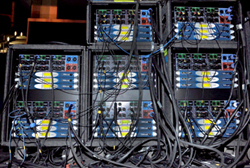 The Grammy's system required more than 140 Powersoft K10 amplifiers to drive the four main arrays plus subs, front fills, delays and monitors. Although not required this year, in past years, flown barges were used to position the amplifiers close to the delay speakers flown high in the roof of the Staples Center. 'Obviously there's a weight limitation, so when you go from a 60lb amplifier to a 26lb amplifier it makes a huge difference,' says ATK system design engineer, Kirk Powell.
ATK has standardised on the Digam K10, using its versatility, compact and lightweight form factor and efficiency to streamline system design, warehousing, transportation and set-up. 'The amps have made everything more efficient for us, from inventory management to trucking to system management and power management,' adds Valasek. Standardising on the K10 has been a very efficient way of managing inventory from start to finish, on projects, from the Super Bowl to the Grammys and the Academy Awards.'
Mics on stage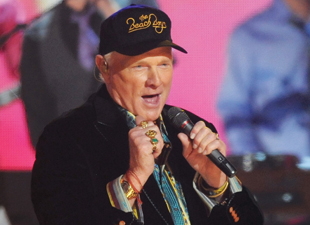 For both the live show and its broadcast, Audio-Technica supplied more than 250 microphones, including hard-wired mics and Artist Elite 5000 Series UHF Wireless Systems. This brings A-T's Grammy run to 15 consecutive years.
Artists who performed throughout the evening using Audio-Technica's Artist Elite 5000 Series UHF Wireless System included A-T endorser Jason Aldean and The Beach Boys. Aldean performed using wireless AEW-T6100 handheld transmitters for his lead vocals, and The Beach Boys used a combination of AEW-T5400 cardioid condenser mic/transmitters and AEW-T6100 units for their vocals.
The backline mic complement of A-T wired microphones included additional AE5400s for backing vocals, horns and rotary speaker cabinets (high and low); ATM350 cardioid condenser clip-cn mic for strings; AE5100 cardioid condenser instrument mic for hi-hat and ride cymbal; AT4050 multi-pattern condenser mic for overheads; and AT4081 Phantom-powered bidirectional ribbon mics and additional AT4050s for guitar cabinets.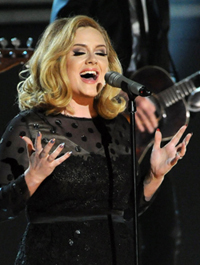 The most anticipated performance of the evening saw Adele perform 'Rolling in the Deep' with a nickel-finish Sennheiser SKM 2000-XP wireless handheld transmitter and MMK 965-1 capsule. 'We started using it just after the Brit Awards last year and she's loved it ever since,' says Dave McDonald, Adele's front-of-house engineer. 'Ninety-nine-point-nine percent of the equipment we use is Sennheiser – and the point-one percent is Neumann.'
The Foo Fighters swept the rock category, winning awards for Rock Song and Rock Performance, Rock Album, Hard Rock/Metal Performance and Best Long Form Music Video. The band played twice during the broadcast, performing 'Walk' from a tent on Nokia Plaza, adjacent to the Staples Center, then returning to play 'Rope' during the electronic dance music segment with David Guetta, Chris Brown, Lil' Wayne, and deadmau5. Frontman Dave Grohl made use of his usual Sennheiser MD 431 II vocal mic on both songs.
'That microphone is so unbelievably flat in the high-end, and incredibly stable with moisture and temperature,' says Ian Beveridge, Foo Fighters' long-time monitor engineer. 'We used to have terrible instability problems with other microphones, and I was going through maybe four, five or six microphones a show with Dave. Now, I keep the 431 for the whole show. I can't remember the last time there was any feedback during Foo Fighters' show. And these Grammy performances were no exception.'
Bruno Mars, meanwhile, used an SKM 2000-XP with MMD 945-1 capsule, while host LL Cool J made use of an SKM 5200. Alicia Keys sang a duet with Bonnie Raitt in memory of Etta James through a SKM 5200-II vocal mic with MD 5235 capsule and Katy Perry performed 'Part of Me' with her SKM 5200-II/MD 5235 combination. Tony Bennett, in a duet with Carrie Underwood on 'It Had to be You' also used an SKM 5200-II.
ATK Audiotek miked all three pianos on stage with three AKG C414 microphones each. The pianos were featured in multiple performances including those from Diana Krall, Jennifer Hudson and Alicia Keys. Rusty Anderson, who played guitar during Paul McCartney's performance, used an AKG DMS700 digital wireless system in his guitar set-up, while Chris Brown used a Crown CM311 mic for vocals.
Broadcast mobiles
Following the success of last year's event, remote facilities company M3 was in the hot seat for the 5.1 music audio broadcast on CBS-TV.
The New Jersey/California-based company rolled in its Eclipse and Horizon trucks, with Music Mixers John Harris and Eric Schilling, and M3 Engineer-in-Charge Joel Singer on hand to ensure the quality of the audio.
Critical listening was performed on Genelec 8200 Series Active DSP Monitoring Systems, comprising 8250A Bi-Amplified Active DSP Monitors (in an LCR array) and 8240A Bi-Amplified Active DSP Monitors (LR rear), along with 7260A Active DSP Subwoofers in M3's Eclipse truck for the live music mix, as well as in the mirrored system in the Horizon offline remix truck.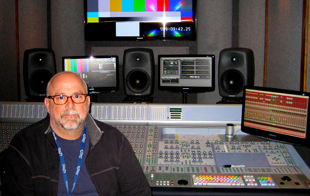 The team responsible for the audio at this year's Grammys again included music mixers Harris and Schilling and, supervised by Hank Neuberger, a prominent member of The Recording Academy Producers & Engineers Wing. ATK/Audiotek provided the sound system with FOH engineers Ron Reaves and Mikael Stewart.
In the days leading up to the awards ceremony and broadcast, the night's performers rehearsed their segments live on the stage, with Schilling and Harris developing the mixes in real time in the Eclipse truck, and then going over those performances offline while playing them back for artist managers and the artists themselves in the Horizon truck. Together, they prepared for the live broadcast mix, so it was vital that both trucks had a world-class, consistent monitoring environment.
'Year after year, Genelec Active Monitoring continues to be the industry standard for high-end monitoring solutions,' says John Harris. 'Their performance is totally consistent show after show, and the sound is the most musical we've ever used. With the ability to optimise the surround speaker field with the DSP technology, Genelecs offer the peace of mind of knowing our monitors are exactly what we need them to be.'
The 2012 music performance and ceremony won its second highest ratings, with approximately 41 million viewers.
See also:
Recording Elmer Gantry (winner of two 2012 Grammys)
Broadcasting the Grammys (2011)
More: www.atkcorp.com
More: www.digico.org
More: www.optocore.com
More: www.jblpro.com
More: www.powersoft-audio.com
More: www.audio-technica.com
More: www.akg.com
More: www.sennheiser.com
More: www.genelecusa.com