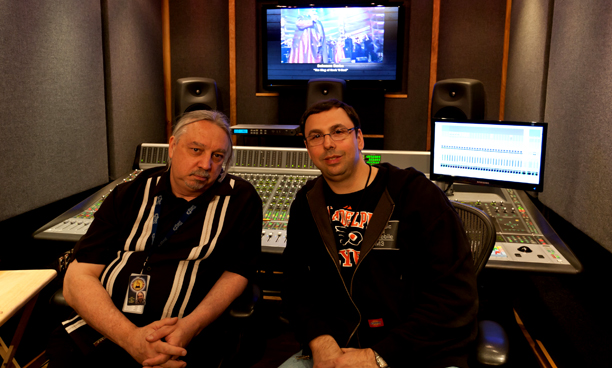 Commissioned to handle the music audio for the 53
rd
Grammy Awards yesterday, Music Mix Mobile (M3) parked its Eclipse and Horizon trucks at LA's Staples Center and got to work.
Broadcast live in 5.1 on CBS-TV, Grammy Award Show Broadcast Music Mixers John Harris and Eric Schilling, along with M3 Engineer-in-Charge Joel Singer, had to deliver. And to ensure they knew what they were listening to, they used Genelec 8200 Active DSP Monitoring Systems – 8250A Bi-Amplified Active DSP Monitors (an LCR array) and 8240A Bi-Amplified Active DSP Monitors (LR rear), along with 7260A Active DSP Subwoofers in the Eclipse truck in the live music mix and an identical system in the Horizon for offline remix.
In the run- up to the awards, the performers rehearsed their segments live on stage, with Schilling and Harris developing the mixes in real-time in the Eclipse truck and then going over those performances offline while playing them back for artist managers and the artists themselves in the Horizon truck. Together, they prepared for the live broadcast mix, so it was vital that both trucks had a consistent monitoring environment.
On the night, the broadcast music mix was handled by Harris and Schilling, and was supervised by Hank Neuberger, a prominent member of The Recording Academy Producers & Engineers Wing. ATK/Audiotek provided the sound system with FOH Engineers Ron Reaves and Mikael Stewart.
'As we added trucks to our operation, we wanted to have a consistent monitoring environment, not only for reference during recording and broadcast, but for the artists, producers and managers that come into our trucks for playback,' says Joel Singer, Engineer-in-Charge and co-founder of M3. 'I have worked with Genelecs for years, and everybody is very comfortable with them because they're the high-end industry standard. With a show like the Grammys, we're rehearsing and playing back tracks for up to 15 hours a day for several days, but with the Genelecs, no one ever experiences ear fatigue. They deliver accurate, transparent sound, providing us with the security of knowing exactly what we're hearing on the night of the broadcast.'
'M3's engineers have relied on Genelec systems for their Grammy Awards mixing f or several years,' responds Will Eggleston, Genelec USA Marketing Director. 'This is Music's Biggest Night, and we are very proud that the elite in broadcast mixing use our monitors for the elite in performing. It always sounds excellent, and it is great that they have come to rely on Genelec for these intense mixing situations.'
During the broadcast, JBL LSR6300 Series studio monitors were used for monitoring in the critical listening room. Set up in a provisional space at the Staples Center, the broadcast engineers used the LSR6300 Series' onboard RMC Room Mode Correction system to compensate for acoustic anomalies of the room. 'We used a 5.1 LSR6300 Series studio monitor system to carefully listen to details in the mix, as we have for the past several years,' confirms Audio Director, Michael Abbott. 'Once again, the LSR monitors performed extremely well and helped us accurately hear the subtleties of the show.'
Miking the artists
This year's awards marked its 14th successive use of Audio-Technica mics, with more than 150 microphones, including hard-wired and Artist Elite 5000 Series UHF Wireless Systems.
The first major awards show broadcast in HD and 5.1 surround-sound, the audio engineers and music mixers used a wide range of microphones for this production.
Artists who performed throughout the evening using Audio-Technica's Artist Elite 5000 Series UHF Wireless System included Bruno Mars, B.o.B and Janelle Monáe, who shared the stage to perform a medley of their recent hits; Esperanza Spaulding, who played with the 2011 Grammy Jazz Band; and Bob Dylan. All performed using wireless AEW-T5400 Cardioid Condenser Microphone/Transmitters for their lead vocals. Dylan shared the stage with folk-rock up-and-comers Avett Brothers and Mumford and Sons, who used hard-wired AE5400s and wireless AEW-T5400s, respectively. Barbra Streisand also delivered a breathtaking performance of 'Evergreen' using a hard-wired AE5400.
The backline mic complement of A-T wired microphones included additional AE5400s for backing vocals, horns and rotary speaker cabinets (high and low); ATM350 Cardioid Condenser Clip-On Microphone for strings; AE5100 Cardioid Condenser Instrument Microphone for hi hat and ride; AT4050ST Stereo Condenser Microphone for overheads; and AT4080 Phantom-powered Bidirectional Ribbon Microphones and AT4050 Multi-Pattern Condenser Microphone for guitar cabinets.
The music mixers also relied heavily on AT4050ST Stereo Condenser Microphones, as they have come to favour them for a drum overheads. 'We've been using A-T on the show as long as I have been FOH, and most notably the new AT4050ST has proven itself as a great stereo overhead mic,' says Ron Reaves. 'It's this kind of forward thinking product development that keeps Audio-Technica as one of the premier microphone manufacturers.'
Mark Linett, M3's West Coast-based Engineer-in-Charge, operated the offline Horizon remix truck: 'This is the second year I have been part of the M3 team at the Grammys, and I am glad that Audio-Technica is an intricate part of the show, supplying product and on-site support,' he says. 'Working with the M3 team, I have been exposed to Audio-Technica products on a broad scale, and A-T has definitely won me over. I have great admiration for the extensive A-T product line, and I can definitely hear the difference when using their wired and wireless microphones.'