German national public broadcasters ARD and ZDF took an alternative approach to their live coverage of the Brazil FIFA World Cup tournament. Broadcasting from a rooftop studio at the Copacabana, the operation rans without an OB van – instead, the location studio delivered remote production to the main studio control room in the International Broadcast Centre 35km distant.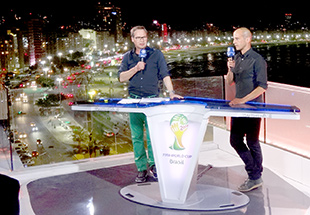 Signal transfer was managed by a Lawo V__link4 unit, which effectively serves as an IP network stagebox. The 1U-high rackmout unit is a one-box solution for both audio and video contribution over IP as part of the remote production infrastructure. All audio signals were collected by the V__link4 via Madi and transferred over the IP network via Ravenna from Copacabana to the IBC and back.
In Remote Production, the return feed from moderators is a particularly tricky prospect, since the delays in the network do not allow direct feedback from the mixing console. In response, Lawo developed a remote DSP processing unit in collaboration with engineers from ZDF and Südwestrundfunk (host broadcaster for the World Cup in Germany), which enables presenters in the remote studio to monitor their own voice without an audio delay – as if in the main studio.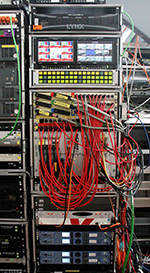 Inside the main studio control room that used by ARD and ZDF, the broadcast sound was mixed with a Lawo mc²90 digital console. Whenever a presenter is on air, the desk controls the remote processing via an IP network, so that the moderator listens directly to his or her own voice. Intelligent interconnections allowed the so-called IFB (Interrupted Feedback) – interruptions in the programme audio when talkback is activated – to function as if it were using a direct local connection in a local OB truck.
Using touchscreen operation via a tablet, mic preamp settings and attenuation values for the IFB can be switched quickly in very different situations, so that it is even possible to produce two programmes in parallel. The connection via the V__link4 by Ravenna not only manages the main audio signals, but is also responsible for intercom for cameras and radio as well as for tallies.
This setup in Rio de Janeiro – using the Lawo V__link4 with external audio processing –demonstrated the application of practical and efficient real-world remote studio production for the first time.

See also:
GoboSat moves to 4k broadcast for World Cup
Maracana stadium refitted for World Cup final
HBS gets Esfera surround onside for World Cup
Brazil's World Cup stadia get set for sound
The Sound of Sport: What is Real?
More: www.lawo.com