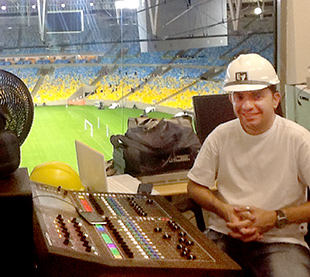 Originally built for the 1950 FIFA World Cup tournament, Brazil's iconic Maracana stadium is now hosting major matches in the 2014 cometition, including the final. It has been brought up-to-date for its new role, including the installation of a new audio system that includes an Allen & Heath GLD mixer.
Located in Rio de Janeiro, Maracana was closed for three years for the renovation work, reopening in 2013 with the GLD-80 digital desk at the heart of an Electro-Voice sound system. Fitted with a Dante network card, the mixer controls audio distribution around the entire stadium via a fibre-optic network.
'The main reason we chose GLD was because of Allen & Heath's fantastic sound quality, reliability and ease of use,. explains Augusto Bergamim, sound manager and system programmer at the Maracana.
The stadium will host four group games and next round games, a quarter-final game, and the final.
More: www.allen-heath.com