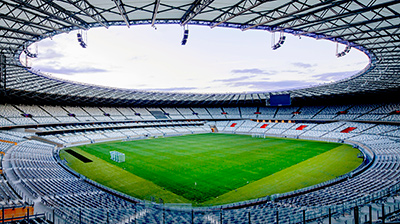 As Brazil mixes unrest with anticipation over the forthcoming FIFA World Cup, work on the stadia continues to press its deadlines for completion. The second time the country has hosted the tournament sees a far greater role for audio technologies on all fronts. Among the completed venues, Estádio Mineirão was the first of three stadia to use Community loudspeaker systems.
Soundvision Engineering, the largest professional audio and video contract integrator in Brazil, was commissioned to design and install the audio systems by Emílio Miranda of Johnson Controls Brazil, the contract holder for Estádio Mineirão. Soundvision CEO, Antonio Tadeu Torquato, and New Business Manager, Leandro Freire, carried out an extensive evaluation of loudspeaker systems that would provide the best solution for the arena. Their first choice was Community, for all-weather reliability, well-defined coverage and high intelligibility.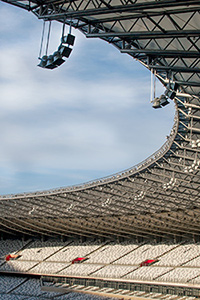 After installation, performance analysis measurements made in the arena by Soundvision Systems Manager Fernando Gargantini and Community Technical Director Dave Howden showed that the system performance met specification and provided good coverage.
The main system configuration comprises 24 clusters, each with four or five R2 loudspeakers. In total, the system uses 24 Community R2-52s, 24 R2-694s, six R2-94s, four R2-77s and 48 R2-474 loudspeakers. These are fed from processors and amplifiers located in five technical rooms, communicating through CobraNet with D-link redundancy and BSS-BLU processors. The system is connected to the arena's fire alarm system, enabling the distribution of live and pre-recorded messages for mass notification or emergency evacuation.
Soundvision has been involved in equipping two further World Cup stadia – Arena de Sao Paulo and Arena Amazonia – which were also fitted with Community R-Series loudspeaker systems.
The Arena de Sao Paulo is located in Carmosina, Sao Paulo, and has been built specifically for the 2014 World Cup tournament with a seating capacity of 65,000 for the event. In this venue, Soundvision designed and installed a system using 16 Community R2-94s, 6 R2-694s and 16 R2-77 loudspeakers.
Arena Amazonia, is located in the city of Manaus in the heart of the Amazon rainforest. The sustainable stadium project will deliver an important legacy for the region and provides seating for 42,377 spectators. This system here was completed by Soundvision using 64 Community R2-474s and 76 R.25-94T loudspeakers.
More: www.communitypro.com