Following its opening in late 2016, Kingston University's Visconti Studio has installed an Audient ASP8024 Heritage Edition mixing console. It will take centre stage for the 2017 Winter School led by Grammy and Tony Visconti – who received the 2017 Award for Outstanding Contribution to UK Music at the Music Producers Guild Awards in February.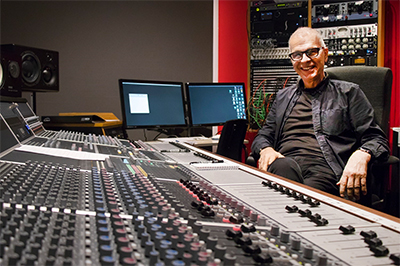 Located on University's Kingston Hill campus, the studio is part of a large-scale research and teaching project in partnership with the British Library and the Science Museum, called The Heritage and Future of Analogue Recording and Production. This involves the influential producer not only in name, but also working directly with students and staff, as well as with invited artists.
The new Audient Heritage desk – the definitive version of Dave Dearden's original ASP8024 analogue design, with enhancements and new features – is in good company in the studio, which features a collection of classic equipment and instruments including a Mellotron, Hammond organ and Steinway concert grand piano, and is based around an extraordinary 300m2 octagonal live room.
Visconti Studios Music Technician Ebby Acquah reckons the Audient desk is a perfect fit: 'Audient has clearly listened to its customers when developing the Heritage desk. Its intuitive layout, combined with even better legending make it straightforward for our students to use. I particularly love the improvements to the master section – the new meter and bass expansion function on the compressor, and the retro transformers which can be switched in and out are both great additions to the mix bus. The stand-out new feature for us is the integrated DLC, which can be used either in DAW mode or as VCA's for the groups.'
'This upgrade offers great quality, long-term value for money and peace of mind,' says Jon Pringle, Kingston University's Technical Production Manager. It is also part of the 'continuing relationship with Tony Visconti, and ongoing development of the Visconti Studio is key to the future direction of the Music department, including the launch of our new BA Popular Music and BA Music Technology courses'.
Visconti Studio hosts public events and runs occasional short courses, in addition to its commercial hire.