Wide News
International news highlights from the world of live sound, recording, broadcast, postproduction and A/V


Rio rocks up in Las Vegas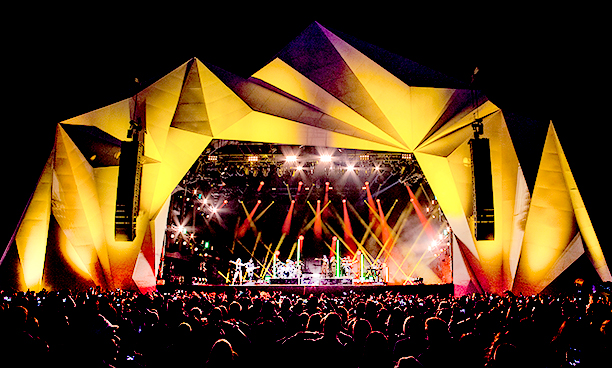 The Rock in Rio festival made its US debut when it set up in Las Vegas at the MGM Resorts Festival Grounds for two weekends in May.
Much of the music was performed on the Mercedes-Benz Evolution stage, equipped with a Martin Audio MLA loudspeaker system provided by Gabisom Audio Products Brazil, Rock in Rio's longstanding production partner. The system itself was supplied by Las Vegas' own 3G Productions who also assisted with set-up, stage gear and production for the event.
Desert sound capture for El Llano De La Paciencia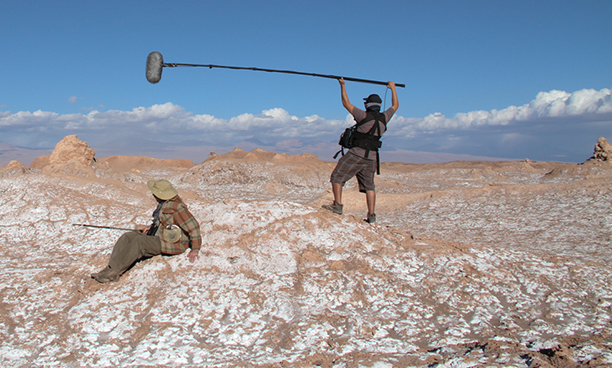 One of the four short films produced as part of Chile Factory, El Llano De La Paciencia premiered in May 2015 at La Quinzaine des Realisateurs opening event at Cannes.
Shooting in the harsh environmental challenge offered by the Atacama Desert, the sound team relied on DPA Microphones' d:screet 4061 omnidirectional, d:dicate 4017B shotgun and d:dicate 4018C compact supercardioid microphones.
Huber Music Room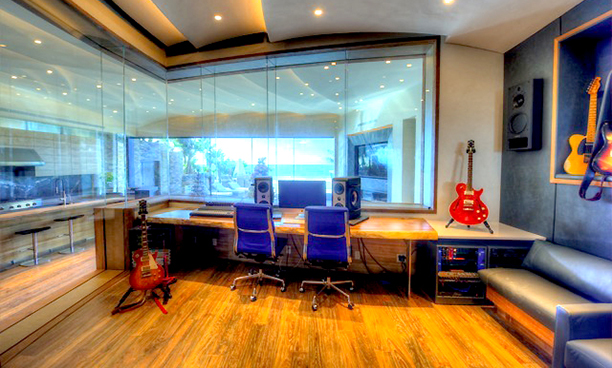 'Music has long been an integral part of my family life,' says musician/businessman, Chris Huber. 'When we bought our home a few years ago I knew exactly where the studio would live.'
Now complete, the studio offers a world-class recording space accompanied by an inspirational view of the Pacific Ocean. 'Our primary aesthetic concern was to retain the panoramic ocean view through our ground floor windows,' he explains. 'I researched studio designers and discovered Walters-Storyk Design Group-WSDG through their work on a Brazilian studio with a sweeping view from its live room through a Cinemascope-style control room window.'
Songwriting room focuses on phantom technology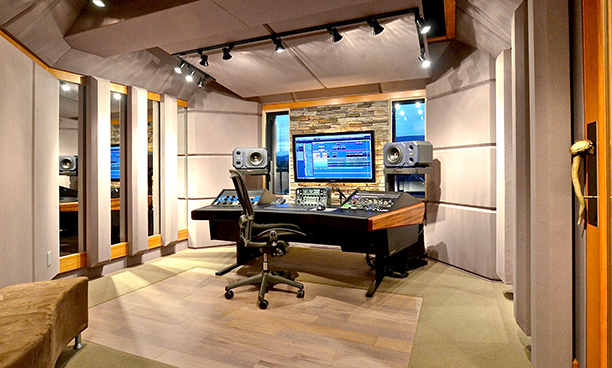 Adding a new studio to their project facility in Northern Utah, songwriter Monty Powell and jazz artist Anna Wilson called on Carl Tatz Design and its proprietary room monitor set-up.
The new studio – named Crane Song – uses turnkey MixRoom technology concept, with a pair of vintage Tannoy System 1000 dual-concentric close-field loudspeakers, using the Phantom Focus System to achieve a 20Hz-to-20KHz room frequency response and accurate imaging.
Huntsman centres on sound for refurbished sports arena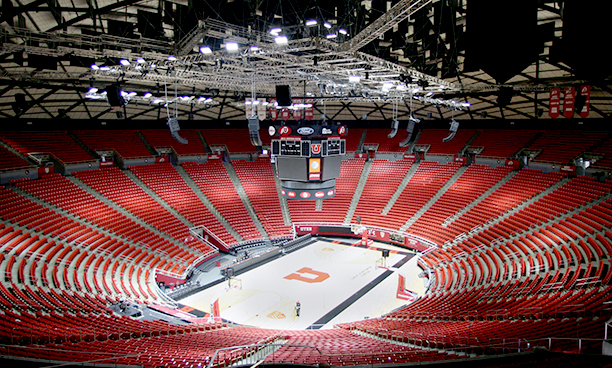 Home to the University of Utah's Runnin' Utes basketball, Utes volleyball and Red Rocks gymnastic teams, the 15,000-seat Jon M Huntsman Center has completed up a US$6m renovation. Along with two new entrances, a new floor and LED lighting system, it now boasts an L-Acoustics' house sound system.
The audio aspects of the project saw consulting firm Spectrum Engineers provide the design and construction documents, and systems integration company Poll Sound install Kara and high-directivity ARCS WiFo enclosures.
Miami Music Week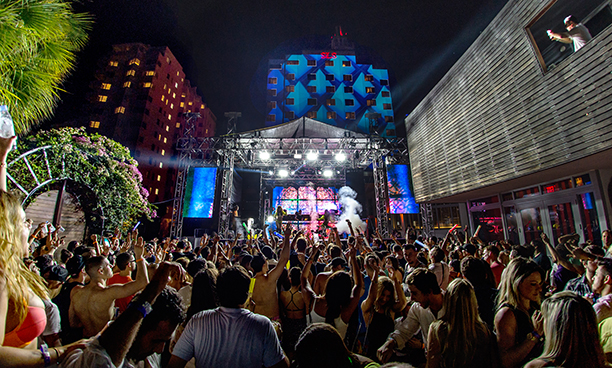 With DJs Luciano and Alesso headlining the Hyde Beach stage, the Miami Music Week festival provided Chicago's Audio Integration Services with a golden opportunity to put its new Meyer Sound Lyon linear sound reinforcement system through its paces.
'The performance of the Lyon system is nothing short of phenomenal,' says Scott Owens, Director of Production & Rentals at AIS. 'The first time we turned Lyon on, the client almost had to sit down. The impact is hard to describe.'
Michalis Michael's Titan mix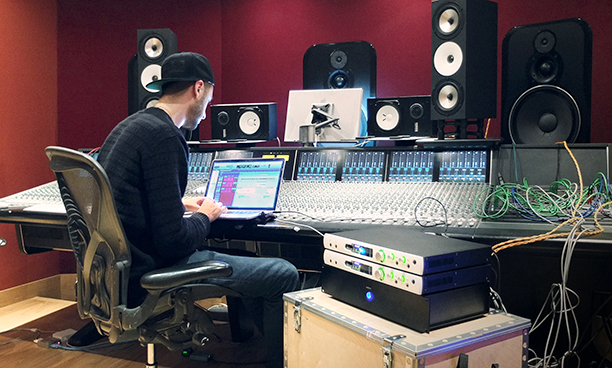 Based in North London, recording/mix engineer Michalis 'MsM' Michael has his own studio that he uses for mixing, but often uses commercial facilities around the UK – travelling with his mobile rig, which includes monitor loudspeakers and Prism Sound Titan audio interfaces.
From early years were spent working with the likes of Boy Better Know and Chip (Chipmunk) – which saw him rack up a number one single with 'Oopsy Daisy' and other Top 20 singles and albums – he has since worked with Royksopp & Robyn, The Saturdays, P.Diddy and Ed Sheeran. He also spent two years assisting Edward J 'UK' Nixon, chief engineer of the Grammy Award-winning J.U.S.T.I.C.E. League.
Ultra Music Festival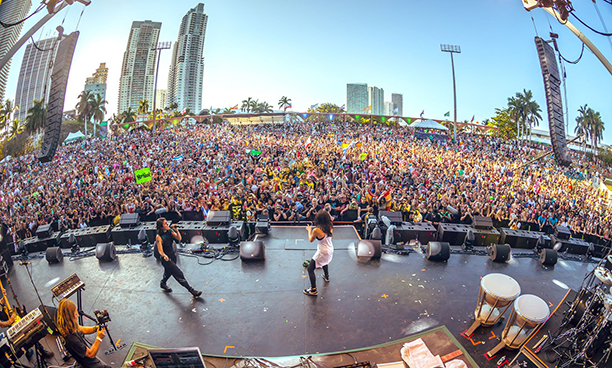 Miami's Ultra Music Festival drew thousands of music fans to Bayfront Park, woth EDM acts Krewella, Bassnectar, Porter Robinson, Die Antwoord, Big Gigantic, Chromeo and Gorgon City on the bill. Serving them all was an L-Acoustics loudspeaker system supplied by Beach Sound.
'We've been doing the Ultra festival for a long time and have become very familiar with what a system needs to be able to do this kind of show right,' says company founder and President, Andre Serafini. 'Bayfront Park can be a challenging venue for this kind of music, but the L-Acoustics systems handled it without a problem, and even overcame some of the venue's special challenges.'
Page 1 of 57
Jayant Datta: Audio Precision

Audio Precision has appointed Jayant Datta as Chief Technology Officer 'to focus on the organisation's technology strategy, product platform evolution and innovation efforts'. 'Jayant's design...

Read More...
1
2
3
4
5
6
7
8
9
10
11
12
13
14
15
16
17
18
19
20
21
22
23
24
25
26
27
28
29
30
31
32
33
34
35
36
37
38
39
40
41
42
43
44
45
46
47
48
49
50
51
52
53
54
55
56
57
58
59
60
61
62
63
64
65
66
67
68
69
70
71
72
73
74
75
76
77
78
79
80
81
82
83
84
85
86
87
88
89
90
91
92
93
94
95
96
97
98
99
100