Wide News
International news highlights from the world of live sound, recording, broadcast, postproduction and A/V


Sound reflections at the Art of Living Foundation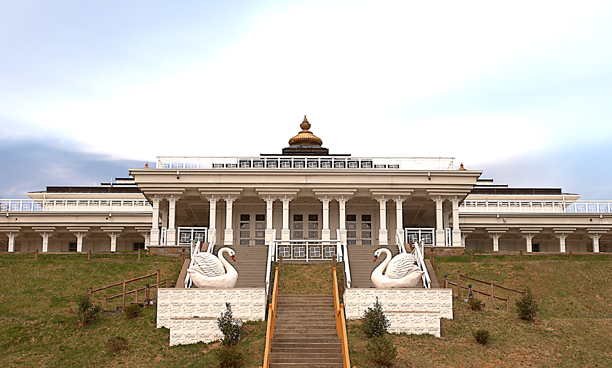 Founded by spiritual leader Sri Sri Ravi Shankar, the Art of Living Foundation is among the world's largest volunteer-based humanitarian and educational non-governmental organisations. One of its retreats is The International Center for Meditation and Well-Being in America's Great Smokey Mountains.
The retreat's Meditation Hall is a large, multi-purpose space that is used for yoga and meditation classes, as well as dance events and performances. As with all such spaces, its reflective surfaces present problems to anyone installing a sound system...
Magic moments at Shakespeare's Globe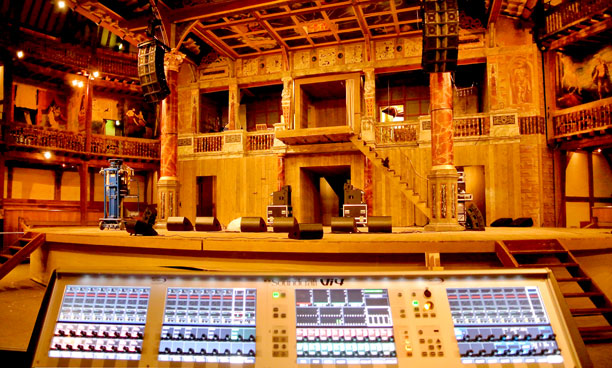 Situated beneath London's famous Shakespeare's Globe Theatre, the Underglobe events space has hosted a long series of corporate functions – many served by London-based live production company ARC Sound. Opened to the public in 1997, the reconstruction of the original wooden Elizabethan playhouse, has never allowed, or indeed attempted, a full production set-up in the main theatre space itself.
The celebration of Shakespeare's 449th birthday, however, saw a concert audio production set-up allowed into the 1,500-capacity space for the first time...
Opera recording at the Parco Della Musica Auditorium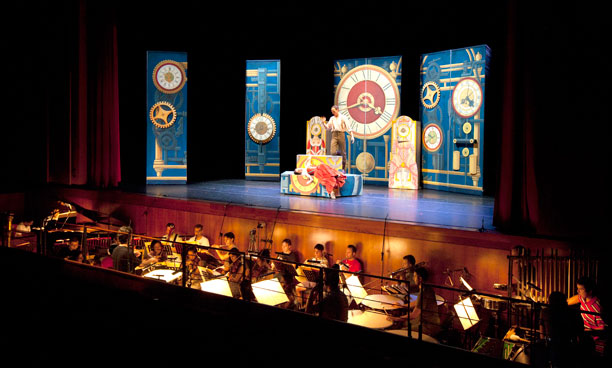 Recording a specially commissioned double DVD of two operas, the sound team at the Parco Della Musica Auditorium in Rome placed a premium on audio quality. Performed as part of the Santa Cecilia Opera Studio, an educational programme devoted to the Italian bel canto tradition opera tradition, the challenge was further complicated by the need to hide the recording mics from the video footage.
Sound engineer Giacomo De Caterini struggled to work out how he could comply with the director's brief…
Constellation acoustic stars in US performing arts centre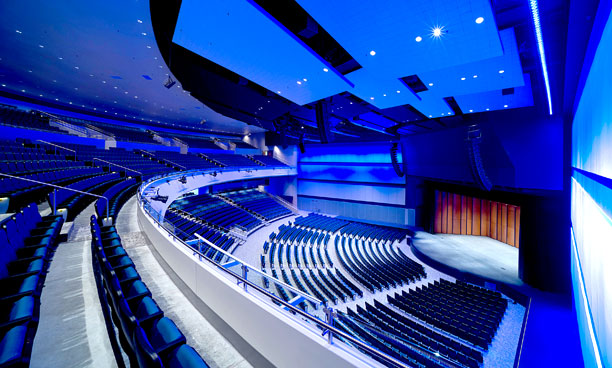 When planning its new facilities, the Mansfield Performing Arts Center faced a dilemma – requiring a large auditorium and a smaller performance hall, the available budget would not support both.
The solution lay in the multi-use Cunningham Performance Hall of the Mansfield ISD Center for the Performing Arts, which uses a Meyer Sound Constellation acoustic system to provide acoustics for its varying room configurations and programmes…
Yellow Box adds Singapore music production studio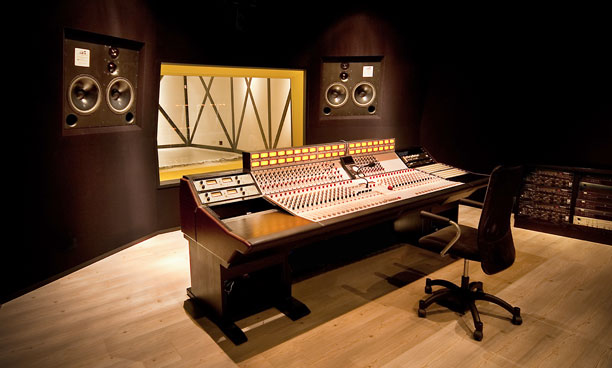 Leading Singapore TV/commercial audio facility Yellow Box has extended its operation with the opening of a new 'no-expense-spared' music recording and production studio.
'Singapore has never had a facility for audio like this one, where film and music are merged,' says Yellow Box Studios MD, Rennie Gomes. 'We foresaw this convergence of media a long time ago, and now music and picture are prevalent in all interactive and traditional media. The music production and recording facility will cover all of our postproduction needs, as we do quite a lot of music recording and ADR for our films and commercials.'
Danish Broadcasting adds two new OBs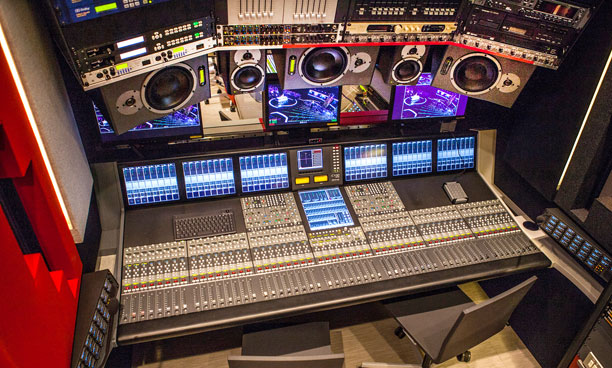 With ten television production facilities in Belgium, Videohouse has its own in-house design and systems integration division. Called ProjectBuilders, this facility recently gor to work installing two Solid State Logic C100 HDS Digital Broadcast Consoles in two DR (Danish Broadcasting Corporation) OB Trucks.
The choise of SSL is a continuity call for the DR engineering staff, as the company recently completed a four building complex for television, radio and live concert/events, which uses eight C200 and three C100 consoles.
The sound of Sound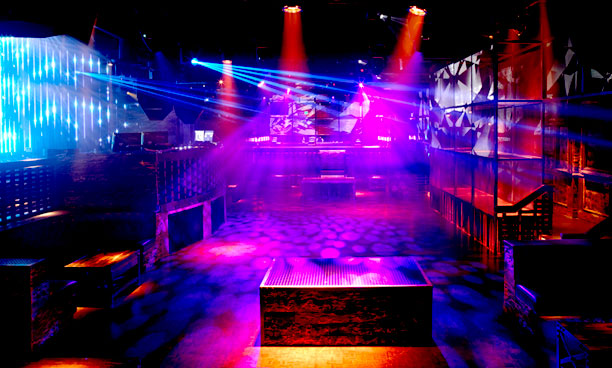 Aiming to 'capture the eclectic, yet unmistakable style and energy of Los Angeles', the new Sound nightclub evidently regarded sound as an essential element. Blending modern décor and industrial touches, Sound's lighting design was handled by SJ Lighting and its sound system by collaboration between Funktion-One and Sound Investment Audio.
'Sound's environment is designed to be an ever-evolving one, so that each visit to the space will present a new experience to the club-goer.' says Rob Vinokur, founder and CEO of Muse Lifestyle Group, the company behind the club. 'One night, they could experience an underwater party, the next, it might be an enchanted forest.'
Famous Florida venue reborn as Bamboo Miami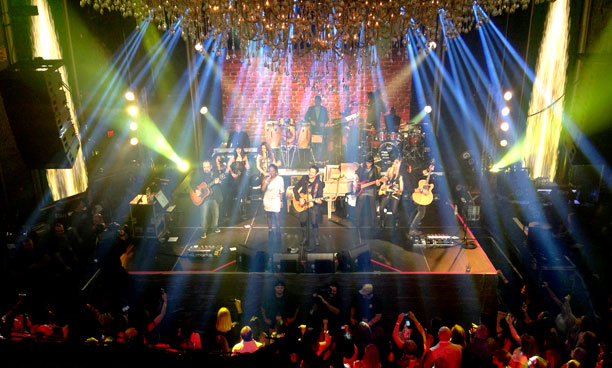 Used in the 1980s as a photo/film studio to shoot album covers and music videos for artists including Madonna and U2, the Miami Beach Variety Theater is now a South Beach hotspot hosting live music and DJs.
Renamed Bamboo Miami, the 70-year-old venue is part of the Bucharest-based Bamboo Group, which took over the landmark venue and renovated it in 2012. Preserving its classic Art Deco ornamentation, the new owners called in Audio Formula of Miami to supply a full L-Acoustics loudspeaker system for the 1,200-capacity space.
Page 1 of 40
Jason Kelly: SSL

Jason Kelly has joined Solid State Logic as Product Manager, to spearhead the introduction of the company's new Live mixing console. With a 25-year career covering live sound production, live event...

Read More...
1
2
3
4
5
6
7
8
9
10
11
12
13
14
15
16
17
18
19
20
21
22
23
24
25
26
27
28
29
30
31
32
33
34
35
36
37
38
39
40
41
42
43
44
45
46
47
48
49
50
51
52
53
54
55
56
57
58
59
60
61
62
63
64
65
66
67
68
69
70
71
72
73
74
75
76
77
78
79
80
81
82
83
84
85
86
87
88
89
90
91
92
93
94
95
96
97
98
99
100