Wide News
International news highlights from the world of live sound, recording, broadcast, postproduction and A/V


Singapore's Leo Studio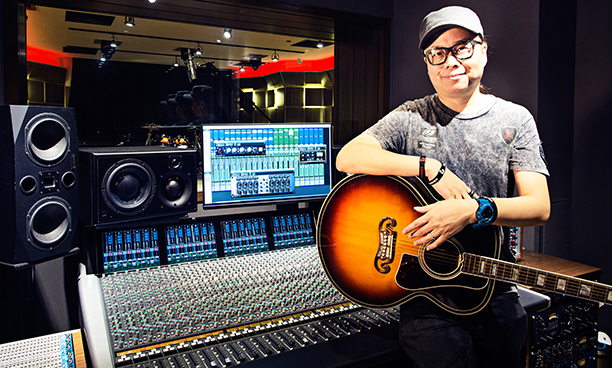 Leo Studio is Singapore's newest recording venue. Behind it are Asian pop producer/studio consultant Eric Ng (黃韻仁) and veteran recording/mixing engineer, Frank Lee. Although it has only been operating for a few months, the facility is already highly-regarded, with established artists using it even before the doors officially opened – attracted by its high-end gear and instruments and inspiring environment.
'A recording studio should not only have great equipment, but should also be a comfortable, creative space.' says Ng 'We wanted the live room to be a stimulating environment that would excite the artists and make them welcome.'
Inaugural European Games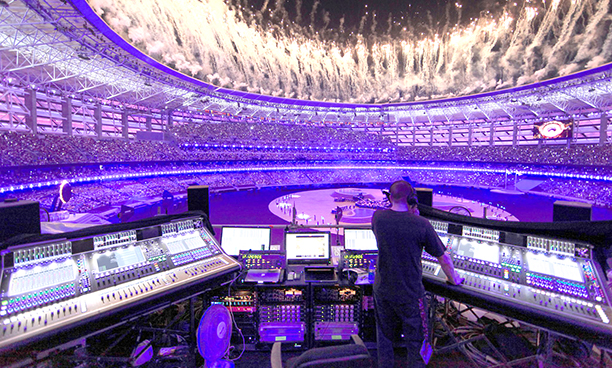 The inaugural European Games was staged in the new, 68,000-capacity Olympic Stadium in the Azerbaijan capital of Baku. Organised by the European Olympic Committee, its opening and closing ceremonies were on a similar scale to established sports spectaculars and required an experienced team to handle the sound.
In charge of audio design and delivery for both live and broadcast was Scott Willsallen: 'These events are primarily about the television pictures,' he says. 'However, as they take place in the round, the audience is in the background of most camera shots, so the more engaged and enthusiastic they are, the more interesting it is for the viewers at home.'
Symetrix takes a seat at the Chill Skybar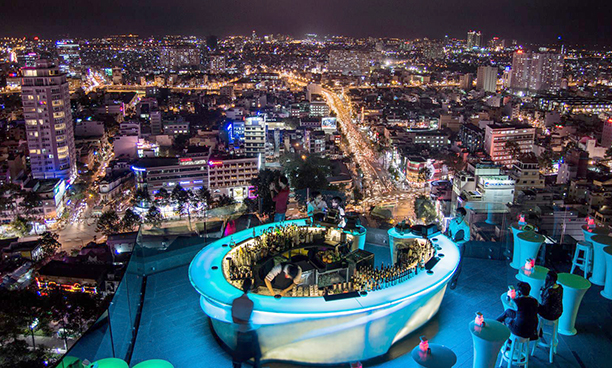 The growth of Vietnam's business and industrial sectors has been paced by that of its entertainment sector, with new venues regularly opening their doors Among them is the Chill Skybar overlooking Ho Chi Minh City.
Opened in 2011, the bar has established itself as one of the most popular but persistent noise spill meant that its audio was fundamentally inadequate – enter local A/V firm DesignLive Technologies to undertake an upgrade. 'The venue was highly regarded, but there was problems with the sound quality and noise bleed resulted in complaints from neighbours,' explains DesignLive Technologies owner, Phu Tran Pham.
Pistoia Blues Festival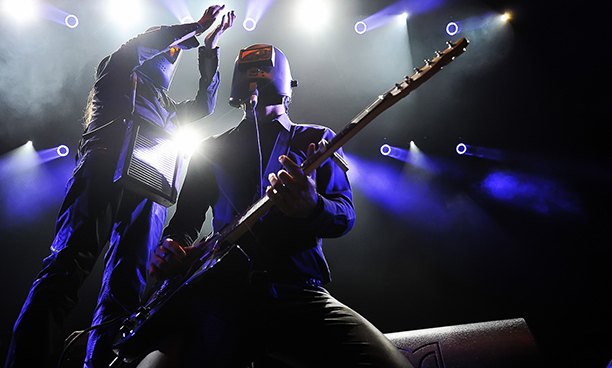 Having hosted BB King, Muddy Waters, Fats Domino and John Lee Hooker at its inaugural 1980 event, Tuscany's Pistoia Blues festival counted Mumford & Sons, Counting Crows, Hozier, Passenger, The Darkness, Dream Theater, Santana and Sting among its 2015 headliners.
The event took its regular spot in the city's Piazza Duomo and ran for nine evenings. Its technical infrastructure was provided by the long-standing Electra Service, headed by Roberto Buttarelli, with the main PA system provided by All Access – which was set up in 2011 to purchase the Martin Audio MLA multicellular system used for the festival, and for other national and international productions.
First Europe UHD channel airs with Calrec Artemis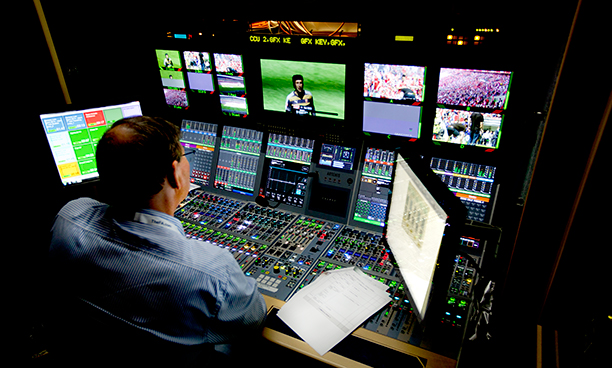 Europe's first 4K/UHD OB truck has taken to the road, ready to provide content for Europe's first live Ultra High-Definition sports channel. Commissioned by OB and post provider Timeline Television, UHD1's audio is centred on a Calrec Artemis mixing console
'Our aim is to deliver high-quality, exciting, and engaging 5.1 surround sound for all of BT's UHD and HD productions,' says Timeline Lead Sound Engineer, Will Underwood. 'But there are timing complications that go along with embedding audio and encoding/embedding Dolby E in 4K video that make it tricky.
Major Tom hits new orbit with Sheeran live dates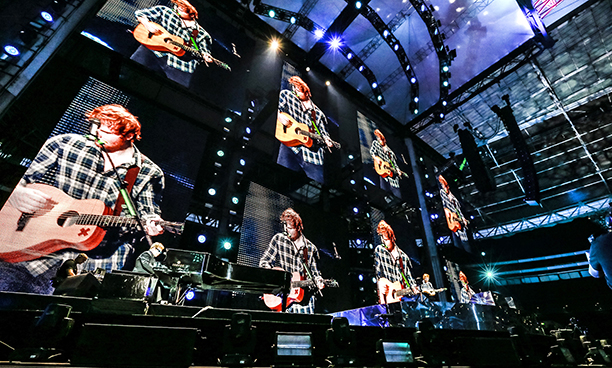 With Ed Sheeran on its roster of leading artists, UK-based production company Major Tom Ltd is constantly evolving its digital audio systems. Although not lengthy, Sheeran's recent UK tour sold 400,000 tickets for two weekend appearances at London's Wembley Stadium and Dublin's Croke Park.
Key to their success were Major Tom's use of a Meyer Sound PA, DiGiCo mixing desks, Sennheiser wireless monitors and mics, and a newly acquired Optocore network. In particular, Sennheiser's Digital 9000 Series microphones have 'revolutionised Ed's sound', according to FOH and monitor engineer Chris Marsh.
Yamaha TF1 joins the ENO cast in mixing role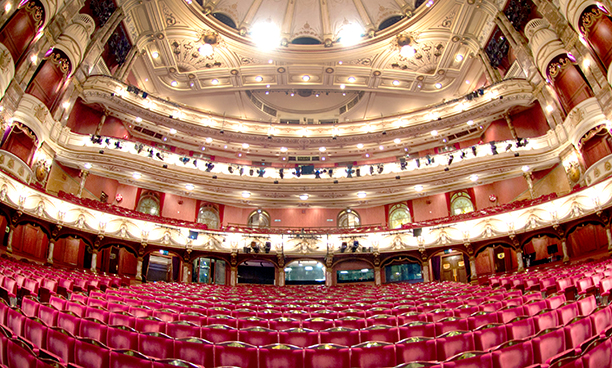 'We do many events, from full opera productions to dance shows, talks, parties and so on in our main house at the London Coliseum, and also in other locations,' says English National Opera Head of Sound, Jacey Linton. 'We have bigger mixing consoles in the main house – like Yamaha CLs – but I needed a compact, portable desk that could deliver high-quality mixes for these other events.'
To meet this need, the ENO turned again to Yamaha – this time for a TF1.
Sao Paolo Basilica outfits with Renkus-Heinz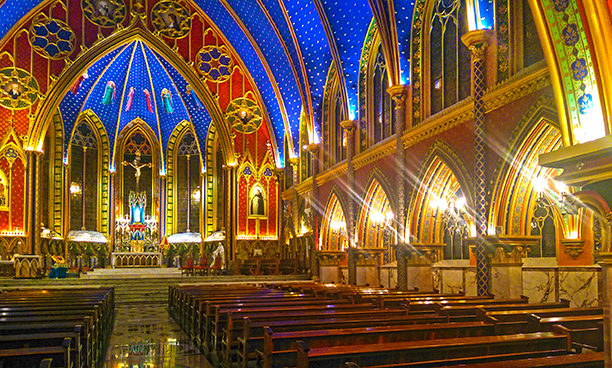 Attracting more than 1,200 pilgrims each month Sao Paolo's Basilica Nosa Senhora do Rosario borrows Gothic-style architecture and ornamentation reminiscent of European cathedrals. As with Notre Dame and Saint Chapelle, its interior is highly reverberant and fraught with complex acoustics.
The sound system it required had to be visually unobtrusive yet deliver clear, intelligible sound everywhere. Diego Nascimento Brito and the team at systems integrator AMI Music met the challenge with Renkus-Heinz Iconyx technology.
Page 1 of 60
Ed Czarnecki: Ashly Audio

Ashly Audio has named Ed Czarnecki as Applications Engineer. He will work with consultants, integrators and distributors to provide information and training, both pre- and post-sale, as well as devise...

Read More...
1
2
3
4
5
6
7
8
9
10
11
12
13
14
15
16
17
18
19
20
21
22
23
24
25
26
27
28
29
30
31
32
33
34
35
36
37
38
39
40
41
42
43
44
45
46
47
48
49
50
51
52
53
54
55
56
57
58
59
60
61
62
63
64
65
66
67
68
69
70
71
72
73
74
75
76
77
78
79
80
81
82
83
84
85
86
87
88
89
90
91
92
93
94
95
96
97
98
99
100