Wide News
International news highlights from the world of live sound, recording, broadcast, postproduction and A/V


Ultra Music Festival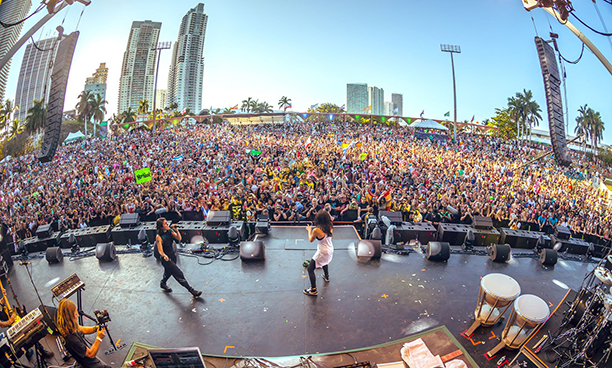 Miami's Ultra Music Festival drew thousands of music fans to Bayfront Park, woth EDM acts Krewella, Bassnectar, Porter Robinson, Die Antwoord, Big Gigantic, Chromeo and Gorgon City on the bill. Serving them all was an L-Acoustics loudspeaker system supplied by Beach Sound.
'We've been doing the Ultra festival for a long time and have become very familiar with what a system needs to be able to do this kind of show right,' says company founder and President, Andre Serafini. 'Bayfront Park can be a challenging venue for this kind of music, but the L-Acoustics systems handled it without a problem, and even overcame some of the venue's special challenges.'
Adlib places first UK ViRay, at Liverpool Philharmonic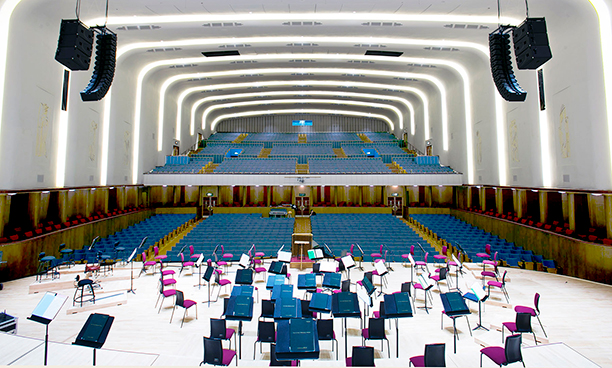 Adlib has designed and installed the first Coda Audio ViRay loudspeaker system to go into use the UK. The installation is in the Liverpool Philharmonic Hall.
Home of the Royal Liverpool Philharmonic Orchestra and one of the UK's premier arts and entertainment venues, this is the latest project in a string of high-profile live music installations by Adlib. Following a competitive tendering process, Adlib's Installation department was appointed to complete the specification; the supply and installation of a new sound system.
Savannah Music Festival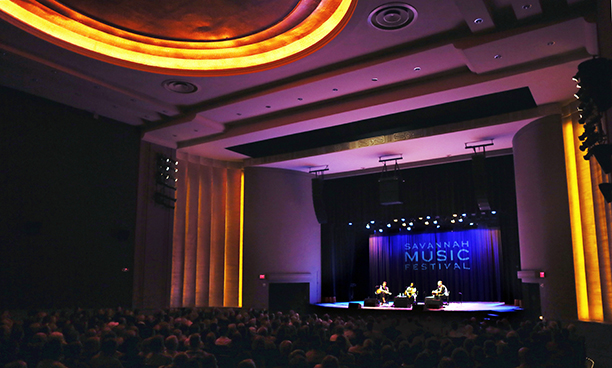 Reckoned to be 'the best sounding room in town' by the local press, the Trustees Theater is one of four venues hosting Georgia's Savannah Music Festival – all of which have been equipped with Meyer Sound loudspeaker systems for the event for the first time.
The choice of audio system was driven by Chris Evans, the festival's chief audio engineer, who is responsible for system specification, tuning and supervision of the audio crew. He also mixed Mavis Staples using a Mina line array loudspeaker system in the Trustees Theater: 'We had great results this year with Mina,' he says. 'The system has so much headroom that every engineer had more than they needed. It has made the Trustees a showcase venue.'
Les Victoires de la Musique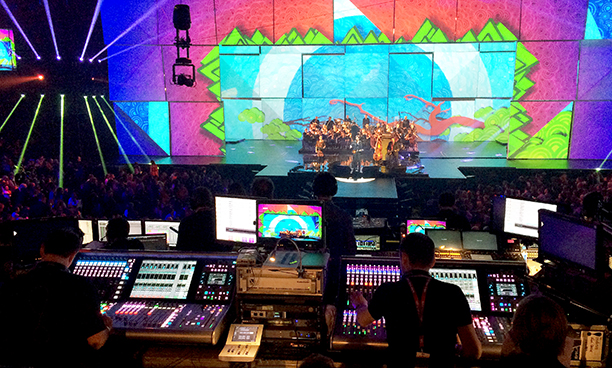 Paralleling the Grammy and Brit Awards, Les Victoires de la Musique is France's most prestigious annual awards ceremony. Marking its 30th year, the 2015 event was broadcast live from the 5,000-seat Le Zénith arena in Paris.
The nearly four-hour show recognises the year's top recording artists and included performances by David Guetta, Brigitte, Jean Louis Aubert, and Christine and the Queens, who were supported by a full orchestra. For both live sound and broadcast, the ceremony's audio crew usedfour SSL Live L500 mixing consoles.
Mystery and Imagination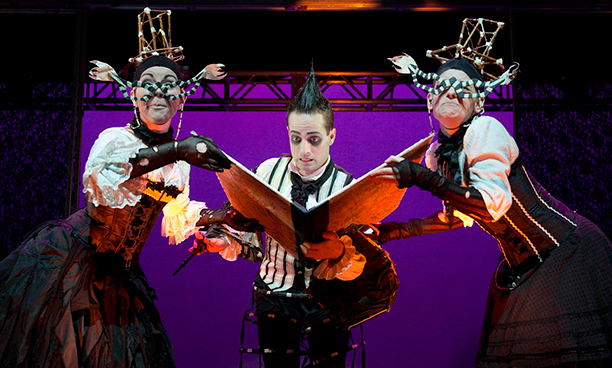 Blurring fact and fiction, Nevermore – The Imaginary Life and Mysterious Death of Edgar Allan Poe reckoned to take audiences at NYC's New World Stages performing arts complex on an unforgettable journey. The show used haunting music, a complex soundscape and ingenious stagecraft to tell the story of a tormented yet visionary writer who has fascinated the world for more than a century.
With sound design by Wade Staples, theatrical sound reinforcement, installation and design company Masque Sound took on the audio equipment package.
Forbidden Planet anniversary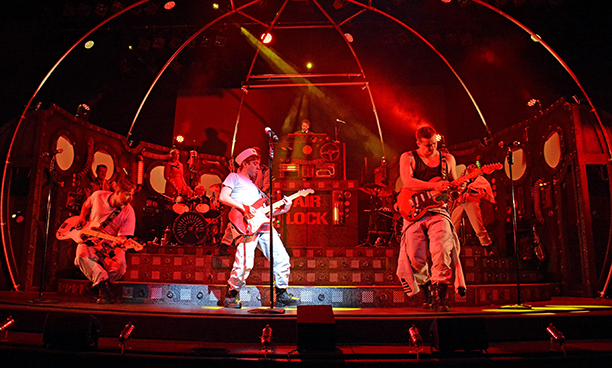 The 25th anniversary tour of Return to the Forbidden Planet is currently making its way around the UK. Using a Flare Audio loudspeaker system, it is the first major touring musical production to call on the recently launched X2A Compact Vertical Point Source Array. Along with the X2, the show also carries Flare Audio Q18 subs and micro X0s for delays and front fill.
Flare Audio's polished aluminium speakers (also available in black), are a perfect aesthetic match to the cult musical's 1950s sci-fi theme: 'Their size and profile mean they slot easily into traditional proscenium rigging positions where other traditional line array systems would struggle to fit,' says Ben Harrison, who has revitalised the show's sound design.
Berlin Philharmonic adds Soundcraft Vi3000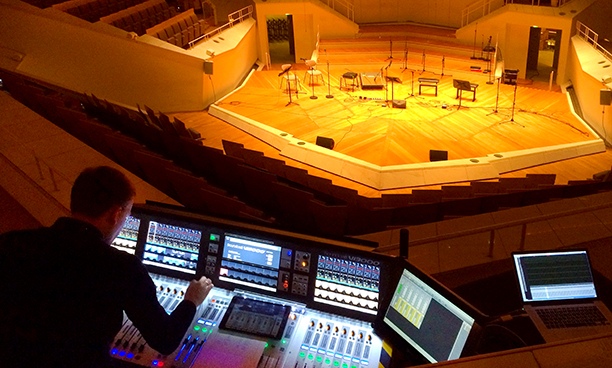 Regarded as one of the most architecturally and sonically impressive music venues in the world, the Berlin Philharmonic has installed a Soundcraft Vi3000 console in its Chamber Music Hall, adding to the Soundcraft Vi6 and a Studer Vista 9 console already in use.
Home to the Berliner Philharmoniker, the Chamber Music Hall also hosts concerts from visiting international artists using the Vi6 is in one of the two studios as a recording desk. The Vista 9 is used in the production room for live concert recordings and live broadcasts for radio, television, internet and cinema. The new Vi3000 serves FOH and monitors for live mixing.
Martin Audio's Lego Glasto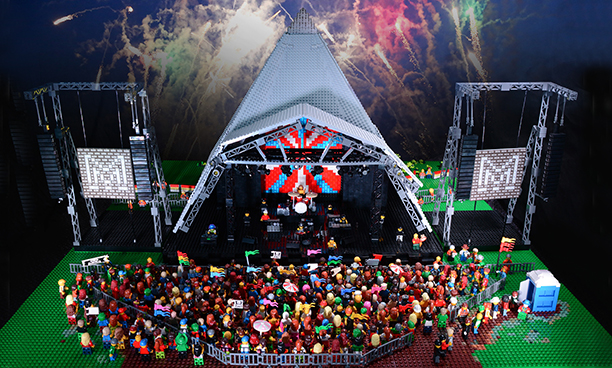 Among its audio attractions, the coming ProLight & Sound show in Frankfurt will feature its own Glastonbury Festival trubute in the shape of a 12,500-brick Lego model of the Pyramid Stage complete with Martin Audio MLA PA system.
Built by Bright Bricks and taking more than 120 man-hours to complete, the model measures 1.2m x 1.2m and includes full replica MLA hangs and MLX subwoofers at the stage whilst a flag-waving crowd listen on. There is even a queue for the toilets...
Page 1 of 56
Ann Williams Clear-Com (Asia-Pacific)

US-based voice communication systems specialist Clear-Com has appointed Ann Williams as its Director of Sales Asia-Pacific. Williams brings sales and leadership experience to build on the company's...

Read More...
1
2
3
4
5
6
7
8
9
10
11
12
13
14
15
16
17
18
19
20
21
22
23
24
25
26
27
28
29
30
31
32
33
34
35
36
37
38
39
40
41
42
43
44
45
46
47
48
49
50
51
52
53
54
55
56
57
58
59
60
61
62
63
64
65
66
67
68
69
70
71
72
73
74
75
76
77
78
79
80
81
82
83
84
85
86
87
88
89
90
91
92
93
94
95
96
97
98
99
100