Wide News
International news highlights from the world of live sound, recording, broadcast, postproduction and A/V


DiGiCo wins out at Barclaycard Mercury Prize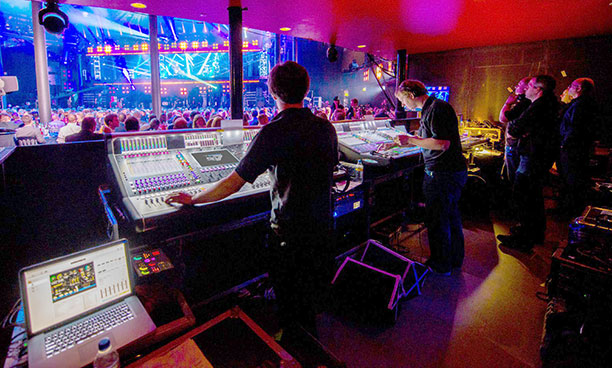 This year's Barclaycard Mercury Prize saw the event's regular audio supplier move to a full DiGiCo system, with the UK-manufacturer's consoles at each of the show's mix positions.
Held at London's The Roundhouse and hosted by Lauren Laverne, the awards' accolades went to James Blake for his album Overgrown. 'We've been working on the Mercury Prize event for the past ten years,' says Plus 4 Audio Operations Manager, Mark Ballard. 'It's great to work on because of its profile in the industry.
Babyface takes first APG Uniline install in China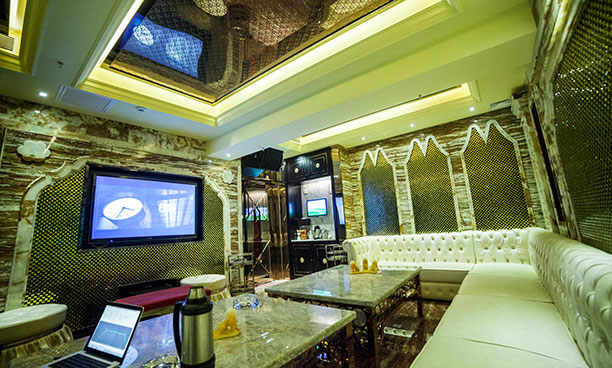 One of the largest and most exclusive clubs in Beijing, Babyface is an icon of the city's nightlife among the major clubs in the area. Its success relies heavily on its sound system – which includes the first PAG Uniline loudspeaker installation in China.
Opened in 2004, Babyface was refurbished and equipped with an APG SMX15-based sound system in 2011. While successful, owner Mr Wong decided that top billing among the young, wealthy elite of Beijing demanded something more impressive. As a result, 2013 has seen another redesign, including a new APG sound system.
Melodia outlines new PA system with Steve Vai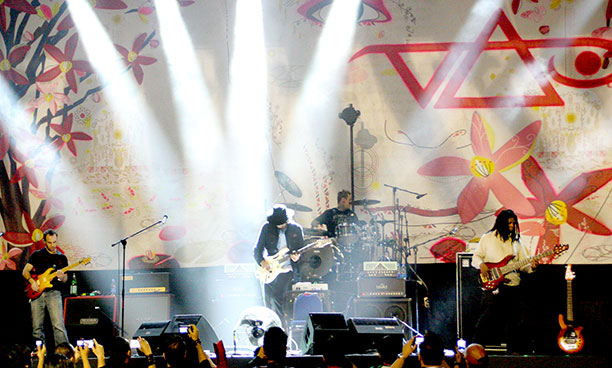 Following placements with Asian audio companies in Vietnam, China and Japan, an Outline GTO loudspeaker system has been purchased by one of Indonesia's premier rental firms, Melodia Sound & Lighting Systems.
Founded in 1997 and operating with branches in Jakarta e Surabaya, Melodia is also the nation's Outline distributor. The company entered the rental sector in 2005 with the purchase of an Outline Butterfly system. In the intervening years, Melodia has added various other systems from the Italian manufacturer, including Mantas, Mini-Compass, DVS and Eidos 265 systems.
Cambridge Corn Exchange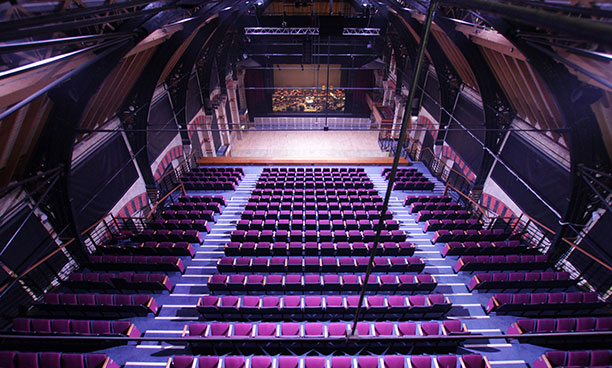 Opened in 1875 with a concert staged by the Coldstream Guards and a local choral society, the Cambridge Corn Exchange has been a regular stop on the UK touring circuit for many years. In its original guise, it was used for corn trading and served as an event space.
Operated by Cambridge City Council, its life as a serious concert venue commenced in the 1970s and it now presents a mix of comedy, theatre and live bands, alongside conferences and exhibitions – more than 270 events each year. The venue holds 1,350 fully seated or 1,870 with a combination of standing and seated. In early 2013, an open tender was issued for a new FOH sound system, stage monitors and mixing console.
MLA tames Alexandra Palace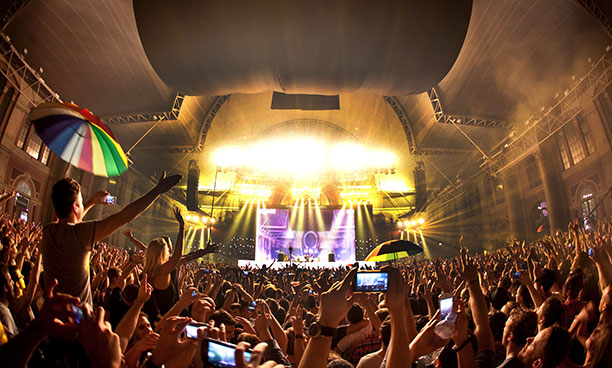 'Just think of a marble and glass shoebox, 40m wide, 16m high and 85m deep…'
Martin Audio R&D Director, Jason Baird is describing the notoriously challenging acoustic environment offered by London's Alexandra Palace – where Capital Sound fielded a Martin Audio MLA Multi-cellular Loudspeaker Array the Above & Beyond Group Therapy 050 live radio broadcast.
Notorious for violent reflections inside the venue and noise complaints from neighbours, the event offered MLA its first opportunity to prove itself in the glazed venue. For A&B, meanwhile, this was to be one of the biggest events in the dance music trio's calendar.
Universal Mastering Studio updates with Sadie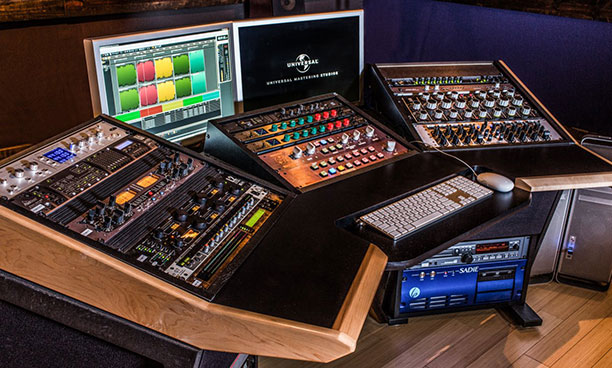 Los Angeles-based Universal Mastering Studios has updated its mastering and production systems with Sadie Series 6 workstations, which will operate with Prism Sound digital converters.
In total, three mastering rooms and four production rooms have been equipped with new Sadie 6 systems, each running native in a Sadie blue box. These are supported by four Prism Sound Lyra 2 audio interfaces, and a Prism Sound multichannel modular ADA-8XR AD/DA converter has been added to each of three mastering studios.
Romesh Dodangoda takes first UK SSL Sigma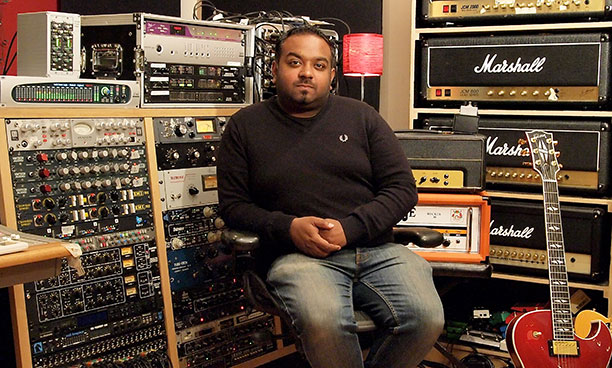 Rock producer Romesh Dodangoda has claimed the bragging rights for being the first UK producer to install an SSL Sigma summing unit in his Cardiff-based Long Wave Studio.
The studio has a large collection of vintage and modern high-end equipment, with extensive outboard from the likes of API, Neve, Avalon, Retro, Empirical Labs, and Tube Tech. Dodangoda is a longstanding user of SSL equipment, whether at his own studio, or in other commercial studios. His CV includes Funeral for a Friend, Motorhead and Twin Atlantic – making him very much a 'rock' man...
Europe's largest hip-hop event an 'all Nexo' affair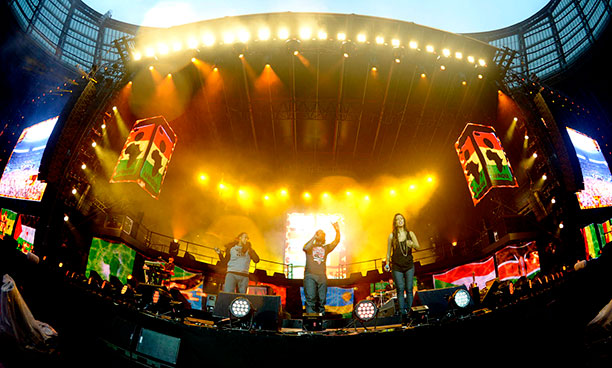 Europe's largest hip-hop and urban music event, Urban Peace 3 found 60,000 fans packed into the Stade de France in Paris for five hours of live performance, headlined by IAM and Sexion D'Assaut.
For the event, sound rental company Melpomen brought Nexo's new STM Series line array systems into the French national stadium for the first time, tying into the permanent Nexo Geo-S12 PA for extra coverage of the uppermost seating areas of the venue.
Page 1 of 46
Mike Rigby: HHB Communications

HHB Communications has added Mike Rigby to its Technical Services Department as Technical Sales Support Engineer. Rigby studied audio technology and acoustics at the University of Salford and was previously...

Read More...
1
2
3
4
5
6
7
8
9
10
11
12
13
14
15
16
17
18
19
20
21
22
23
24
25
26
27
28
29
30
31
32
33
34
35
36
37
38
39
40
41
42
43
44
45
46
47
48
49
50
51
52
53
54
55
56
57
58
59
60
61
62
63
64
65
66
67
68
69
70
71
72
73
74
75
76
77
78
79
80
81
82
83
84
85
86
87
88
89
90
91
92
93
94
95
96
97
98
99
100