Wide News
International news highlights from the world of live sound, recording, broadcast, postproduction and A/V


Sao Paolo Basilica outfits with Renkus-Heinz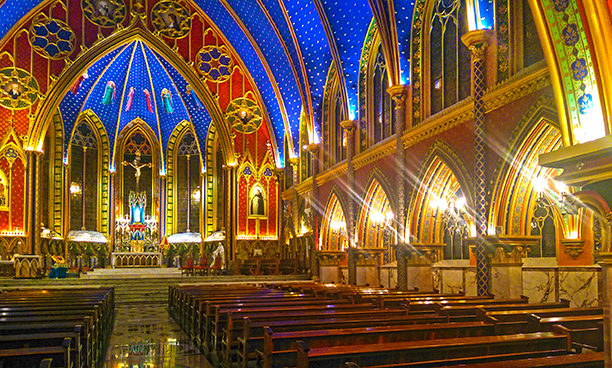 Attracting more than 1,200 pilgrims each month Sao Paolo's Basilica Nosa Senhora do Rosario borrows Gothic-style architecture and ornamentation reminiscent of European cathedrals. As with Notre Dame and Saint Chapelle, its interior is highly reverberant and fraught with complex acoustics.
The sound system it required had to be visually unobtrusive yet deliver clear, intelligible sound everywhere. Diego Nascimento Brito and the team at systems integrator AMI Music met the challenge with Renkus-Heinz Iconyx technology.
Yamaha TF1 joins the ENO cast in mixing role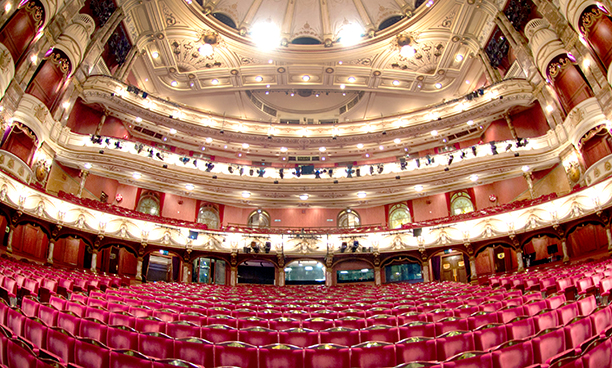 'We do many events, from full opera productions to dance shows, talks, parties and so on in our main house at the London Coliseum, and also in other locations,' says English National Opera Head of Sound, Jacey Linton. 'We have bigger mixing consoles in the main house – like Yamaha CLs – but I needed a compact, portable desk that could deliver high-quality mixes for these other events.'
To meet this need, the ENO turned again to Yamaha – this time for a TF1.
Shanghai Symphony Orchestra Concert Hall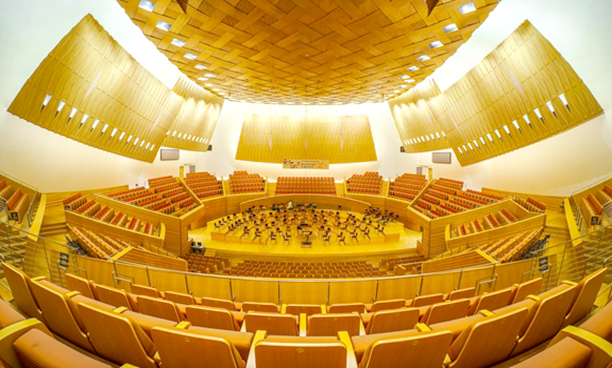 Founded in 1879 as the Shanghai Public Band, the Shanghai Symphony Orchestra has operated under a number of different names as well as under conductors from around Europe.

Today, it stands as Asia's oldest orchestra and has recently moved into a new Concert Hall, designed by Japanese architect Arata Isozaki, along with four Rupert Neve Designs 5088 analogue mixing consoles.
Enter the Dream Asylum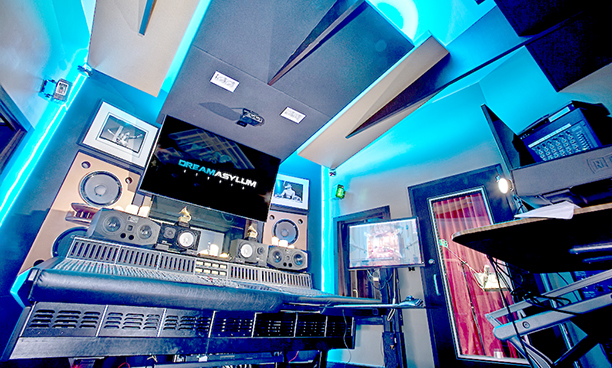 Recognised for work with artists ranging from Britney Spears and Madonna to Justin Timberlake and Jay-Z, US producers, Nate 'Danja' Hills and partner, Marcella Araica have added a Walters-Storyk Design Group-WSDG recording studio to their NARS (New Age Rock Stars) label.
Dream Asylum Control A features wooden equipment cabinets and a dropped ceiling, while Control B has a custom rear wall wooden resonator and geometrical ceiling cloud. They have identical SSL9000 consoles and WSDG/Augspurger monitor systems, and access to a 600ft2 live room/iso booth.
Foos remain en route with Sonic Highways tour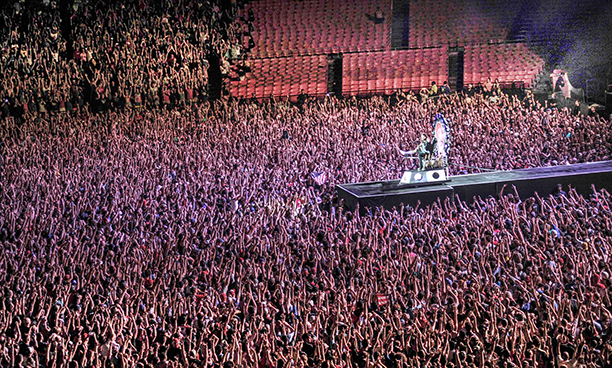 Having broken his leg while onstage in Gothenburg, Foo Fighters frontman Dave Grohl returned to the stage for a 43-date North American leg of the bean's Sonic Highways tour. Appearing at Washington, DC's RFK Stadium with Grohl on a motorised throne, the band's FOH loudspeaker system was based on an L-Acoustics K1/K2 system provided through Delicate Productions by Special Event Services.

Delicate President Jason Alt says he has has taken the same approach for previous tours, based on the acceptance of L-Acoustics' K1 system. In fact, Alt's success with K1 prompted him to order a K2 system for his own company.
Tan Weiwei tours Anya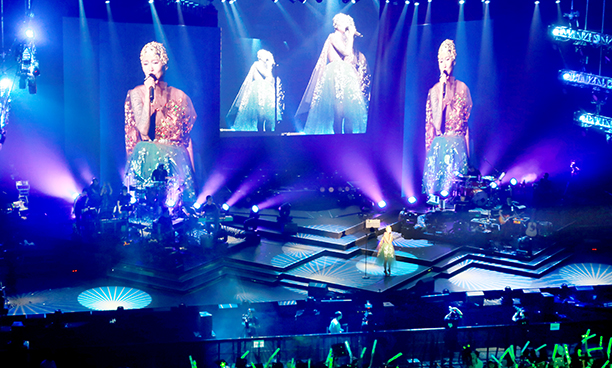 Fresh from appearing in the Chinese TV series I Am A Singer, Tan Weiwei performed at the Beijing Workers' Gymnasium – with help from EZpro and an EAW Anya sound system.
The arena located to the west of the Workers Stadium in Beijing, and orginally hosted the 1961 World Table Tennis Championships. It presents an acoustical challenge for live sound applications, as the loudspeaker location is in very close proximity to the main LED screen and the audience. In addition, it has a limited load-bearing capacity As a result, the sound reinforcement system must be as compact as possible to avoid weight and visibility complications while still providing coverage throughout the venue.
d&b's PUR-fect set-up for massive Veltins Arena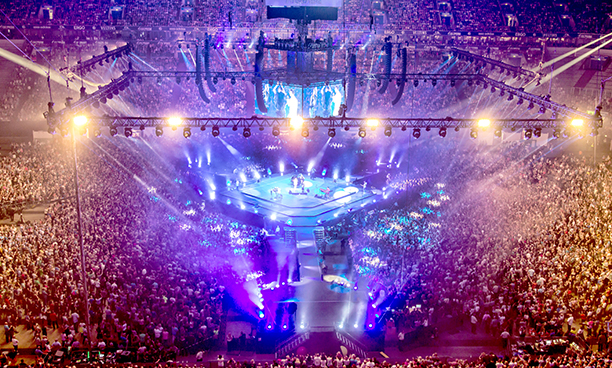 The fifth appearance at the 55,000-seat Veltins Arena for PUR – currently Germany's biggest band _ followed the 'in-the-round' format of their previous gigs – and their choice of different PA system for each performance.

'This is a highly reverberant space,' explains system technician Frank Müller, 'and we have tried many different PA systems and configurations. This time we achieved absolutely the best result ever.'
MLA takes Glastonbury Festival Pyramid Stage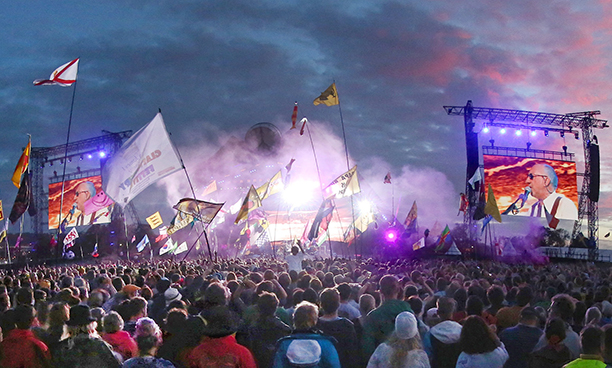 Martin Audio's Multi-Cellular Loudspeaker Array ability to control noise escape beyond a festival site perimeter while maintaining fidelity and high sound pressure levels was proven again at 2015's Glastonbury Festival.

For the audience, this meant that FOH engineers could mix artists on the Pyramid Stage for crowds of up to 120,000 people,' without inviting complaints from residents surrounding the site.
Page 1 of 59
Chas Rowden: Lawo

German audio and video broadcast specialist Lawo has appointed Robert Charles 'Chas' Rowden to head up Strategic Sales within its global team. With 30 years' experience in senior sales roles in...

Read More...
1
2
3
4
5
6
7
8
9
10
11
12
13
14
15
16
17
18
19
20
21
22
23
24
25
26
27
28
29
30
31
32
33
34
35
36
37
38
39
40
41
42
43
44
45
46
47
48
49
50
51
52
53
54
55
56
57
58
59
60
61
62
63
64
65
66
67
68
69
70
71
72
73
74
75
76
77
78
79
80
81
82
83
84
85
86
87
88
89
90
91
92
93
94
95
96
97
98
99
100