Wide News
International news highlights from the world of live sound, recording, broadcast, postproduction and A/V


Martin Audio's Lego Glasto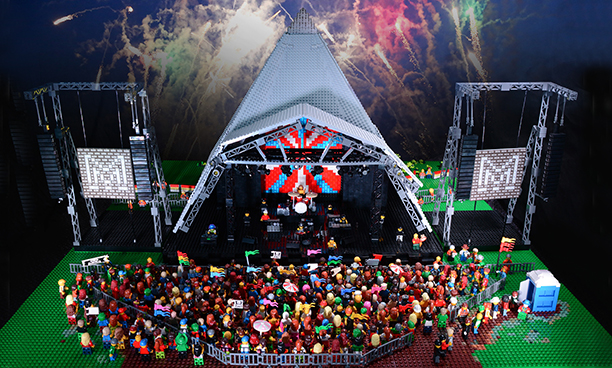 Among its audio attractions, the coming ProLight & Sound show in Frankfurt will feature its own Glastonbury Festival trubute in the shape of a 12,500-brick Lego model of the Pyramid Stage complete with Martin Audio MLA PA system.
Built by Bright Bricks and taking more than 120 man-hours to complete, the model measures 1.2m x 1.2m and includes full replica MLA hangs and MLX subwoofers at the stage whilst a flag-waving crowd listen on. There is even a queue for the toilets...
Orchestral tour for John Grant's Ghosts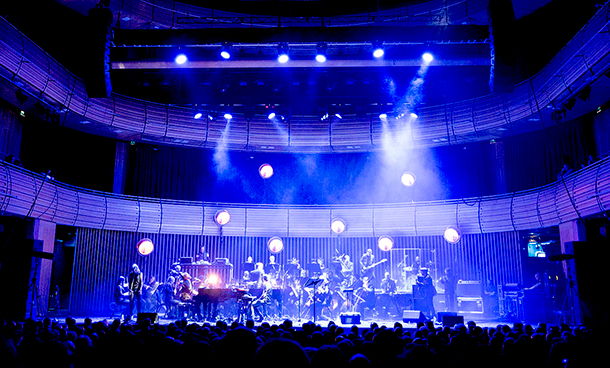 Singer-songwriter John Grant continues to build on the success of both his recorded music and live performances. His recent UK tour involved a unique collaboration with the Royal Northern Sinfonia orchestrated by Fiona Brice, delivering material from 2013's Pale Green Ghosts and 2010's Queen of Denmark.
Accompanying his regular electronic band – comprising drums, guitar, bass and keyboards/synthesisers was 29-piece orchestra. Technical production, meanwhile, was by rental specialist Entec with equipment from Yamaha, Soundcraft, d&b audiotechnik, DPA Microphones and Shure.
Mahajanaka the Phenomenon Live Show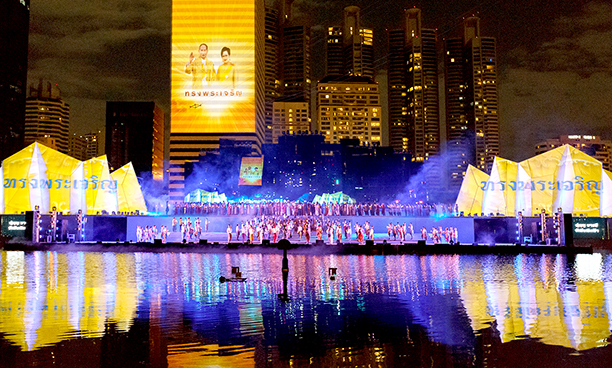 One of the most sacred texts in the Buddhist religion, the story of the Mahajanaka has been told in many different ways over the centuries, but for a spectacular recent live production in Thailand, King Bhumibol Adulyadej commissioned an interpretation that would be readily intelligible to a contemporary audience – Mahajanaka the Phenomenon Live Show.
The resulting multimedia spectacular marked His Majesty's 87th birthday at the Queen Sirikit National Convention Centre besides the Lake of Benjakiti Park in front of 200,000 people.
Avalon Hollywood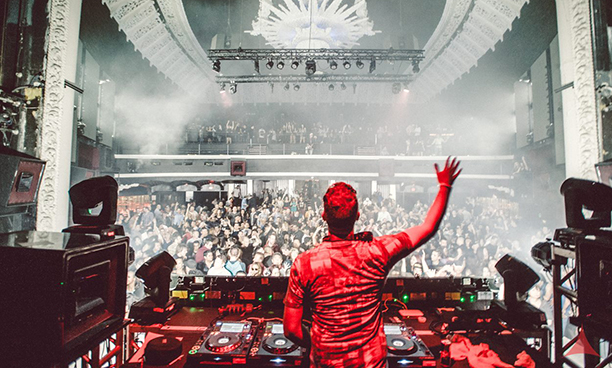 While many venues look to their sound systems to help create their identity, Avalon Hollywood has its own namesake speaker series. No stranger to conceptualising game-changing speakers, club owner and audio expert John Lyons is responsible for installing sound systems at some of the world's leading nightclubs. 'It's a matter of being louder, cleaner and clearer,' he says.
The historic Hollywood's new sound system features Powersoft's M-Force technology – and is the world's largest subwoofer club installation to date. The design and build of the installation fell to Lyons and audio engineers at EAW and Powersoftt, who have worked for two years to perfect the technology.
Sara Bareilles tour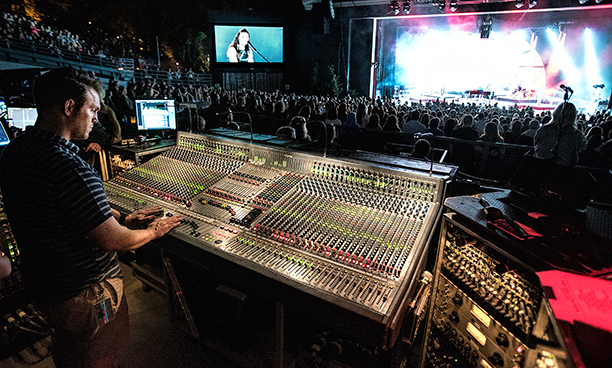 Having recently completed her first full production headline tour, American singer-songwriter and musician Sara Bareilles is set to score a new theatre musical, record a studio album.
The tour took her across the US, and then to Australia, New Zealand and several Asian cities. Trey Smith, who has worked with her since 2008, was particular in his choice of audio system: 'Bobby George at Spectrum talked me into taking a d&b audiotechnik V-Series system,' he explains. 'I spoke to a couple of sound engineer friends of mine to get some alternate opinions – everyone just raved about it. It proved perfect for the type of rooms we'd be playing, a mix of indoor theatres and outdoor sheds; anything from four to ten thousand people.
KBS updates with Lawo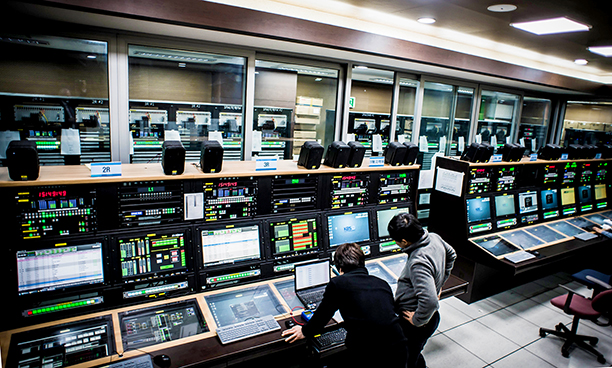 With its technical infrastructure more than ten years old, Korean Broadcasting System (KBS) has begun refurbishment of its master control room with a new server based around Lawo equipment. When complete, a Lawo Nova17 MkII routing systems will take KBS into a new era of radio operation, along with VisTool workplaces for visualisation and control.
The project will a establish fully-redundant system of core radio broadcast facilities, along with user-friendly and efficient operation, and sophisticated monitoring and alarm management. An additional benefit is that certain functions no longer need to be accessed via external devices, but are integrated within the Lawo equipment.
Lenny Kravitz loses cable ties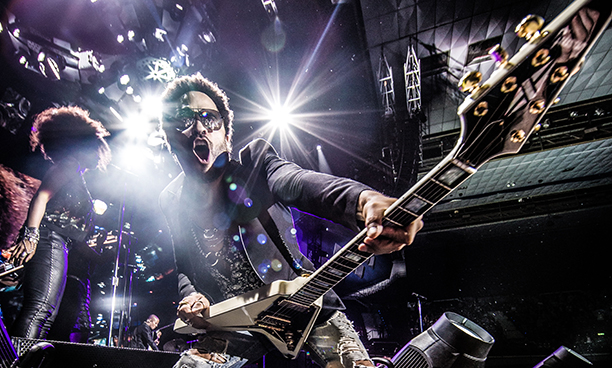 'He works hard on getting everything just right, especially his guitar,' says Alex Alvarez, guitar tech to Lenny Kravitz for 23 years. 'He's just insistent on his sound, which is why he never went wireless. Any time we would demo something, it never met his expectations.'
Production rehearsals for Kravitz's European tour in support of his latest album, Strut, saw something of a change of heart, however: 'It started as a conversation with Lenny,' Alvarez says. 'The subject of wireless guitar came up, and I told him there was a system I wanted him to check out. He said, 'We've been down this road before. I would like to, but you know if it doesn't sound right, I'm not going to do it.'
SSL AWS lights the way for Gaslamp Studios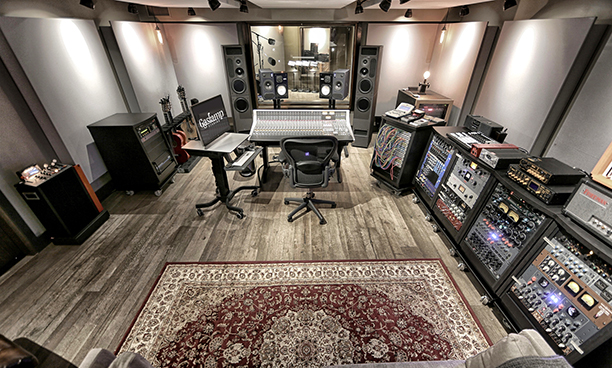 Located in the heart of the San Diego district of the same name, Gaslamp offers remote mixing services to artists and producers. Central to its operation are studio acoustics designed by Jochen Veith of JV.Acoustics, a collection of vintage analogue outboard and modern digital equipment, plug-in processing, PMC main monitors and an SSL AWS 948 mixing console.
'The AWS allows me to have a hybrid workflow,' says Chief Engineer Kellogg Boynton, a Grammy-nominated engineer whose credits include Eric Clapton, Taylor Swift and Warren Haynes.
Page 1 of 56
Arthur Robinson: DAS Audio (US)

DAS Audio has appointed Arthur 'Loren' Robinson to the newly created position of Business Development Manager for Installed Sound, to oversee US sales and accounts. Robinson will serve as the company's...

Read More...
1
2
3
4
5
6
7
8
9
10
11
12
13
14
15
16
17
18
19
20
21
22
23
24
25
26
27
28
29
30
31
32
33
34
35
36
37
38
39
40
41
42
43
44
45
46
47
48
49
50
51
52
53
54
55
56
57
58
59
60
61
62
63
64
65
66
67
68
69
70
71
72
73
74
75
76
77
78
79
80
81
82
83
84
85
86
87
88
89
90
91
92
93
94
95
96
97
98
99
100