Frog's return brings Christmas cheer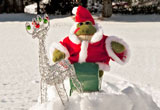 Frank is returning to the road in 2013, resuming his unique place within the pro audio community.
He will be renewing old acquaintances and making new ones, and the picture trail of his adventures will resume on Fast-and-Wide. For those of you who have not come across him, he's an institution in the crazy world of music touring. For those of you who have, he's already got stories to tell...