With music for Call of Duty: Black Ops, Call of Duty: World at War, and Counterstrike: Global Offensive, as well as TV shows Buffy the Vampire Slayer and God, The Devil, and Bob on his CV, Sean Murray's game scores are readily musically dense and visceral. Given the dark side of their content, synthetic sounds would seem to be the way to go…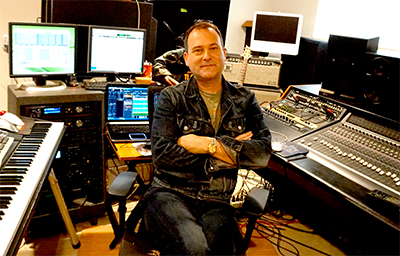 'I have a huge collection of vintage synths, as well as a ton of wonderful orchestral sounds and samples,' Murray admits. 'We've got every sound you can imagine. But there's nothing like recording real instruments for your score. I make it a point to always add something real and organic to my scores.'
This might be his own acoustic guitar or orchestral string players he regularly works with: 'I'll bring them into my studio, set up a pair of mics, and record them live,' he explains.
Recently, these recordings have been made on a new Tascam DR-100 MkIII. 'Having something portable like the DR-100 MkIII that can really create a studio quality recording has made a huge difference for me,' he says. 'I can go into anyone's living room and get a great sounding recording that I can really use.
'The [onboard] omni mics are fantastic for capturing the ambience of the room,' he continues. 'Recently I took it over to my cello player's house – she's got this big living room with a high ceiling and hardwood floor, and the room sounds wonderful. I brought the score, had her listen to it on headphones, and recorded her part live to the DR-100 MkIII. I was able to take that recording back to my studio, import it into my DAW, and use it in the score.'
The ability to make professional-standard recordings in impromptu locations also relies on high-quality mics, preamps, sampling rates – with the Tascam also offers.
'It's really changing the way I work,' Murray concedes. 'Having the 192kHz sampling rate gives me amazing clarity and so much more realism. Having that extra clarity on the high end really puts that shining touch on it.'
More: www.tascam.com