Following the opening of India's first Hard Rock Café in Mumbai's busy upmarket Worli district nine years ago, a second venue has opened in Andheri – one of the most vibrant Mumbai suburbs. Recent changes to the two venues' music policy have been followed by a decision to upgrade the older venue's sound systems with an Outline loudspeaker rig.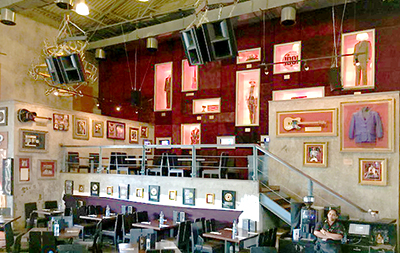 Centrally located in the affluent Andheri West district of Mumbai is surrounded by businesses and movie production houses, and was initially equipped with Outline loudspeakers. Following the decision to expand the music's scope, HRC franchise owners JSM Corporation decided to install a newer and more versatile audio system, and called in Arun Kalra's White Eagle Entertainment, a team they had worked with from the outset, to ensure they got exactly what they needed in a short time frame. 'We've worked with the JSM group since the beginning, and have a greatrelationship,' Kalra says.

'We designed and integrated the original system at the first Worli HRC and also had the privilege of designing and integrating the audio system at the new Andheri venue, which was the first HRC to have the Outline system. The management was so pleased with the Outline system's performance that when it was decided to upgrade the setup at the original venue in Worli, they had absolutely no doubts when opting for an all-Outline solution.'
White Eagle Entertainment designed the system for Andheri's HRC, using the most suitable Outline products and the Italian manufacturer's software. The system comprises four Doppia II 9075 and four DBS 18-2i subs installed at FOH, plus eight Eidos 12 and two Eidos 15 loudspeakers positioned strategically across the venue. An Eidos 118 sub was also installed in the venue's VIP area, and the set-up has an Outline powerhouse.
Sanjay Mahtani, co­founder & Executive Director of JSM Corporation comments: 'We've worked with Arun Kalra and the White Eagle Entertainment team since the inception of our first Hard Rock Café in Mumbai and the audio setup at both venues sounds absolutely amazing.'
More: www.outline.it