Grace Church upgrades service with Powersoft
Covenant Communications Corporation recently gave both campuses of the Grace Church in Houston, Texas, a sound upgrade. The request from the church's leaders presented an unmissable opportunity: 'Grace Church had a no-nonsense, trusting approach to coming up with a budget and asking how it could best be managed to get a powerful end result. We thought it would be a fantastic opportunity for all involved to try Powersoft's products,' says Covenant Communications Sales Manager, Joe Smart. 'We were able to convince them that we could take them from good to great by focusing on the re-amplification of their systems, and by adding control via onboard DSP,'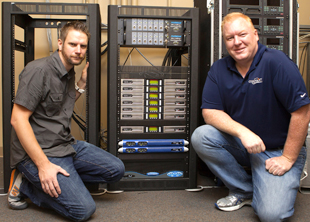 The design, installation and consultation firm company manages projects worth over US$700m annually, and counts the two largest megachurches in the US among its clients – Second Baptist and Lakewood, with a combined weekly attendance of nearly 70,000 people.
Covenant Communications replaced the old amplifiers with Powersoft amps at both campuses, which are located in the Houston neighborhoods of Garden Oaks and Humble. Eighteen Powersoft Duecanali and M-Series amplifiers with DSP and Ethernet-based network connectivity were chosen after analysing the PA systems and determining that the speakers were underpowered and would benefit from system management.
At the Garden Oaks campus, six two-channel Duecanali 3904 DSP+AESOP amplifiers power a flown system of five JBL VRX900 Series line array modules per side, with one balcony delay per side. A two-channel Duecanali 5904 DSP+AESOP amplifier drives a pair of Sound Bridge 7218SWX dual 18-inch subwoofers under the stage. At the Humble campus, six two-channel Duecanali 3904 DSP+AESOP amplifiers drive an LCR configuration comprising four JBL VRX932LA-1 modules per hang. A single two-channel Duecanali 5904 DSP+AESOP amp provides power to four Sound Bridge 7218SWX subwoofers flown two each side above the stage. Two four-channel M50Q HDSP+ETH amplifiers provide power to the JBL SRX712M stage monitor speakers at each campus.
'The system was a little bit underpowered, so we've significantly increased the amount of power per speaker, and given them more circuits so that we can apply more gain shading,' Smart explains. 'With all of the control we have now we were able to improve the clarity and the front-to-back coverage with a lot more clean headroom. We have also significantly reduced the rack footprint. The customer is really pleased.'
'Making the change to the Powersoft system has made a tremendous impact on the quality and intelligibility of our sound,' said Brian Victor, the consultant on the project and now the technical director for all Grace Church campuses. 'Hearing the difference in the before and after from the previous installation was a bit like going from SD to HD in video. Plus, to get that much output and quality from such a small footprint was truly remarkable. The church was really pleased with the decision to go with Powersoft.'
Smart worked with Powersoft's Armonía Pro Audio Suite monitoring and control software to optimise the set-up: 'We liked how the amplifiers instantly showed up on the network and we could just click on them,' he says. 'We didn't have to build a lot of control panels or anything like that. We could get in there and start tuning the system almost instantly.'
Software control of Powersoft's Active Damping Control feature proved noteworthy: 'The difference as we moved that slider around to compensate for the speaker cabling lengths and variances of some of the existing wiring really made those Sound Bridge subs sit up and talk. We just looked at each other and said, "Wow, what a cool feature".'
Also impressive was the integrated SmartCard reader/writer on each amplifier, enabling firmware updates and preset storage to be managed via a slot in the front panel: 'We updated all the amplifiers safely from the front panel in a matter of minutes without wrecking the network.'
Jerry Chambers of Dimension Point Marketing in Houston was instrumental in guiding Covenant Communications through the Powersoft product line. 'We were able to choose the product mix that would keep us on budget and make the biggest impact,' Smart reports. 'We received fantastic factory support from Ken Blecher, executive vice president at Powersoft, who flew in on short notice to give us training on the Armonía Suite. We were in awe of his depth of knowledge in PA system amplification topologies, and were extremely pleased at Powersoft's personal involvement in this project.
'In my business, it's great to install a great sounding product, but the only way we really win is if we never have to go and see it again. We want to hear it once and say goodbye. The proof is in the sound and the reliability and I've been super-pleased.
'It's a premium amplifier but we were able to come in on budget and prove to the customer that it's absolutely worth it,' he concludes. 'If you do budget correctly for your amplification the results can be significant, even on an average speaker. We were very pleased with our recommendation of the Powersoft amplifiers.'
More: www.powersoft-audio.com
Jason Kelly: SSL

Jason Kelly has joined Solid State Logic as Product Manager, to spearhead the introduction of the company's new Live mixing console. With a 25-year career covering live sound production, live event...

Read More...
1
2
3
4
5
6
7
8
9
10
11
12
13
14
15
16
17
18
19
20
21
22
23
24
25
26
27
28
29
30
31
32
33
34
35
36
37
38
39
40
41
42
43
44
45
46
47
48
49
50
51
52
53
54
55
56
57
58
59
60
61
62
63
64
65
66
67
68
69
70
71
72
73
74
75
76
77
78
79
80
81
82
83
84
85
86
87
88
89
90
91
92
93
94
95
96
97
98
99
100
1
2
3
4
5
6
7
8
9
10
11
12
13
14
15
16
17
18
19
20
21
22
23
24
25
26
27
28
29
30
31
32
33
34
35
36
37
38
39
40
41
42
43
44
45
46
47
48
49
50
51
52
53
54
55
56
57
58
59
60
61
62
63
64
65
66
67
68
69
70
71
72
73
74
75
76
77
78
79
80
81
82
83
84
85
86
87
88
89
90
91
92
93
94
95
96
97
98
99
100