HHB kits out NGY myplace
New production rooms at the recently opened NGY myplace facility in Nottingham (UK) have been equipped by London-based HHB Communications.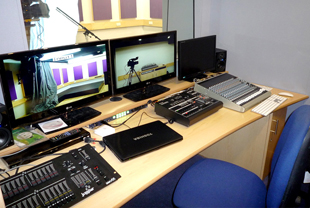 Part of a collaborative project run by Nottingham City Council, the facility's basement has been converted to house professional production rooms, including a suite of music, radio and video studios for young people in the community. The design and contraction of the facility was carried out by The Studio People while HHB supplied equipment and commissioning services.
'The Castle Gate basement has been transformed into an outstanding, state of the art digital-media production facility,' says Darren Goodlad of Nottinghamshire YMCA, NGY's digital media partner.
'We've managed to maximise the usage of the limited amount of space and install a set of industry standard equipment. Each studio can be used independently but we also have extensive patching which will allow us to use the rooms together.'
The new facility offers a music production studio, two radio studios, TV production, performance space and a digital-media classroom. The equipment chosen for the facility includes an Audient ASP8024 console, Sonifex S2 radio mixers, Sony HVR-HD1000 camcorders and Roland LVS8000 video switcher.
The centrepiece of the music studio is the ASP8024 mixing console, while Apple computers were specified for music and video production. HHB commissioned a media server that provides secured storage and data networking between rooms.
'We are very pleased to be part of such an inspiring project that is designed to give young people in Nottingham free access to equipment that they would not otherwise get to use,' says HHB Educational Sales Manager, Andrew Hingley. 'The Studio People did a great job designing studios and specifying equipment that will provide a professional experience and results.'
NGY myplace is one of four youth facilities across the East Midlands that received a share of £20m funding as part of the national myplace Programme. More than £5m has been invested to transform the derelict Grade II listed building in Nottingham. Spread over five floors, the building is open seven days a week and offers youngsters aged 13-19 a wide range of activities from music and film production, to dance, fitness sessions, courses, health and wellbeing support. Young people in the area were consulted from initial concept to design and delivery by Nottingham City Council and its partners to ensure that the facilities were reflective of their needs.
More: www.hhb.co.uk
More: www.ngymyplace.co.uk
Jason Kelly: SSL

Jason Kelly has joined Solid State Logic as Product Manager, to spearhead the introduction of the company's new Live mixing console. With a 25-year career covering live sound production, live event...

Read More...
1
2
3
4
5
6
7
8
9
10
11
12
13
14
15
16
17
18
19
20
21
22
23
24
25
26
27
28
29
30
31
32
33
34
35
36
37
38
39
40
41
42
43
44
45
46
47
48
49
50
51
52
53
54
55
56
57
58
59
60
61
62
63
64
65
66
67
68
69
70
71
72
73
74
75
76
77
78
79
80
81
82
83
84
85
86
87
88
89
90
91
92
93
94
95
96
97
98
99
100
1
2
3
4
5
6
7
8
9
10
11
12
13
14
15
16
17
18
19
20
21
22
23
24
25
26
27
28
29
30
31
32
33
34
35
36
37
38
39
40
41
42
43
44
45
46
47
48
49
50
51
52
53
54
55
56
57
58
59
60
61
62
63
64
65
66
67
68
69
70
71
72
73
74
75
76
77
78
79
80
81
82
83
84
85
86
87
88
89
90
91
92
93
94
95
96
97
98
99
100