Audient ASP4816 desk gets first US placement
Working closely with Kvest Management in the role of 'artist development guy', Derek W Pardoe places a high value on his recording facilities. After his original studio was destroyed by Hurricane Katrina, Pardoe built the current facility himself.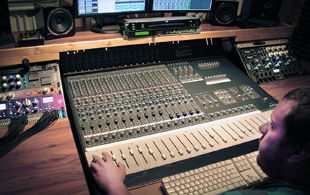 In 2002 he had landed a deal with Wind-Up records with a band named Atomship. 'I spent every dime I made from that deal building my first studio, which was destroyed by Hurricane Katrina,' he recounts. 'So I built the building that I am currently in.'
Using his Mississippi Gulf Cost studio to develop artists, involves helping musicians to write songs, arrange tracks and create demos that are then distributed to major labels. His recent decision to install a new mixing console was, therefore, an important one. Now central to this process is an Audient ASP4816 analogue mixing desk – the first ASP4816 placing in the US.
'The console is an absolute dream,' he says. 'It has all the functionality of a large format desk with a smaller footprint, and I love it.
'One of the biggest selling points for me was the functionality. The bus matrix reminded me a lot of working on an SSL and having the monitor controls onboard and a built in two-bus compressor, as well as eight aux sends and four stereo inputs is a huge step forward for this market. You guys have set the bar extremely high.'
Pardoe originally had reservations about the sound quality of small desk: 'I was nervous that I was going to be heavily relying on outboard pres to "colour" the audio, but this hasn't been the case at all,' he says. 'They have such a fantastic character, I can only describe it as clear and warm. They have a really fast response, they excel on everything you put through them. I have yet to feel like something was lacking, and I have a feeling I never will.
'The EQ is extremely natural sounding,' he continues. 'It doesn't sound like it's applied to the track, it just simply sounds like the track. It can be very surgical; it can be very subtle.
'I originally built the studio, both studios, in fact, as a personal space but after a while I had local musicians contact me about recording, so it became a little less personal. I was then contacted by our manager Kenny Vest – who owns Kvest Management – about working with him and Kvest to develop his artists and record demos.
'One of the biggest reasons I decided to upgrade with the ASP4816 was because of this close work relationship – quality is important, and I found quality in the Audient.'
The desk runs with Lynx Aurora 16VT converters into a Mac Pro running Pro Tools.
'For outboard, I run a minimal set-up,' he says. 'The only pres beside the Audient's are Vintech 473s. For outboard compression I have a two-channel Vintech 609CA compressor/limiter, two Empirical Labs Distressor compressors, a Kush Audio UBK Fatso compressor and dbx 162SL.
'I feel like I've hit the jackpot with the ASP4816. I'm happy I found it because there are no options in this price range that have this much functionally and quality. You guys have done something fantastic here.'
The desk was supplied by US Audient dealer and music technology retailer Sweetwater.
More: www.audient.com
Pat McConnell, Ed Capp: Sound Devices

Sound Devices has announce two internal promotions: Pat McConnell as VP of Sales and Ed Capp as Global Sales Director. In their new roles, McConnell and Capp will oversee the Sound Devices sales team,...

Read More...
1
2
3
4
5
6
7
8
9
10
11
12
13
14
15
16
17
18
19
20
21
22
23
24
25
26
27
28
29
30
31
32
33
34
35
36
37
38
39
40
41
42
43
44
45
46
47
48
49
50
51
52
53
54
55
56
57
58
59
60
61
62
63
64
65
66
67
68
69
70
71
72
73
74
75
76
77
78
79
80
81
82
83
84
85
86
87
88
89
90
91
92
93
94
95
96
97
98
99
100
1
2
3
4
5
6
7
8
9
10
11
12
13
14
15
16
17
18
19
20
21
22
23
24
25
26
27
28
29
30
31
32
33
34
35
36
37
38
39
40
41
42
43
44
45
46
47
48
49
50
51
52
53
54
55
56
57
58
59
60
61
62
63
64
65
66
67
68
69
70
71
72
73
74
75
76
77
78
79
80
81
82
83
84
85
86
87
88
89
90
91
92
93
94
95
96
97
98
99
100