Haiti heat makes green sound systems cool
'2010 was a really tragic moment for the people of Haiti. In January the worst earthquake in 200 years, at 7.0 in magnitude, devasted a huge part of our country,' says Frederic Joassin. 'But we did not lose faith in the future, we did not crumble. We expanded our business because we strongly believed that it was the right time to change our company – we decided to invest in and increase the quality of the sound solutions we could offer our customers.'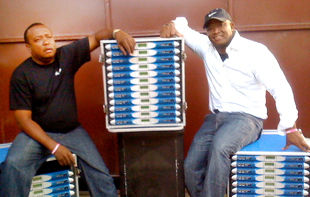 Frederic and brother Fritz established Haitian Prosound Plus Totobeat in 2003. Since the beginning of their venture, they invested in professional audio equipment in order to meet the growing needs of live concerts, and the most important Mardi Gras events in Haiti.
Looking to extend their technical inventory recently they had a very clear goal – to deliver the most clean and crisp sound in the Caribbean. With this in mind they purchased 32 Clair Brothers I 218 and 34 Powersoft K Series amplifiers. 'It was a very significant investment for us,' says Fritz Joassin. 'But because of it, we acquired many musical contracts all over Port-Au-Prince, and also work in several venues in the Dominican Republic.
The amplifier complement comprised K20 (up to 18kW in a single rack space), K10 (2 x 6kW into 2Ω), K8 (2 x 4.8kW into 2Ω). 'Powersoft amplifiers give great performance. They are efficient and their lightweight is ideal for a geographical area like ours. The lower electric energy consumption and a low heat dissipation are so important in our tropical climate. For this reason K series are certainly smart amplifiers: a clever combination of energy saving and large output power. They are perfect for the Caribbean islands.'
In 2012 Prosound Totobeat Inc was declared 'Best Sound Company for the Mardi Gras Season, a fair reflection of their leading position in Haiti today.
More: www.powersoft-audio.com
Jason Kelly: SSL

Jason Kelly has joined Solid State Logic as Product Manager, to spearhead the introduction of the company's new Live mixing console. With a 25-year career covering live sound production, live event...

Read More...
1
2
3
4
5
6
7
8
9
10
11
12
13
14
15
16
17
18
19
20
21
22
23
24
25
26
27
28
29
30
31
32
33
34
35
36
37
38
39
40
41
42
43
44
45
46
47
48
49
50
51
52
53
54
55
56
57
58
59
60
61
62
63
64
65
66
67
68
69
70
71
72
73
74
75
76
77
78
79
80
81
82
83
84
85
86
87
88
89
90
91
92
93
94
95
96
97
98
99
100
1
2
3
4
5
6
7
8
9
10
11
12
13
14
15
16
17
18
19
20
21
22
23
24
25
26
27
28
29
30
31
32
33
34
35
36
37
38
39
40
41
42
43
44
45
46
47
48
49
50
51
52
53
54
55
56
57
58
59
60
61
62
63
64
65
66
67
68
69
70
71
72
73
74
75
76
77
78
79
80
81
82
83
84
85
86
87
88
89
90
91
92
93
94
95
96
97
98
99
100