Kenton Electronics marks 25 years
October 2011 marks 25 years of operation for Kenton Electronics.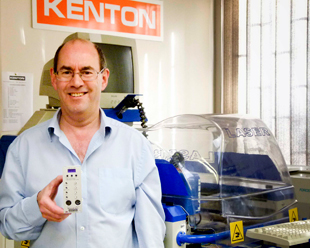 The the London-based bespoke electronics company began in 1986 as a result of proprietor John Kenton Price building Midi interfaces that would allow him to play his Oberheim OBX from the keyboard of his Hammond organ. Such was the success of this innovation that many of his musician friends asked if he could build similar units for them.
And so began Kenton's penchant for designing and building Midi solutions that have graced thousands of studios across the globe. Noted clients include Barry Manilow, Underworld, Hans Zimmer, Rick Wakeman, Edgar Winter, Florence & the Machine, The Script and Coldplay. Less celebrated, Kenton was also responsible for the Midi retrofit on the Roland Jupiter 8 of Fast-and-Wide's Tim Goodyer, as discussed in the Hard Hacking blog...
'I've enjoyed the hard work over the years that's earned Kenton its great reputation and loyal customer base,' Price says. 'We're still creating unique, world-class solutions for musicians, producers and engineers worldwide, and long may it continue.'
More: www.kenton.co.uk
Jason Kelly: SSL

Jason Kelly has joined Solid State Logic as Product Manager, to spearhead the introduction of the company's new Live mixing console. With a 25-year career covering live sound production, live event...

Read More...
1
2
3
4
5
6
7
8
9
10
11
12
13
14
15
16
17
18
19
20
21
22
23
24
25
26
27
28
29
30
31
32
33
34
35
36
37
38
39
40
41
42
43
44
45
46
47
48
49
50
51
52
53
54
55
56
57
58
59
60
61
62
63
64
65
66
67
68
69
70
71
72
73
74
75
76
77
78
79
80
81
82
83
84
85
86
87
88
89
90
91
92
93
94
95
96
97
98
99
100
1
2
3
4
5
6
7
8
9
10
11
12
13
14
15
16
17
18
19
20
21
22
23
24
25
26
27
28
29
30
31
32
33
34
35
36
37
38
39
40
41
42
43
44
45
46
47
48
49
50
51
52
53
54
55
56
57
58
59
60
61
62
63
64
65
66
67
68
69
70
71
72
73
74
75
76
77
78
79
80
81
82
83
84
85
86
87
88
89
90
91
92
93
94
95
96
97
98
99
100