AC Entertainment Technologies Ltd (AC-ET) and Leeds City College have agreed a partnership commencing with the distributor supplying a full range of production technologies to the institution's new £60m Quarry Hill Campus.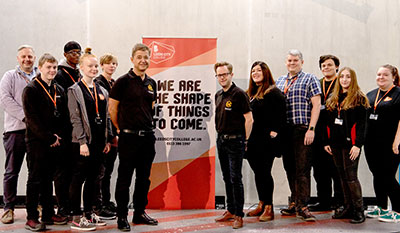 Leeds City College is one of the UK's largest further education providers, with more than 20,000 students attending its courses. The new campus, which includes the college's School of Creative Arts, is located in Leeds' cultural quarter close to institutions such as Leeds Playhouse, Leeds College of Music and Northern Ballet, and the BBC.
To create learning environments where students can achieve their full potential, there is a significant programme of investment in the college's campuses. This includes offering facilities that allow students to fully develop the skills and experience needed to work in their chosen sector. With the School of Creative Arts' Media & Performance Production department offering backstage arts courses in technical theatre, TV and film production, it was therefore vital to equip the purpose-built facilities with technologies from some of the most innovative and popular brands.
Having a history supporting the college in various ways for a number of years, AC-ET's Northern sales office was approached to tender for the supply of technical facilities equipment for Quarry Hill's 200-seat theatre, dance studios, TV newsroom gallery, film studio, and media suites. AC-ET External Sales Executive, Benjamin Taylor. worked with Jonathan Walters, the company's UK Sales & Purchasing Director, Neil Vann, AC-ET's Brand Development Manager and colleagues in the Rigging, Audio and Video sales divisions to compile an extensive equipment list which would meet the college's detailed technical specification and budgetary requirements.
AC-ET won the tender for the supply, which included over 80 Chroma-Q and ProLights LED lighting fixtures; Sixty82 truss; Columbus McKinnon chain hoists; Panasonic projectors; Draper screens; HDAnywhere transmission; an Allen & Heath audio control and mixing rack; Martin Audio speakers and Shure digital wireless systems. To connect together the equipment infrastructure, AC-ET supplied Luminex networking products and 2.5km of cable made up of almost 430 units, assembled by the Tourflex Cabling service.
Owing to AC-ET's strong links to numerous brands at the cutting edge of creative productions, and position as a major international supplier to the performance and broadcast sectors, it will continue to support and assist with the development of the college's backstage arts courses in the coming years. 'It's been fantastic to work with industry specialists with a strong community ethos over the past few years and we're looking forward to a promising future with AC Entertainment Technologies, nurturing the next generation of backstage artists,' says Richard Lee, Head of Media & Performance Production at Leeds City College. ''As a college, we pride ourselves on forging relationships with regional businesses to boost the local economy, and this partnership further consolidates our links with the creative arts industry. This equipment is vital to providing a real environment for our students to get the best possible head-start in their career and will provide them with the necessary skills to become industry-ready.'
Initiatives being planned include training days at the Quarry Hill campus hosted by AC-ET's in-house industry professionals. It will also be looking to provide work experience opportunities, and potentially recruit students for suitable roles in its Leeds office.
'We are delighted to partner with Leeds City College to help to foster tomorrow's backstage talent,' says Jonathan Walters, who also heads AC-ET's Leeds office. 'The production industry is driven by creativity and innovation. However, an essential ingredient of this is the people working backstage who possess the technical knowledge and experience needed to deliver it. By ensuring that students are given access to the latest industry-standard equipment, it's a winning outcome for everyone that will help to meet the needs of employers in our industry.'
More: www.ac-et.com