Leading US podcast creator and distributor Stitcher recently moved into new studios in New York City with acoustics designed by Walters-Storyk Design Group (WSDG) and audio systems that include Allen & Heath Qu-16 and Qu-32 digital mixers. Its new facility is home to original content ranging from roundtable discussion to comedy improv, scripted fiction, documentary and musical podcasts.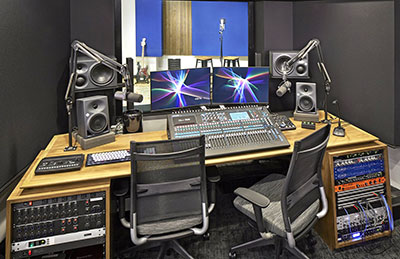 John DeLore, Senior Production Manager for Stitcher's New York studios, explains that the company's previous facility was limited to a single studio with a control room and interview room: 'We needed more capacity and studio space. And our new studios needed top of the line sonic quality, lots of flexibility and acoustic isolation from each other and the outside world.'
Stitcher worked with WSDG to achieve these goals, and to fully isolate the new studios and make them consistent from room to room.
Stitcher's previous facility had used the Allen & Heath Qu-16 digital mixer: 'They were very comfortable with the Qu-16 because it enabled them to produce their podcasts along with mix-minus feeds for remote interviews,' WSDG's Judy Elliott-Brown says, 'so we specified a second Qu-16 and a larger Qu-32 for music recording.'
'We have the Qu-32 in Studio A – in that room, we utilise the layers and scenes for podcasts like the Marvel Wolverine series, and for recording original scoring,' DeLore continues. 'It works as an interface with Pro Tools so everything is one to one. And, we love the Q-Drive function. We're recording to Pro Tools but the Q-Drive gives us a multitrack backup. And, guest engineers can set up the mixer the way they need; then we return it to the studio's standards with a programmed soft key.
'The Allen & Heath mixers really work well for what we do,' he adds. 'We like the way they sound and we like the ease of operation. Our end product is audio and from where I sit as a producer, we have a beautiful suite of studios nicely equipped to deliver a high-quality product.'
More: www.allen-heath.com
More: www.wsdg.com