With a gathering of 30,000 people, the recent international university festival of Alicante looked to DASaim digital steering technology to ensure the sound quality in the audience areas of the large festival site. It marked the second consecutive year that DAS Audio had seen action at the Paellas Festival Live at the Rabasa Multispace facility, near the university campus.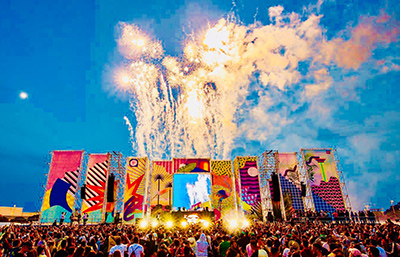 The Paellas Festival offers uninterrupted live music, fod and entertainment from 10am to 9pm. This year, all the power was focused on the main stage as there were no secondary stages as in previous editions. Thus, the main stage drew all the attention with a colorful monumental structure by artist Antonyo Marest, plus a sound system that delivered sound quality with power and coverage throughout the venue and all over the audience areas.
Oxigen Sonido e Iluminación was in charge of the installation of the systems in the venue. A main system of 28 Aero-40A boxes was supported by 12 Aero-20A boxes for out fill, eight Aero-40As for front fill, 24 Aero-40As for delay and 16 UX-221A subwoofers. The audio challenges faced were different from last year, as the festival has shifted from being a multi-stage event to using a single stage. On this occasion, the objective was to achieve uniform coverage and high intelligibility all over the audience areas, as well as delivering pressure and sound quality throughout.
To ensure these requirements were met, the systems employed DASaim to control SPL and directivity. DASaim also allowed the design of FIR filters for each cabinet of the arrays enabling optimal control of the global behavior of the Aero-40A and Aero-20A systems. Additionally, the acoustic prediction software EaseFocus 3 and DASnet v1.70 were used to optimise the design with DASaim.
Once more, the producers of the event, Babalú, and the rental company Oxigen, wich provided the sound equipment, opted for DAS Audio systems to rock the festival. 'DAS Audio is a guarantee of reliability,' Oxigen Technical Director Jorge Henderson explains. 'Honestly, it's a brand that responds to all kinds of events. It withstands all kinds of conditions and continues to work without problem.'
Henderson also highlights the company's customer support: 'We work with DAS Audio for all types of installations and events,' he says. 'We trust them and have a very good relationship with all the team.'
More: www.dasaudio.com