Following the recent debut of the Vero VX system at the Gottwood Festival, Funktion-One and Cadac teamed up with long-term partner Audio Plus to give Funktion-One's Vero and Cadac's CDC six mixing console their first Glastonbury Festival exposure at The Glade Stage.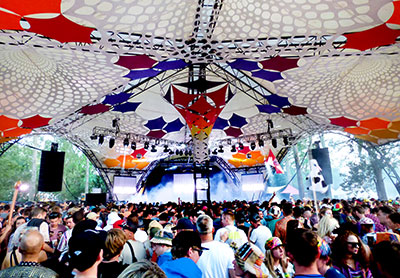 The Glade Stage, which offered a mixed programme of DJ and live performances, used left and right hangs of seven Vero enclosures per side – three V315s, two V90s and two V60s. These flown arrays were paired with an asymmetric bass setup consisting of a two wide/six high block of F124s stage left and a stack of four F221s stage right. The system was powered by Lab.gruppen PLM20K44 amplifiers.
A fill system was deployed around the video relay screen, which serviced the overspill area. It featured Evo 7Ts with Evo 7THs (for enhanced mid/highs) and F221 bass enclosures and could be turned on or off, depending on the size of the crowd.
Funktion-One implemented new crossover filter discoveries made during the development of Vero VX, leading Funktion-One founder Tony Andrews to conclude that Vero at The Glade was: 'The best I've ever heard it.'
'It was at the personal request of Tony Andrews that there should be a Cadac CDC console front of house,' explains Audio Plus tech Dan Hull, part of the company's onsite team. 'He especially wanted it paired with the Vero, because of his love of its preamps and its sound quality, and his familiarity with the console and what he knows he can achieve with the Vero, mixing on the Cadac.'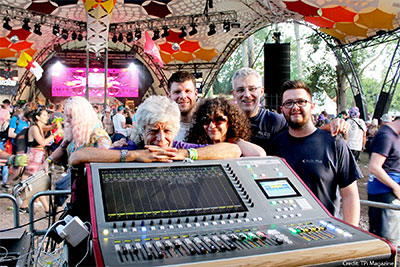 The CDC six was the principal FOH console with a DiGiCo SD10 on standby for engineers using show files, with the latest DSP-enabled XTA MX36 console switcher making the move between consoles a simple affair. The whole system ran on a Dante network with a CDC MC Dante providing the bridge between Cadac's MegaComms ultra-low latency protocol and Dante.
The system received plaudits from artists, festivalgoers and sound engineers, who praised its stereo imaging and headroom: 'The sound was fantastic, just massive,' Hull. reports 'I walked around a lot of the other stages and while sound was good, they just didn't have what the Vero has; the bass, the accuracy and the directivity. We were able to direct the system with pinpoint accuracy within the Glade arena. The musicality of the system and the very high levels of fidelity, right throughout the mids and the highs, was like nothing I have ever heard before.'
'I had a really wonderful time mixing on Vero – it is everything you want from a PA,' reports Kuenta FOH engineer, Jovani Kock. 'As an engineer, mixing a band that is low-end heavy, the Vero system exceeded all my expectations by miles. Lots of headroom, without compromising sound quality. I could mix in great detail without having to push the faders too much.'
Dub Pistols' FOH engineer Bill Borez was also pleased: 'I used the new Funktion-One Vero on The Glade Stage at Glastonbury festival and was extremely impressed with this system; very clean, very precise with great stereo imaging. Vocals cut though beautifully, and the bass was, for want of a better phrase, absolutely enormous.'
'I was overjoyed with the new system – it surpassed all expectations,' reflects Area Coordinator of Avalon, Glade and The Wood stages, Luke Piper. 'We quadrupled the normal capacity of the venue up to 20,000, with people dancing right at the back of the crowd to Carl Cox, Fatboy Slim and Squarepusher. Here it sounded just as good as at the front with a full range, solid, clear and real bottom end, and great mid-range separation. Vero is a very real 'non-synthetic' alive sounding system that's perfect for live and electronic acts alike. It's the best system I've ever worked with.'
See also:
Funktion-One Vero VX debuts at Gottwood
More: www.funktion-one.com