St Thomas High School is the oldest college preparatory high school in Texas, and its campus is regarded as one of Houston's most architecturally beautiful – encompassing multiple interconnected buildings, including the Cemo Auditorium.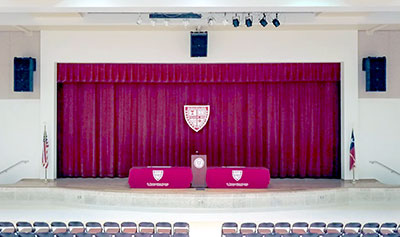 Built in 2002, the auditorium is heavily used for music programmes, lectures, and plays, as well as for mass. Plagued by poor quality sound for many years, it recently received an A/V systems upgrade from systems integration firm Touch Thirty Three, including dual sound systems based on Renkus-Heinz digitally steerable loudspeakers.
'Our original system created a host of issues with sound reflecting off multiple hard surfaces,' recounts St Thomas High School IT Director Christopher Hodge. 'When they tore the old building down, they reused a lot of the stone on the inside of the new building. This stone is one or two inches thick, there's a lot of it, and it goes up very high. We also have very high windows within a culvert, and sound bounces around there. So the sound we heard was muddled and unintelligible.'
Another major issue was directionality. 'There was no directional feel,' Hodge explains. 'Whether we were doing mass or a play, the sound was coming from above. So there was no real connection to the performers during plays or the celebrants during mass.'
Because the auditorium serves multiple purposes, it has two separate focal points, which added to the challenge. A stage at one end of the space is the focus for performances and lectures, while mass is celebrated with seating 90° to the left, in front of a crucifix along one side of the room. For Coffman, the solution was two separate sets of Renkus-Heinz loudspeakers.
For the stage, Coffman specified an LCR system with two IC2-FR digitally steerable array modules and one IC212S-FR subwoofer on each side, complemented by dual IC2-FR arrays in the centre. 'The IC2 series are my favourite sounding high-powered loudspeakers, period,' he asserts. 'If you say I can have anybody's loudspeakers, the IC2s are my hands-down favourite. I love the way these speakers sound.'
Coffman's LCR design resolved the stage's directionality issues: 'The ability to use a dedicated centre channel so the audience can hear someone whispering over on the corner of the stage has been phenomenal,' Coffman confirms. 'If you know how to adjust IC2s and set the beams and the arrays properly, they sound great everywhere. They sound terrific in this room. And they hang terrifically: They're dead hung against the wall, and I don't have to ask the contractor, "hey can you come in and point them down another five degrees", or "can you twist them in", as you normally do with a static array. I just yank out my laptop and try different settings. I defy anybody to come in here and put in an array that's going to sound better.'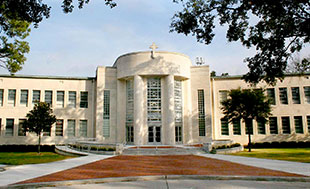 The system used for mass employs a left-right pair of Renkus-Heinz Iconyx Gen5 IC24-RN digitally steerable arrays mounted on either side of the crucifix. 'Our mass system is used for voice and for our choir,' Hodge says. 'Because it's behind the celebrants, we do get a feeling of connection.'
'It's mind blowing what you can do with the Iconyx Gen5,' adds Coffman. 'We put a pair of IC24s behind what is technically the stage. The celebrant is ten feet out into the speaker pattern. How do you do that and not have feedback, especially when you're doing open miking on top of an altar? With Iconyx, I can place a beam up high and shoot over the top of the stage and reach the people in the front rows. And the sound is clearly and intelligibly heard throughout the room, it's at a good volume level, and that connection between the person giving the message and the people hearing it is just locked.'
'The versatility of our new sound system is far more than I could hope for,' Hodge affirms. 'The system as a whole is a vast improvement, and the sound quality is amazing. The drama department has noticed a significant increase in intelligibility. Our priests have commented on how good they sound. We are extremely happy with the system, and we see it serving us for years to come.'
More: www.touch33.com
More: www.renkus-heinz.com