The Institute of Acoustics (IOA) has installed Shure Microflex Advance MXA910 microphones to complement an innovative Voice Lift system at the organisation's Milton Keynes headquarters. This has helped to restore the natural speech level for far-end participants within a space used as both a meeting room and a classroom for attendees participating in courses involving working within acoustics.
The brief described a hands-free system that could be permanently installed in a room with the ability to be divided as necessary and with multiple furniture layouts. Audio clarity was a critical factor both in the room and online, with appreciation that IOA works with the world's top acousticians in every field on a daily basis. Students undertaking courses now benefit from clear speech across the space, while students collaborating online via distance learning are delivered the same audio as their classroom counterparts, with the system raising the quality of the lecture captured content.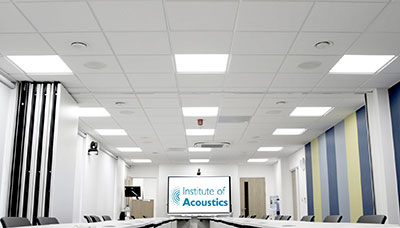 Voice Lift was a key requirement, with the decision aided by a demo VC call along with a visit to Shure's Audio Institute (SAI) and the opportunity to see and hear the system 'in action'. The ability to be able to speak to Shure's product managers during the demo and benefit from a full hands-on understanding of the system was a crucial part of the project.
'Our room is a very similar size and shape to SAI,' explains IOA, Chief Executive, Allan Chesney. 'The demo was instrumental in giving us a feel for how Voice Lift worked for those within the space and those listening online, along with an understanding of the quality of sound delivered.
'SAI benefits from six Shure MXA910 ceiling microphones, and as we were only installing three at IOA we were unsure that we'd experience the same audio quality with our system. However, the team at Shure reassured us that three would be more than adequate, and they were absolutely correct.'
Excite AV undertook the project, with Shure's assistance on the software set-up for the Voice Lift system. Working with audio solutions provider Audiologic, Shure continued to engage and support Excite AV with the implementation of the technology – and the overall system was integrated and operational within a five-day period.
'The system works extremely well and the sound quality is great,' Chesney reports. 'We had a few teething issues and software glitches which have since been rectified – challenges one would normally expect. In fact, one of the biggest challenges for attendees is to remember that if they are having a private conversation during a meeting, those at the other end of the room can hear what they are saying.
'I'd recommend the system to other establishments and organisations looking for a similar Voice Lift system.'