Prase Media Technologies has supplied the audio system for the Djamaâ el Djazaïr Mosque located by the Bay of Algiers – to be the third largest mosque in the world when it opens in 2019.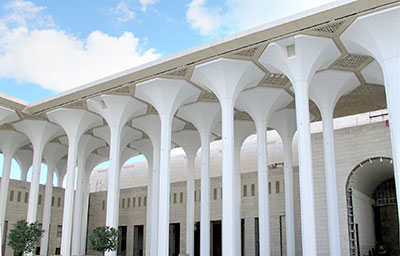 Also known as the Bouteflika Mosque, the building covers 20 hectares and is designed to welcome 120,000 faithful. Its 270m minaret is the highest building in Africa and the world's tallest minaret. Architectural company Drees & Sommer worked with Jürgen Engel Architekten and the engineering consultancy Krebs und Kiefer on the project, with A/V integration by Advantex and CSCEC (China State Construction Engineering Corporation Ltd).
'Community R Series loudspeakers were chosen for audio reinforcement of the Cour, the Esplanade and the Minaret,' say Marco Cappellotto, Prase's manager for the project. 'The choice was made on the basis of their premium audio performance, high power, controlled coverage and outstanding intelligibility, in addition to their resistance to all weather conditions, which includes salinity due to the building's close proximity to the sea.'
With an area of 100m x 100m to cover, the Cour required four Community R6-51Biamp high-output, three-way, vertical array loudspeakers. Each is capable of delivering 138dB SPL continuously (144dB peak) over the range of 50Hz to 16kHz, with pattern control to below 200Hz.
Eight R6-51Biamp loudspeakers also cover the 300m x 100m area of the Esplanade. Here, each loudspeaker is built into the capital of the building's columns that line the perimeter of the area. Millimetre precision of the loudspeaker recesses provided for discreet fitting with minimal aesthetic impact.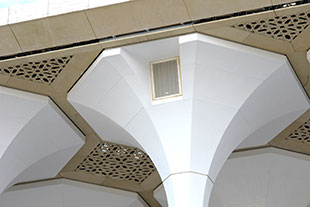 For the area surrounding the mosque, two line arrays, each comprising four R2-Max loudspeakers, are built into each of the four faces of the Minaret. These 32 loudspeakers provide 360° coverage for up to two-to-three kilometres from the tower. The R2-Max features 1.4-inch exit HF drivers, high-performance M200HP midrange drivers and 600W neodymium woofers, delivering well behaved coverage patterns, high intelligibility and flat frequency response. As with the Esplanade, precision fitting into custom recesses ensures the loudspeakers are unobtrusive. Additionally, they are painted a custom tone of white to closely match the marble face of the tower.
To complete the system, Prase Media Technologies also supplied Biamp TesiraForté DSP, Lab.gruppen D120T amplifiers and Extreme Networks switches for the high performance Ethernet network.
'Community R Series have an unequaled track record in providing high intelligibility and extreme durability in such large scale systems, so it is with confidence they were chosen as the optimum solution for this most prestigious project,' Cappellotto concludes.