Preparing to host the 2022 Asian Games, the Zhejiang Province capital of Hangzhou has constructed the largest Olympic Sports Center of its kind in China. Among its facilities, the Tennis Center recently been inaugurated, along with its DAS Audio sound systems.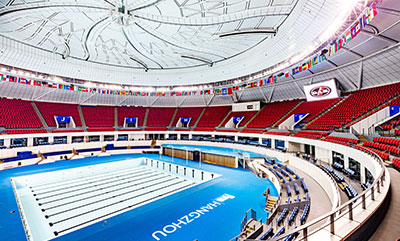 The Tennis Centre is expected to host both local and international sporting events, and required its sound system to match its unique and modern design, and to provide reliability and safety functions. The team at DAS Audio China worked closely with a local engineering contractor in the design and completion of the installation, which has been specially tailored for the multi-sport stadium. In record time, the sound and amplification system was set up and adjusted to provide clarity and intelligibility in all seating areas.
The tennis court that will be used in the Asian Games finals can accommodate 10,000 spectators, while the two venues destined semi-final matches each seat 2,000. Additionally, there is a 6,000-seat temporary swimming pool located on top of the main arena. The versatility of the venue and the unique design of its roof posed a challenge for the acoustic installation since it was necessary to guarantee wide coverage, consistency and high performance in all seating. Its rotary retractable roof is formed of eight steel 'petals' that can be opened or closed depending on weather conditions, requiring a weather-resistant audio system that would perform to the highest level regardless of the position of the roof.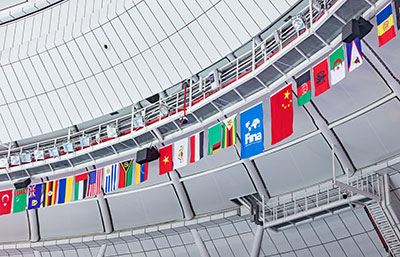 DAS Audio HQ series speakers with IP54 certification were chosen for the installation. The HQ series are specially designed for medium to large size installations offering tightly controlled coverage patterns, long-throw and high output capabilities. In addition, DAS´ latest DX (100I/80I) series digital amplifier with built-in DSP processing and Dante network integration were installed to improve reliability and stability.
Providing wide coverage was also essential to enhance the acoustic experience at the Tennis Centre. To this end, the system was precisely distributed throughout the facility in four clusters of two HQ212.95 flown over the east and west spectator stands, 12 clusters of two HQ212.95 flown over the north and south spectator stands, six clusters of two HQ212.95 flown over the main arena, four clusters of four HQ212.64 flown over the VIP spectator area, and two Vantec12 as floor monitors in front of the podium.
More: www.dasaudio.com