Broadcast live on CBS from the Staples Center in Los Angeles, the 61st Grammy Awards looked again to ATK Audiotek for sound system design and implementation. In turn, ATK brought in Soundtronics RF expert Steve Vaughn to handle wireless system design and frequency coordination.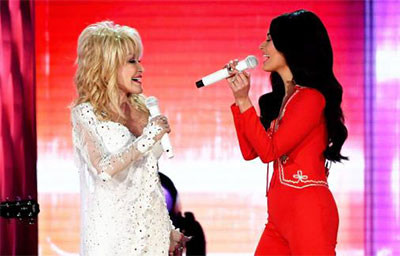 As the Grammy production team encourages artists to use microphones they are most comfortable with – knowing this freedom helps produce the best performances – the event saw the majority of its 18 musical productions using Shure Axient Digital wireless mics.
The broadcast was an ambitious affair, executed expertly by Audio Coordinator Michael Abbott's team of veteran engineers and techs. The broadcast production mixer comprised Tom Holmes, working from music mixes by Eric Schilling and John Harris in the Music Mix Mobile remote trucks. Inside Staples Center, the FOH desks featured Mikael Stewart doing the production mix, with Ron Reaves mixing music for the live audience.
Notable performances included a tribute to MusiCares Person of the Year Dolly Parton, using an Axient Digital AD2 with SM58 mic capsule for a medley of classic country songs. Parton was joined on stage by Kacey Musgraves (Beta 58A), Maren Morris (SM58), and Little Big Town (Beta 87, Beta 58A, and SM58), all using custom white AD2 handhelds, plus Miley Cyrus and Katy Perry. Another highlight was the night's focus on the Motown label which included Jennifer Lopez using her custom Axient AXT200 with KSM8 to lead a tribute of Motown classics, along with Axient Digital users Smokey Robinson and Ne-Yo. Diana Ross used an AD2/KSM9 combination for her own medley, while Chloe x Halle used the AD2/Beta 58A for their homage to Donny Hathaway. Another soulful performance was the trio of Andra Day, Fantasia, and Yolanda Adams singing '(You Make Me Feel Like A) Natural Woman,' all using AD2 handhelds.
Axient Digital was also the vocal wireless system of choice for country artists Dan + Shay singing their hit, 'Tequila,' and for the duet medley by St Vincent and Best New Artist winner Dua Lipa. Others opting for Axient Digital included Camila Cabello, Post Malone, Young Thug, J Balvin, and Flea. For her electric performance of 'Money,' Best Rap Album winner Cardi B used a Shure UR1 wireless bodypack.
First-time host Alicia Keys, widely praised for striking an inclusive, welcoming tone, using her customary Shure UR2 handheld transmitter for both stage announcements and her twin piano performance, a personal cross-genre musical medley she summarised as 'songs I wish I'd written'. Keys also used Shure wireless mics and PSM 1000 in-ear monitors, while the grand pianos she used were miked with dual Beta 181 condenser microphones inside.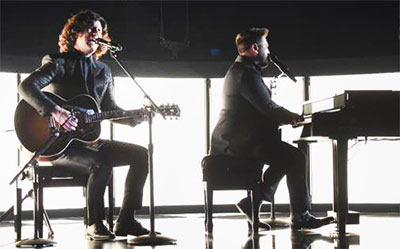 'The Beta 181 is our go-to mic for piano, both in the mix trucks and in the house,' notes music mixer Eric Schilling. 'We get the clarity we need with well-defined low end. It just works.'
Shure products also played a part in other critical, though less visible, applications, including multiple wireless guitars and plenty of instrument microphones. Behind the scenes, monitor mix engineers Mike Parker and Tom Pesa used the PSM 1000 personal monitor system for every wireless in-ear channel on stage. A total of 24 transmitter channels were used, feeding 106 P10R bodypack receivers. For hardwired in-ears, 12 P9HW and 24 P6HW systems were also on hand. To top it all off, the podium microphone was powered by two Shure UR1 bodypack transmitters.
'Once again, I have had the opportunity to test the new Shure Axient Digital and really push them to the limits,' says Vaughn. 'With almost a completely saturated RF spectrum, including IEMs, Backline RF and various other RF microphone manufacturers, I was able to really maximise each and every frequency available. And for the first time in a long time I was able to do the entire show without frequency sharing. Shure has proven to me that along with Wireless Workbench and the new Axient Digital that reliability and quality is still their priority and what we expect from a Shure product.'
The Shure Artist Relations team was also there to ensure all artist and production team needs were met. 'The Grammy Awards are always a highlight event for us,' says Artist Relations Manager, Cory Lorentz. 'It's a great opportunity to meet with musicians and engineers, and see how our equipment helps them realize their artistic vision. We want to congratulate everyone involved for another outstanding production, and to thank them for allowing us to be a part of their world.'
See also:
ATK Audiotek builds on RedNet networking