Among the most popular musical theatres in Budapest, the Madách Theatre (Madách Színház) recently completed a major audio upgrade that includes several Allen & Heath dLive digital mixing systems. The 800-seat venue hosts around 350 performances each year, for approximately 500,000 visitors, and stages some of the largest international musicals, including works by Andrew Lloyd Webber,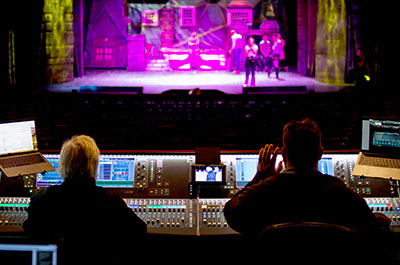 The theatre is currently premiering dLive's capabilities in a production of Lloyd Webber's School of Rock.
Supplied by Allen & Heath's Hungarian distributors, Audmax, the installation features three dLive Surfaces, three MixRacks, eight Expanders and several ME Personal Monitoring systems, which allows independent mixing of vocals, orchestra and IEM/stage monitors.
'The requirements of this installation were quite complex. Madách needed a system that allowed for four independent mixing systems, which could also work together. This meant we needed something with a very high level of flexibility, a large number of channels and a common 'language' for inter-connections. Allen & Heath's dLive system has many options that allow a flexible and easy workflow, it was the perfect solution!,' says AudmaxMD and system designer, Krisztian Varga.
FOH comprises two dLive S7000s; one controlling sound for the orchestra and the other handling vocals and additional musical performers. 'dLive was chosen for many reasons,' explains Tamás Ditzmann, leading sound engineer at Madách. 'The ability to have a large channel count is hugely important to us as each show could need more than 100 input channels. dLive also offers a high level of flexibility, allowing for audio to be controlled through multiple locations using DX expanders. With Director software, every single system is accessible from FOH. Plus, the audio and processing quality of dLive is outstanding – particularly the Dyn8 plug-in.'=
Each surface is connected to a DX32 Expander located at FOH and a Waves SoundGrid system for additional processing. 'It's great that dLive supports Waves integration with 128x128 channels, as well as other major formats such as Dante and Madi,' says Ditzmann. 'We use the superMadi card for feeding the OB truck on a regular basis. Even the engineers from the broadcast field have commented how amazing the whole system is.'
The S7000 surface used for the orchestra is connected to a DM32 MixRack (located in the orchestra pit) which, in turn, is connected to a ME-U system powering 12 ME-1 personal mixers used by the musicians.
Ditzmann continues: 'The ME system is extremely popular in the pit, it helps them to focus and develop their artistic interpretation. They've commented that they feel their performances are much better now and have more feeling.'
Additionally, the DM32 is paired with a DX32 for additional I/O and a DX Hub card that is fed to a central DX and ME patch system.
In the wireless/amp room, a DM64, connected to the second FOH Surface, is utilised for wireless microphones used by the onstage performers. A connected DX32 expander is positioned in the orchestra pit for additional I/O.
A second DM32, also located in the wireless/amp room, is connected to a dLive S5000 that performs monitor mixing duties at the side of the stage, handling mixes for IEMs, the orchestra, choir and additional band members.
All three MixRacks are equipped with two GigaAce cards and one DX Link card; gigaAce is used for splits between all FOH and monitor systems, while the DX Link cards are fed to a centralised patch panel, which is then fed to additional panels placed on stage and in the orchestra pit, allowing for further I/O and personal monitoring when required.
Two DX32 and two DX168 expanders, accessible through the patch panel, are placed on stage along with a second ME-U system and used for more I/O or extra musicians on stage. An ditional dLive set-up was also purchased for purpose of touring, including an S5000 surface, DM32 MixRack, a ME-U and ME-1 two DX168 and DX32 Expanders.
Alongside Ditzmann, the full Madách Színház team includes Sound Engineer Áron Farsang, Sound Crew Manager Zoltán Tóth and Endre Timar Integration Team Leader at Audmax.