Fort Myers-Florida-based Waterman Broadcasting has installed two identical Solid State Logic System T audio production consoles in its twin control rooms, alongside a Tempest Control Rack for back-up and disaster recovery.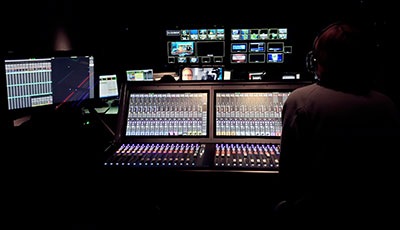 The broadcaster owns Fort Myers-licensed NBC affiliate WBBH-TV and runs the ABC-affiliated WZVN-TV for Montclair Communications under a local marketing agreement, with both channels produced from the same facility. The console systems serve the two channels, each comprising a 32-fader S300 control surface with a T25 256 path engine fitted with 512 channels of I/O. A third system, a Tempest Control Rack (TCR) that can be controlled from a desktop touchscreen, has been installed as a backup.
'The primary role of the station is news and we do, depending on how you want to count them, 19 to 21 newscasts per day over the two stations' explains, Director of Production, Bob Hannon. 'The two stations are in one building, the news staffs are in one building, but the shows are produced completely separately. It's like working in The Ark: we have two of everything.
'We do so much news we cannot have a single point of failure, it's that simple. We bought one S300 for each control room and then we have a TCR that can go into either control room in case of catastrophic failure.'
Florida being a regular hurricane prone, backup contingency is essential – at a certain point, the two stations will start to simulcast and broadcast the same programming out on both channels, although they continue to use both studios while they can.
'We bought System T with that in mind,' says Hannon. 'Hopefully we won't get another storm till after I've retired in 13 years, but if we get pushed into that scenario again we've got a system where we can do everything from one spot; the flexibility of the 300 means that I can work in one control room but access everything in the house. It also lets us use one control room for x amount of time, have the other control room fired up and ready, let them take over, and that give us time to do any preventive maintenance or just let things breathe in the first control room for a little while.'
One of the attractions of the S300s for Waterman Broadcasting was ease of use – the majority of Hannon's 42 staff are still effectively in their first jobs and have been trained in-house from scratch. 'Of all the boards I've looked at, when I sat down at the System T within five minutes, I thought I could do a show,' Hannon says, 'it was that logically laid out. It's a powerful board but it's simple in its design and that's what drew me to it. Most of our operators are on their first jobs and I train them to be able to do everything everywhere, and the simplicity with which I can train on the board was a big draw.
'The multiple levels of the board are nice,' he continues. 'Having stuff that's available to the operator but is also hidden is great. On any conventional board that's not nine miles long, everything is there and if someone grabs the wrong knob a minor problem becomes a major disaster. With the S300 it's good to have it all thereabouts but out of the mainstream. And all the operators – and the management – love the auto mixing. I go anywhere from a single mic to eight at a time, and to have all that run through the auto mix and have the levels evened out for the operator on the fly is a big, big plus; not to mention it's part of the board and not a third party add-on.'
Other features of the S300 that Hannon rates very highly include the mixture between conventional hardware and touchscreen operation, the optional screen arm, what he refers to as the simplest mix minus configurations he's ever seen, and its control surface ergonomics.
'From the way SSL conducted itself to getting a number that worked for everybody, from the training to the installation, it's been one of the most pleasant experiences I've had for a very long time,' he says.
But in the end, it's what the two S300s enable his team to do for WBBH-TV and WZVN-TV day in, day out, producing hundreds of newscasts every month, that really seals the deal.
'You want to keep it simple for the operator: you want their focus on the show and not that in order to get this to work I have to tap my foot three times, kick the trashcan, stand up, jump around and chew gum at the same time,' he says. 'I'm a firm believer that the simpler you keep it the more you can do, the better your productions are, and the better your product is. And that's what System T allows us to do.'
More: www.solidstatelogic.com