An Allen & Heath SQ-5 mixing system was recently installed as part of an audio upgrade at St Sabina Church in Belton, Missouri.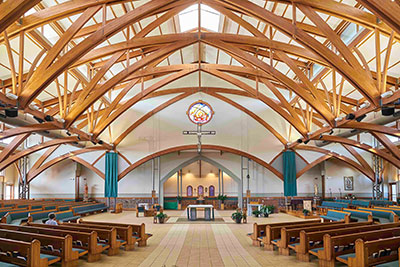 Located just outside of Kansas City, the church celebrates many of its liturgies in both English and Spanish, along with associated readings and music: 'Diversity has long played a key role within the worship experience at St Sabina,' notes Brent Handy of Kansas City's Advanced Sound & Communication, the firm tasked with designing and implementing the new system. 'As such, technology has had to be equally adept at serving the wide-ranging needs of its services, which are dramatically different throughout the week.'
The new audio gear provides a liturgical system that is press-one-button simple, with no need for an operator: 'One portion of the system is set-it-and-forget-it friendly,' Handy explains. 'For the times when the church's live production level ramps up, however, we had to provide hands-on mixing capabilities that were easy to use while additionally providing repeatable results.'
Allen & Heath's SQ-5 mixing system met the brief and added sonic quality. With a workflow Handy feels is perfect for everyone ranging from the completely non-technical to the experienced, the SQ-5 control surface is 'scaled well and unburdened with incomprehensible layers of knobs and graphics. Our operators can dive deep if they want to, or just stick to some basic faders. This system isn't intimidating for technophobes, nor insufficient for the expert'.
With seating for 600 that is frequently filled to capacity, contemporary worship services at the church provide input to the SQ-5 that can be expanded as needed with a DX168 portable stage box also provided by Allen & Heath.
'It was easy to train all the users here to recall their own scenes from the SQ-5 that fully configure the entire system for their specific needs,' Handy says. 'As for audio quality, at 96kHz, the SQ-5 has delivered. Some members of the congregation are hearing subtle differences between the mics they've owned for the first time. And now they don't have racks of stuff they don't know how to use making it all possible too.'