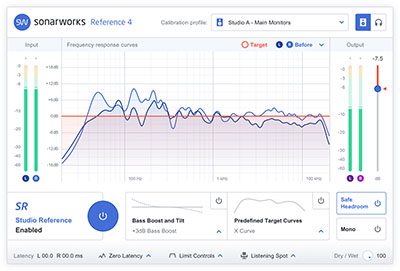 UK distributor SCV has struck a new partnership with Latvian audio software manufacturer Sonarworks.
With loudspeakers, studio monitors, reference headphones, floorstanders and in-ear monitors available options for music monitoring Sonarworks believes that 'the largest remaining problem in music playback, is sound colouration'. Sonarworks' software applications seek to bridge the gap between creator and listener by eliminating colouration and improving the process for audio creation and delivery.
Available in AU, AAX Native, RTAS and VST formats, the Reference 4 DAW plug-in uses proprietary technologies and advanced filtering algorithms to establish a common sonic reference point, enabling engineers, producers and musicians to record, mix and master across multiple monitoring devices and environments. Additionally, users are now able to download the latest headphone profiles directly from the software itself, either through the DAW plug-in or in system-wide mode.
With 60 models added to the Reference 4 library, newly supported headphone models include offerings from AKG, Audio-Technica, Beats, Behringer, Focal, Fostex, Meze, Pioneer and Sennheiser.