Comfortably the most prestigious entertainment event in the country, the Indonesian Choice Awards 5.0 Net evening recently recognised the best in Indonesia's movies and music. The event always coincides with, and marks the anniversary of, the Net TV Network – this year its fifth. Performing for an audience of 9,000, local and international musical acts filled out the evening of awards and tributes for the best in movies and music.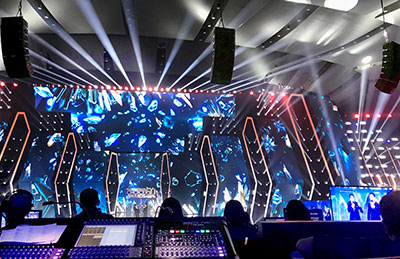 'An event of this proportion is always challenging, especially with regard to the PA, when trying to create a coherent sound acoustically,' explains Sadat Effendy, technical director at Total Audio, the company that produced the show.
'I advised the production team that if too much delay was put on the main PA, the sound will not be coherent with the stage noise,' adds Clair Brothers Australia MD and sound design consultant for the award show, Wayne Grosser. 'The result can be unwanted slap delay, and that's no good. So, in order to prevent that, I suggested a change to the layout of the side PA to assure timing with the main PA. The solution was the alignment of four Clair Brothers i212 eight-cabinet line arrays.'
The full-range main PA of i212 arrays were positioned above the seventh audience row. To achieve cohesion, two layers of front fill were also used. The first, comprising Clair Brothers kiT12 speakers covered seats from the first to the seventh rows. The second built with Clair Brothers FF2 & R2D speakers, covered the audience.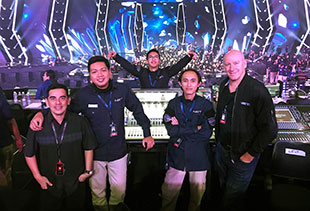 'The dimension of the front stage was not a straight line, but more like a zigzag,' Effendy observes. 'So, in some areas the two layers of fill can be close to each other. The challenge there was to find a balance that aligned all the fills. It turned out to be simple and the end result was spectacular coverage.'
The event's main speaker system was a combination of a Clair Brothers i212 full-range PA, iS218 subs, plus additional i218 groundstacks that served the sides. Clair Brothers R4 and CS218 speakers were also used for stage side fill, with 12AM speakers for wedges.
With regard to FOH, and because a show this big is so demanding, Total Audio opted for multiple backup plans in case of problems: 'For the FOH console we used the DiGiCo SD7, which already possesses full mirror engine backup. But just in case the SD7 failed, we had another FOH console running the same input list, and yet another mixing engineer on headphones doing the same' explains Effendy, 'This show is also a live event, so there is absolutely no room for system mishaps. Yet another reason why we put so much trust in Wayne Grosser's expertise and Clair Brothers reputation for quality.'
After the event's successful conclusion, the director of Net TV Network was satisfied with the outcome, noting that the Clair Brothers loudspeaker system this year definitely raised the benchmark for quality: 'Working with Clair Brothers and their speaker system is always a saviour,' says Effendy . 'It's a big sound that requires minimal effort to achieve. We never have to worry about headroom, coverage or clarity. Clair Brothers always delivers. It's why we never consider using any other brand. Why would we?'
More: www.clairbrothers.com