The latest application for Martin Audio's Coaxial Differential Dispersion technology is its part an innovative gym concept in London's Camden Town.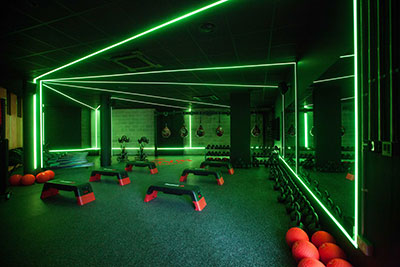 Integration company Communitec specified the Martin Audio CDD solution, having been introduced to the Movin london project via interior designers Luks Design and Development, with whom they have worked on projects in the past. 'Movin london is completely unique, as this is no regular gym,' says Communitec Director of Operations & A/V, Ryan Saba. 'Everything is based around classes and an immersive experience to take you away from the repetitive cycle of a gym.'
Communitec was tasked with providing a full IT, A/V, security and telecoms infrastructure. 'This had to be an ecosystem that was completely interactive, enabling the users to control the whole space from an iOS or Android device,' Saba explains. Along the way the team turned their attention to sound, and Martin Audio.
'We needed a system that stood out in every way possible,' he continues. 'This was a gym not a nightclub… but why could it not be both? I wanted to create a space where you could have classes that were calm and only required a gentle level of music on the one hand, but on the other could power through an intense class playing tunes from all genres and have the ability for a DJ to connect in and literally transform the gym into a live show.
'Martin Audio just ticked all the boxes: 'I was already familiar with the brand, and have used them in other spaces, but this was the first time in a unique space like this,' he says.
Sound quality aside, the speakers also had to look fit for purpose as Saba wanted to create a space that could equally be a club or a venue for live performances even though primarily being a gym. 'We discussed many options with Luks Design,' he says. 'The system to be visible and on show – we wanted that industrial/club look so that clients forget they are at the gym but are working out to great music with great lighting.'
Communitec achieved this by specifying eight Martin Audio CDD6s and a pair of CSX112 subs. The subs are located on the main gym floor with the speakers wall mounted around the space to provide that all immersive experience. The amplifiers are located back of house along with other equipment, such as Lutron lighting control and InventDesign lighting racks, Savant automation system and the rest of the infrastructure. In other words, the whole space is centrally controlled from the studio floor to the changing rooms.
'When we powered the system on for the first time we were all blown away by the CDDs,' Saba reports. 'We could not believe that we were able to turn this space into effectively a music venue.
'Whether playing high-octane DJ music or taking streams from the media players or sources from Airplay, Aux phono input or studio mic the sound system brings the venue to life. 'The Martin Audio kit is fantastic and for their size, the CDD6s sound incredible,' Saban concludes. 'I would recommend this Martin Audio range to anyone.'