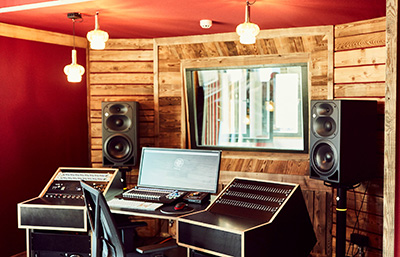 A pilot project involving Neumann.Berlin has resulted in Studio 25, a new recording studio located in the heart of Berlin's Holzmarkt area. Located on the river Spree, Holzmarkt has a growing international reputation as a hotspot for creatives, technicians and artists, in the symbiosis of nature, business and culture that has made Berlin one of the hippest cities in the world.
The newly constructed recording studio is at the centre of a multimedia, interconnected production complex. Covering 110m², the complex includes three recording booths and a control room with an equally large roof terrace, immediately adjacent. As part of the cooperation, Neumann will be using Studio 25 for the production of video tutorials but this unique location will also provide an ideal venue to proactively engage with producing musicians of all stripes – in particular Neumann is keen to work with artists who have typically recorded at home, but now can make use of the studio, whether by the day or even hour, to expand their possibilities.
At the end of September, the new studio complex hosted a prestigious group of Chinese talent that included artists and producers, as well as journalists. Visiting VIPs included Zhang Yadong, the Godfather of Chinese pop music, Geng Sihan, known from The Voice of China, best-selling author Zhuang Yating and singer Queen Wei.
Visitors were impressed by the attention to detail with which the studio has been furnished – as well as being a feast for the eyes, Neumann technology has ensured it is a delight for the ears. With no persuasion needed, the musicians present were happy to put on an amazing impromptu performance.
More: www.neumann.com