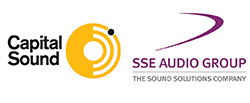 Following a period of alignment through a strategic partnership, the SSE Audio Group has acquired London-based PA rental company Capital Sound Hire.
Capital Sound has served the touring and festival market for more than 35 years, the company, recently adding d&b audiotechnik and Outline systems to the Martin Audio and Meyer Sound systems that have been the foundations of the company's hire stock for many years.
SSE Audio Group is the UK's largest audio services group, providing PA hire to tours and festivals, new and used equipment pro audio sales and audio installations for a wide range of venues including the London O2 Arena, Hammersmith Apollo and Manchester Cathedral.
'We approached John Penn at SSE at the beginning of the year to assist us on a project that required a larger pool of equipment, knowing that we could trust SSE not to nick the gig,' elaborates Capital Sound founder and MD, Keith Davis. 'Through projects like this we were able to access a larger pool of equipment and talent, and we could offer clients options that were unavailable to us on our own.
'This worked out so well that, after many conversations, I asked John if he would be interested in purchasing Capital Sound. I'm not getting any younger, and I've been wondering about the long-term future for Capital for some years. After a lot of soul searching, I realised that SSE was the best bet.'
Headquartered in the Midlands, SSE Audio Group already has a presence in London, with premises in Park Royal. SSE's rental operation has expanded rapidly over the past decade, with London PA Company Canegreen joining the Group in 2008, followed by the acquisition of the Manchester based audio company Wigwam in 2013. 'We now have a clear template for joining forces with other leading players in the industry,' SSE Audio Group MD John Penn explains. 'With Wigwam, we were particularly keen to maintain its distinctive brand, while providing it with backup and support and that is what we have done.'
'SSE's successful takeover of Wigwam has shown that the company will look after the staff and the brand and continue to let the business grow and flourish, which is really important to me and my lifetime's work,' Keith Davis adds.
Capital Sound will continue to operate as a separate brand, serving its own client base and operating with its distinctive style. However, it will be able to access the Group's resources, including its multi-million pound hire inventory comprising L-Acoustics and d&b audiotechnik systems, and the largest rental stock of digital mixing consoles in the UK. In addition, SSE offers specialist services including manufacturing, which serve the whole group.
Capital Sound's 'freedom of choice' policy has led to a significant increase in clients and business over the past two years. 'The acquisition by SSE gives our clients additional brand choices' explains Capital's Paul Timmins, 'but it also gives SSE and Wigwam the scope to provide both Martin Audio and Outline systems as options.'
'Clients want to work with Capital, but in today's world we have to provide the first choice equipment on a bid document, the best crew and office support, compact tidy packaging and at a competitive price.
'As part of SSE Audio Group all these factors are strengthened and it really extends our freedom of choice. We have been working closely with SSE for some time on a number of projects. Working together with the teams in Redditch and Manchester has been great. Only today we had an example of the benefits when a console failure at a show in Bolton was dealt with by the Wigwam office and a replacement console was on site within the hour.'
From a management perspective, Davis will remain as a consultant to the Group, while Timmins, currently Capital Sound's Operations and Development Director, will continue with the day-to-day management of Capital.
'From a client's perspective, nothing should change at Capital Sound,' says John Penn. 'We don't want to mess about with their own formula, but where we can add value through specialisms and of course our pooled equipment we will and I'm confident that Capital will continue to grow and thrive.'
'The past 25 years working with Keith have been amazing,' says Capital Sound Senior Project Manager, Martin Connolly. 'I know the company is in good hands with John and Heather Penn. I have big respect for them and I'm looking forward to the new journey – here's to the next 25 years.'