Organised in 1741 – eight years after the founding of Savannah – the congregation that became the Evangelical Lutheran Church of the Ascension purchased its present site in 1771. Constructed in 1844, the current building was heavily damaged during the American Civil War, with renovation beginning in 1875. The church was subsequently renovated several times during the 20th century.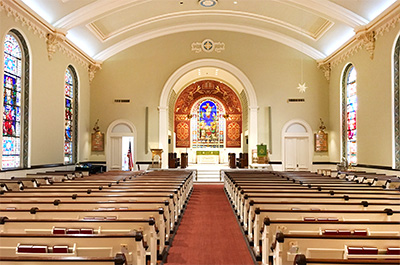 The most recent work restored the historic building's architecture and décor, with A/V systems integrator Stage Front providing a new sound system based on Renkus-Heinz IC24-RN digitally steered line arrays.
'The previous sound system used point-source speakers, mounted left and right above the lectern and the podium, about 12 feet up. The congregation had no control, no EQ, nothing. In addition, the old speakers were white, and the walls are auburn, so they were not visually appealing in this ornate church,' says Stage Front Systems Consultant Adam Durden, who worked with Principal Acoustic Consultant Jim Brawley on the project.
The Stage Front team started consulting with the church's construction board early in 2017 to ensure that the new sound system would be integrated into the renovation plan. 'Aesthetics were a huge part of this project, so we needed loudspeakers that would blend into the architecture and design,' Durden explains.
'We also wanted a steerable system that would provide clear, clean, intelligible sound and would keep the sound on the congregation and off of the walls and other hard surfaces. Jim Brawley, who is a nationally recognised sound-system designer, is our principal audio consultant, and he steered me to the Renkus-Heinz Iconyx system. He also commissioned the system.'
Services are very traditional at the Lutheran Church of the Ascension, and the sound system is mainly used for speech. The church also hosts acoustic musical performances, such as jazz quartets, classical guitar, and the like, especially during Savannah's annual music festival. The two Renkus-Heinz IC24-RNs, mounted left and right, not far from where the point source speakers had been, handle virtually everything. 'They have a lectern side and a podium side,' says Darden, 'and when someone speaks on one side, the speaker on that side cuts off to avoid feedback into the microphone. Since they're never going to need thunderous low end, we didn't install subwoofers.'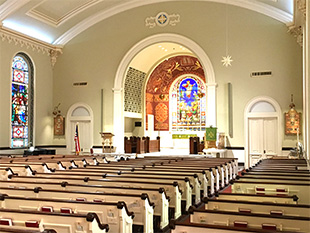 A wonderful pipe organ pretty much encompasses the balcony in the rear. 'Occasionally they have a choir in the balcony, especially at Christmas, but not all the time, so that wasn't a priority,' Durden notes. 'We reused the old point source speakers as a small, portable system for the choir, but it's not tied into the main system.'
Brawley recommended the Renkus-Heinz system for several reasons: 'Renkus-Heinz has the traditional liturgical space figured out,' Durden says. 'In addition to the sound quality and the ability to steer sound where we wanted it, the IC24-RNs are low profile, and Renkus-Heinz was able to custom-paint them to blend with the wall. This restoration was focused on the architecture, decorative paint, windows, and so on. Aesthetics was the top consideration, and it was imperative that the speakers not look like an afterthought. The custom-painted, low-profile Iconyx worked extremely well. If you didn't know the speakers were there, you wouldn't notice them.'
The Iconyx speakers connect, using Cat5 cable, to a Q-Sys Core 110f DSP, controlled with a Q-Sys touch panel and software. 'My main contact was the chair of the construction board, and when I connected his iPhone so he could sit in the back and control the sound, he thought that was the greatest thing in the world,' recounts Durden. 'Most important, they're happy with the sound and with the look. The Renkus-Heinz Iconyx system is perfect; it just works. It improved their environment 100 per cent.'