Burgess-Snow Field at the Jacksonville State University Stadium has been the football home of the Jacksonville State Gamecocks since 1947. During that time, it has been expanded and remodelled several times, with a US$47m expansion in 2010 making many improvements – including a seven-storey tower that includes student housing, a press box, broadcast facilities, and 33 luxury skyboxes.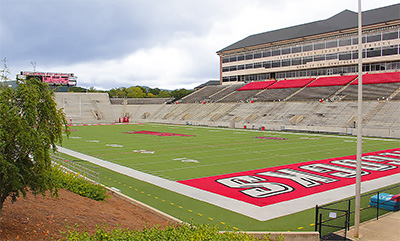 In 2016, Sound Solutions installed a new sound system at 'The Friendliest Campus in the South', but recently the DSP unit that had provided multi-zone audio control for the luxury skyboxes failed.
'We initially thought we would repair the existing DSP,' reports Sound Solutions co-owner Joey Hutto. 'But when we contacted the manufacturer, we learned that the product had been discontinued. Rather than attempt repairs, we switched to Symetrix, a line that we have used for years, so we're very comfortable with it.'
Hutto's team replaced this with a Symetrix Radius DSP, which offers 128 (64×64) redundant Dante channels, onboard Ethernet and Dante network switches, and 12x8 analogue I/O, expandable with an option card.
'Programming the Radius with Symetrix' Composer software was easy, and Symetrix was great about walking us through issues,' Hutto says. 'The whole process was pretty painless.'
Each luxury skybox at Burgess-Snow Field has its own wall control, which is primarily used to set volume: 'We decided to go with the new Symetrix ARC-3 wall panels, which can not only control volume and mute but preset selection and room combining-perhaps more than we needed in this case but it was the right choice,' Hutto explains.
The ARC-3 offers 32 menus of 32 items and offers capacitive touch control with LED highlighting. It can be mounted in-wall in a single-gang electrical box (US/UK/EU) or surface mounted with an included enclosure. ARC-3 wall panels connect to a Symetrix DSP using standard Cat5 or Cat6 cabling, making installation simple.
'The Radius system is working great for JSU; it's reliable, easy to control with the ARC-3 panels, and the sound is clear and clean,' Hutto says. 'In fact, the university is building a US$7m baseball complex, and we are putting Symetrix DSPs in there as well.'