US public television broadcaster KRCB has launched a new flagship live music TV series, Live From The Freight & Salvage – broadcast from the venue of the same name, 'the home of traditional music' in Berkeley, California. The project required KRCB Audio Producer Anthony Garcia to choose a 'robust and redundant' means of audio recording. He settled on a BlueBox BBWR24B from JoeCo.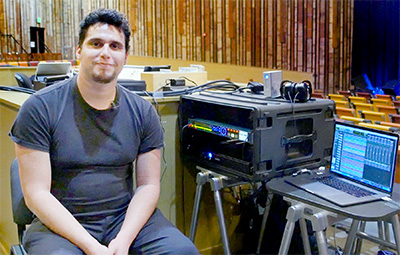 The search began with the identification of several key priorities: 'It needed to interface seamlessly with the console currently being used for the series, which is a Soundcraft Vi4, with 24 inputs and 24 outputs,' Garcia explains. 'It needed to be a system that would complement future expansion of the channel count, for example by the addition of a second box; and it had to be capable of offering full redundancy.'
JoeCo's BlueBox BBWR24B was the 'obvious standout, because of the redundancy options that it provides'.
'I was also impressed by the fact that it is able to accept time code, because that sets us up nicely for a potential future scenario in which we might want to integrate the recorder into an in-house system where we have master clock and video synchronisation,' he continues. 'The ability to have a device like the BlueBox, that can sync to a word clock signal generated from a master sync device, means that we can ensure that audio and video are fully synchronised. We wanted that option going down the road, and the BBWR24B fulfils it.'
BlueBox Audio Interface Recorders combine a high-quality DAW interface with a professional multitrack field recorder and a back-up solution that ensures no source recordings are ever lost.
The first full show at The Freight using the BlueBox was the December 2017 Windham Hill Winter Solstice – an evening of original and traditional acoustic music. 'The system performed perfectly that night – and that has continued at all of the events taking place since then,' Garcia reports.
Another notable show featured Ladysmith Black Mambazo: 'We had 14 channels for that, including ten microphones, a reverb send from their board, and a FOH microphone. It was an absolutely amazing show that we have already started to mix and look forward to broadcasting on KRCB later in the year.'
In addition to serving Live From The Freight & Salvage, the BlueBox is set to be used for various projects at KRCB's in-house studio, including group interviews and small-ensemble musical performances. 'Right from the start when we did a test and encountered no hiccups whatsoever, we knew that this system would perform seamlessly,' says Garcia. 'That is absolutely the top priority for live recording and I am delighted to say that early impression has been confirmed over and over again in the work we have undertaken with the BlueBox.'
More: www.joeco.co.uk