Among Scandinavia's largest conference and cultural venues, Denmark's Aalborg Kongres & Kultur Center (AKKC) has upgraded its audio with the addition of four Alcons Audio systems to facilitate the highest quality of presentation without the requirement for technical assistance.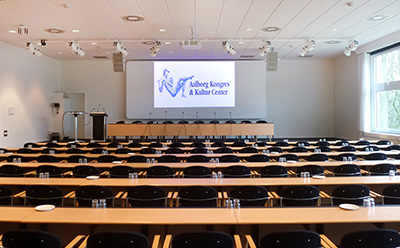 Welcoming more than half a million visitors each year to its live music and theatre, as well as to fairs, exhibitions, conventions and other meetings, the AKKC has used Alcons products since 2009, when an LR16/LR16B/LR14 compact line array system was installed in the main, 3250-capacity, Aalborghallen, and an LR14/LR14B ultra-compact line array in the 625-capacity Europahallen. These were complemented by a mobile LR14 system.
The latest installation adds Alcons LR7/120 wide dispersion micro line-array systems to four of the venue's 100-250 capacity meeting rooms. An important factor in the choice of products was that the rooms are rented out on a 'do-it-yourself' basis, so the audio infrastructure has to deliver foolproof, high quality sound, but without the assistance of a technician.
'Our conference department wanted the new systems to have four channels of headset and handheld wireless microphones, so the dispersion control of the loudspeakers was extremely important,' says Torben Laursen of the AKKC sound department. 'The high gain-before-feedback qualities of Alcons pro-ribbon technology means that the systems are very forgiving in terms of microphone placement and handling.
'We have been very happy with the sound of the "big" Alcons systems that we already had, and we were familiar with the LR7, so we knew what to expect. There was no doubt that Alcons was the right choice for the meeting rooms.'
Powered by Alcons ALC4 amplified loudspeaker controllers in the two larger rooms and ALC2s in the smaller ones, the systems also feature Shure ULX-D wireless microphones, Yamaha MTX3 installation mixers, DIS conference systems and straightforward Crestron touchscreen controls. An external mixing console can be plugged into each system, if needed.
'When renting meeting facilities, time is money – especially for smaller companies. They want to spend all of that time having their meetings, not figuring out the audio system, trying to combat feedback or having to compromise their presentations to allow for the system's limitations,' says Alcons co-founder Tom Back.
'Alcons pro-ribbon technology is less sensitive to feedback and provides higher gain before feedback than other systems, so microphone placement is much less critical. Pro-ribbon systems also maintain the same tonal balance at any SPL, meaning there is no need to adjust EQ, and deliver perfect speech intelligibility at any SPL, so the user does not need to change gain levels to raise intelligibility or lower distortion.'
As well as hosting meetings and conferences, the versatility of the Alcons LR7 systems has also enabled AKKC to make plans for hosting live performances in the larger meeting rooms. 'Rooms of this size are in hot competition with other local meeting facilities, such as hotels, but we can offer something of much better quality,' says Torben. 'We already have a good reputation for our A/V systems, which venues like hotels don't necessarily have. The response has been very positive.'
'The advantages of using pro-ribbon technology for smaller conference and meeting rooms are clear,' adds Tom. 'If you have a system which delivers exceptionally high quality at any gain level and doesn't need complex setting up, great, consistent sound can be achieved without the need for a professional sound engineer. This makes such rooms attractive and cost-effective for clients.'