Clair Brothers new Spanish distribution partner has upgraded its own touring PA to the new C12 system, and has already used it to serve Catalonian bands La Pegatina, Sopa de Cabra, Oques Grasses and Doctor Prats, as well as political events, a fashion show in Barcelona, and the MotoGP motorcycle event.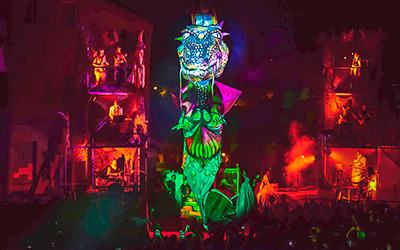 'We are always looking for top-quality, distinctive products and at the time we were searching for a new PA system,' says VTècnics Production Manager. 'At about the same time, we began to evaluate the idea of approaching the Clair Brothers team about distribution. We had our first meeting in Manheim to hear demos of the i212 and kiTCurve12+ systems. That's when I was sure approaching them about both purchasing a PA and entering into a partnership was a great idea.'
During the meeting, Clair Brothers VP & Chief Engineer Josh Sadd suggested listening to the new C12: 'The C12 sounded great and Josh recommended that we acquire this system because it would work best for our needs,' Serra recalls. 'We agreed because, not only does the C12 perform, it requires less amplification than what we're used to and it weighs less. Weight really matters to us.'
The first show to benefit from the new system was Aquelarre de Cervera. 'It's a lively, highly-entertaining medieval renaissance production heavy with the sights and sounds of witchcraft, fire and demons,' Serra says. 'The show requires powerful, outstanding sound, which the C12 delivered. We also had a second, quite crowded stage. For this we called on our friend Dominique from Audio Concept [the Clair Brothers distributor for France] who used his i212 system on that stage.
'The remarkable thing is that even people with no knowledge of sound can feel the difference, can hear everything more clearly, especially vocals,' he adds. 'Sadly, it's common to go to a concert and not be able to understand any lyrics. With the C12, that does not happen. You can hear every word. The great news for VTècnics is that Clair Brothers and their new C12 system make us stand out from the rest. We see many successful productions and sales on the near horizon.'