When Ibiza's Circoloco underground technoclub night relocated to the Bologna Unipol Arena, Emporio on Stage took the opportunity to showcase its Outline GTO system as the main PA system.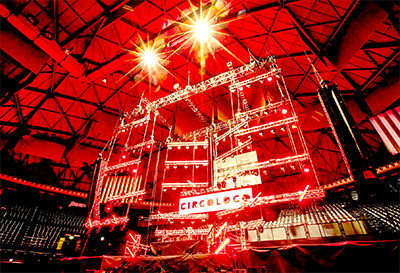 Created and operated by Antonio Carbonaro – owner of the DC10 music label – Circoloco attracts international artists who accompany the project around the world. The audio design and set-up was handled by Emporio on Stage with support from Outline staff. The PA sysyem comprised 12 GTO systems with GTO-DF (down fill) modules for sides, with 12+12 DBS 18-2 subs, 4+4 infra-sub LAB 21 HS and six front fills of two Mantas 28 each.
'The main PA guaranteed optimal coverage of the venue and the Mantas 28 front fill balanced the mid/high frequencies,' says Angelo Catoni, owner of Emporio on Stage. 'We chose to work with a ratio of 1:1 between top and sub adding 4+4 Lab 21 as infra in the central part to have a very important sum on the bass, given the type of event.'
The audio sound design for this event had to follow very precise directives required by the production. For the Unipol Arena production, the importance of high coverage and sound pressure in a very large arena, like the Unipol, was a fundamental requirement for the success of the show.
'I was really impressed by the accuracy of the audio package and the final result reports production manager Gualtier. 'The audio coverage in the room was optimal, with an incredible sound pressure, deep and precise bass and fundamental for enhancing the music of the Circoloco show. I must say that I was pleasantly surprised also by the clean upper middle frequencies, even at such high sound pressure. The Outline GTO system is truly incredible.'
More: www.outline.it