Known for its complex in-game universe building, US company BioWare has upgraded and expanded its use of Genelec monitoring and now has upwards of 12 different surround-sound set-ups (5.1 and 7.1) built on Genelec.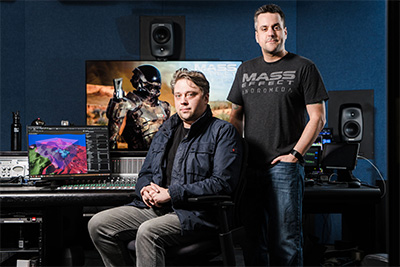 A division of Electronic Arts, BioWare is behind such games as Dragon Age: Inquisition, the Mass Effect series and the forthcoming Anthem – all with intricate, complex audio beds using music, speech and extensive sound effects mixed surround-sound.
In the company's early days when gaming audio was relatively unsophisticated, the engineers adopted Genelec as the monitor of choice: 'We tried out a lot of speakers, and we landed with Genelecs and we have never looked back,' recalls BioWare Creative Audio Director, Mike Kent. 'I believe our first Genelec 5.1 set-up was 8020 monitors with the 7050 subwoofer. Since then, Genelecs have been our go-to. All our audio designers use Genelecs for referencing.
'I tend to think of Genelecs like a microscope for sound – you can hear problems in the audio with laser focus. And the mix that you settle on with the Genelecs translates to any other speakers. Our mix rooms are not all perfect listening environments, but Genelec's digital calibration tools really help us dial in the parameters for each room.'
Recently, BioWare built several more suites employing 8341s and 8331s – both newer members of Genelec's 'The Ones' line of Smart Active Monitors. In the most recent mix theatre build, a Dolby Atmos set-up includes seven 8341s, four 8331s in the ceiling position, and a 7370 subwoofer. Other suites include surround set-ups of 8320s and the 7350 subwoofer – a configuration bundled as the 8320.LSE Surround Smart Active Monitoring 5.1 system.
'I think of our Genelec set-ups as highly forensic in nature, in terms of the level of detail and troubleshooting that they provide, but they're also highly customisable and easy to calibrate for these different editing suites,' says BioWare Director of Audio, Jeremie Voillot. 'I talk to sound designers from other developers in the industry and they will say, 'sometimes the sound is great in our room but it doesn't translate to all speakers and setups.' That is not a problem for us. With Genelecs, we know that our mixes will translate anywhere and be a seamless part of the gaming experience.'
More: www.genelec.com