The largest Christian university in the world, Liberty University enrols more than 110,000 students across 550 programmes of study on its 7,000-acre Lynchburg, Virginia campus. Its School of Music facility has recently adopted a Dante Audio-over-IP network from Audinate to transport audio throughout the building.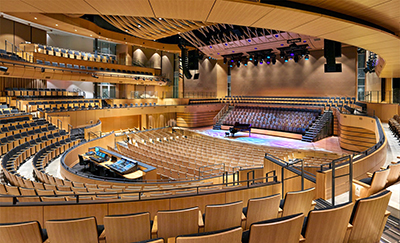 The School of Music moved to Dante from a legacy transport system that lacked Dante's low latency and operational benefits. Since rolling out the network, Dante has delivered a significant return on investment across cost savings, operational flexibility, and educational value.
'I'd estimate that we've saved about US$40,000 to US$50,000 on capital and operating expenses since shifting from our legacy networking system to Dante,' says Liberty University A/V Architect/Manager, Michael Gerringer. 'We've saved hours of work because there's no need for cumbersome cable runs, hard wiring and patching devices to put them onto the network.'
Gerringer is part of Liberty University's Infrastructure Media Operations team, responsible for designing, deploying and managing the IT technology that is used throughout the institution. Dante appealed to Gerringer by virtue of its operation over existing IT infrastructure. A virtual private local area network (VLan) has been established for Dante audio networking throughout the School of Music, keeping it logically separate from the main enterprise LAN.
'Dante gives us enormous flexibility and latitude in how and where we route digital audio throughout our facility, including five classroom/recital spaces and our Performing Arts Center auditorium,' Gerringer explains. 'Since the network is virtual, each audio network configuration can be configured or modified quickly in software. Having this advanced audio networking capability has elevated our ability to teach music students how to mix and produce live sound effectively for any application or event.'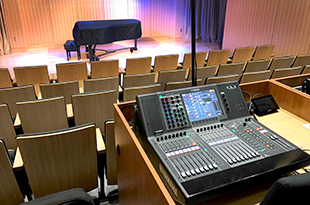 Approximately 15 Dante-enabled products currently reside on the 1Gb network, including a DiGiCo SD5 mixing desk in the auditorium, Yamaha CL1 mixers in classrooms, an Aviom D800-Dante A-Net distributor in each classroom and the concert hall. DiGiCo Orange Box I/O units convert Madi signals to Dante, and an RTS Adam modular matrix intercom, equipped with Omneo interface cards, supports intercom communications between different areas of the facility.
'Configuration and management is simplified, as systems like the Yamaha CL1 and Rio I/O stagebox systems, appear instantly when they're plugged into the local area network,' Gerringer says. 'We are also very picky about low latency and high sound quality, and Dante is exceeding everyone's expectations.'
One application of educational value that excites Gerringer is the ability to use virtual soundchecks as a teaching tool. In this way, students can access isolated digital recordings of every aspect of a live musical or theatrical performance that took place in the auditorium. They can then practice mixing and finessing these audio inputs into a finished mix using the Dante-enabled Yamaha CL1 mixer in their classrooms.
'Routing throughout the School of Music enables students in the classrooms to practice mixing live sound streaming from the concert hall, or to virtual soundcheck audio sources, such as the vocals or drums, that were ISO-recorded during live performances,' Gerringer elaborates. 'With this networking flexibility, we're hoping to empower people here by making it super easy to set-up, control and route audio, when and how they see fit, without help from the IT team. Our Dante network is a virtual world where anything is possible.'
The IT team now intends to use Audinate's Dante Domain Manager to establish different network domains, allowing different facility groups to discretely use Dante for their own operations, including the institutional, production, broadcast and academic departments.