London production management services and pro-audio rental company Stylus Productions it has added DiGiCo SD10 and SD11 mixing consoles to its inventory.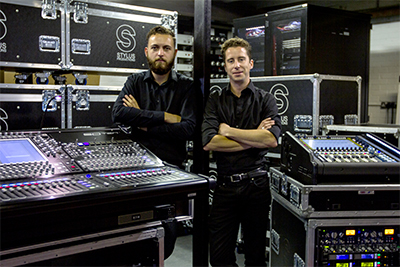 Founded in 2016 by Sam Thomas and Oliver Weeks, the company provides a comprehensive service for touring and live events, and has an uncompromising approach to technical excellence. In line with this, all its hire stock is of the highest standards: 'As a young company entering a competitive marketplace, we knew that we had to carry an inventory with maximum functionality and flexibility; systems that are powerful and applicable to a varied client base,' Thomas says. 'This made DiGiCo the obvious choice when looking at consoles.'
'We approach things from an engineers' point of view, and try to devise solutions that will suit their individual needs in demanding real-world scenarios, whether that be headline touring, festivals or corporate project delivery,' Weeks adds. 'This usually involves designing bespoke and modular solutions tailored to a specific project. Maximum capability and functionality were key points for us, as we never want to find our equipment unable to meet the demands of the client.'
The duo believe the combination of the SD10 and SD Rack to be one of the best all-round packages available to the industry, offering the right balance of sound quality, versatility and all-round control, whether deployed at FOH or monitors, while the SD11 scores when space is at an absolute premium.
'When you're looking for a compact surface, it's hard to see beyond the SD11, which offers features that other similarly sized boards don't. Channel count and sound quality alone are hard to compete with,' Thomas continues. 'For such a small, affordable desk, the functionality and familiar operation make it perfect for small to medium touring projects where footprint and budget are of concern. However, budgetary constraints need not detract from the quality of production thanks to this desk.'
Having the option to easily expand systems to incorporate additional SD Racks and other surfaces via the HMA Protocol is another feature that attracted Stylus to DiGiCo. 'DiGiCo consoles fit well with our target of becoming a high performance, future-proof production company, capable of handling any scale of show,' Thomas says.
Both consoles have been out almost continuously since Stylus Productions took delivery of them, with the SD10 being the bedrock of the monitor system for multi-platinum selling artist Birdy throughout her Beautiful Lies album campaign. Later this year, it will go on to become an essential part Good Charlotte's touring package when they headline theatres in the UK this autumn.
'The SD10 and SD11 have demonstrated their power and versatility right from the off, featuring in audio systems for our corporate clients as well as touring artists, while proving very popular surfaces in the dry-hire market,' Thomas Sam. 'With more than 12 years' experience mixing live sound, Oliver is well acquainted with the SD Range from DiGiCo and we've found it straight forward to get the best out of our consoles thus far.
'As we look to the future, we will continue to take advantage of the training DiGiCo offers to get our junior staff up to speed, as well as expansion to include the new and exciting capabilities of other consoles, such as the recently launched SD12.'