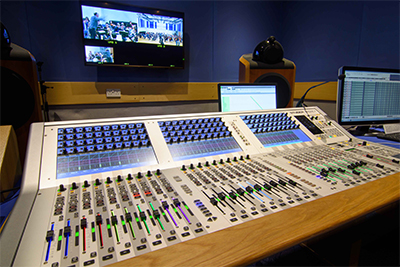 HHB Communications has supplied the University of Surrey – UK home of the renowned Tonmeister course – with a Studer Vista 1 console for its Studio 1, where it is currently meeting a wide range of demands for projects covering audio engineering, theory and practical study of music and hands-on sound classical recording.
'There are many Studer Vista owners in industry, including Chandos, the Royal Opera House, the BBC and many OB trucks, which makes it perfect for training students for their future careers.' Says Tonmeister Senior Lecturer, Russell Mason.
With the course shaping the next generation of audio experts who have gone on to win Oscars, Grammys, Brits, Mercury Prizes, MPG and Emmy Awards, demand for this new console were destined to be high, 'It has performed flawlessly,' Mason reports. 'The user interface is a brilliant combination of touchscreens and embedded rotary encoders – all the students so far have been impressed with how intuitive it is, which means it's quick to learn and easy to use in high-pressure situations'.
'We are delighted to begin our distribution of Studer by working with such a prestigious University,' says HHB Sales Director. Steve Angel. 'The Vista 1 delivers to a wide range of applications, ensuring that current and future students will be experienced with state-of-the-art technology as they take their next steps in the audio industry.'
More: www.hhb.co.uk