Point Source Audio (PSA) and Autograph Sales & Installations have struck a distribution agreement making Autograph Sales & Installations exclusive UK distributor for PSA's Series8 and Embrace microphones, as well as its CM-i series of patented in-ear headsets.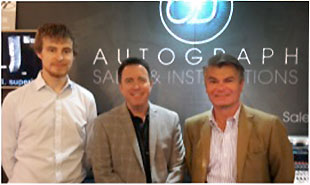 Under the agreement Autograph will lend reputation as a premier service provider to support Point Source Audio in the covered region.
Point Source Audio is a manufacturer of specialty sub-miniature body-worn style microphones and patented lavalier mounting systems specifically designed for theatre applications. The company is driven by market demand – examples of its products include the IP 57-rated waterproof models and headsets, which retain the position of the mic capsule regardless of a performer's movement or activity.
'Our goal is to continuously improve our customers' experience around the world in every aspect. Autograph's well qualified network of sales and support personnel gives us tremendous confidence towards achieving this goal,' says Point Source Audio President, James Lamb.
'We choose our distributed lines with great care, and Point Source Audio is a perfect complementary fit to our portfolio,' says Autograph Technical Sales Manager, Chris Austin. 'We're constantly looking for products that can contribute to the performance, quality, efficiency, workflow effectiveness and convenience of our clients and their projects – Point Source Audio's vision for product development fits this ambition perfectly.
'We also really like PSA's meticulous approach to our core theatre market – such as their dedication to how the microphones are calibrated to specifically ensure consistency throughout a show production's needs,' he adds. 'It's that attention to detail and understanding of our clients that adds real-world value to the brand.'