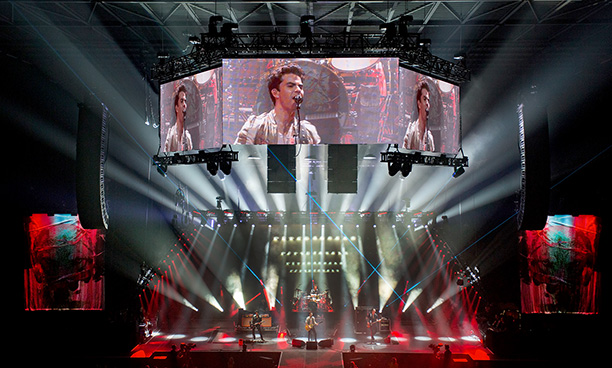 When the Stereophonics added a second acoustic stage to their latest tour performances – accessed via a long thrust from the main performance area – it presented a conundrum to the band's long-time technical crew: FOH engineer Dave Roden, and rental/production company, Capital Sound Hire.
With lead singer/guitarist Kelly Jones – exclusively on in-ears for the first time – preferring to be as far away from the sub energy as possible, Capital Project Manager Robin Conway set about reworking the traditional broadside cardioid array of Martin Audio MLX subwoofers into something that accommodated these new considerations. The solution was a central cardioid dual-loudspeaker cluster.
'Dave [Roden] is used to us producing even coverage with Martin Audio systems, but I knew that if we went for conventional left and right stacks we ran the risk of lobing. So with a combination of modelling and experimentation I came up with a solution that would avoid an
Conway's response was two hangs of six MLX in a cardioid pattern either side of the centre line, flown at a 30° angle pointing outwards; that ensured cancellation of the low frequencies from the centre of the stage and at the same time also ensured the loudest point for low end wasn't on the thrust (as would have been the case with a LR configuration). 'We tried this at production rehearsal and the coverage was even, with no hot-spotting down the middle. The two MLX hangs effectively functioned as a single source.'
According to Capital Account Manager Martin Connolly, this configuration was adopted universally: 'We just had three MLX on the ground, left and right, with no additional enclosures in the pit in view of the thrust. Had we done so it would have moved the band further back from the audience and impacted on the number of seats sold.'
The general touring rig comprised 13 MLA elements per side and an MLD Downfill, with hangs of 12 MLA Compact on each flank for side fills. At the largest venue – Manchester Arena – the main hangs were increased to 15 MLA per side and an MLD, and the side hangs to 16 MLA Compact. Lip fills comprised six W8LM Mini Line Array.
As with the previous tour, Roden was joined at FOH by experienced MLA system tech Toby Donovan for the UK dates, having swapped mixing consoles for a DiGiCo SD5. The DiGiCo platform was maintained down in Monitor World where Harm Schopman was operating an SD10.
The MLA solution met the approval of the band, production manager Dave Nelson and the FOH sound team: 'As always, it was a pleasure working with Toby for the UK Mainland shows and also with Finlay Watt who kindly stepped in as MLA tech for the Irish dates,' Roden says.
'Big thanks as well to Harm and Stereophonics' own audio wizard Sam Cunningham for their constant help, support and patience, to Dave Nelson for bringing it all together seamlessly every time and to Martin, Robin and especially Keith Davis at Capital Sound Hire, for whom I have an endless amount of respect.
'Finally, thanks to Martin Audio for the current speaker system. It's been an interesting journey over the past 20 years – from F2 through Wavefront to MLA – and things have improved in many areas, including low-end uniformity.'
More: https://martin-audio.com