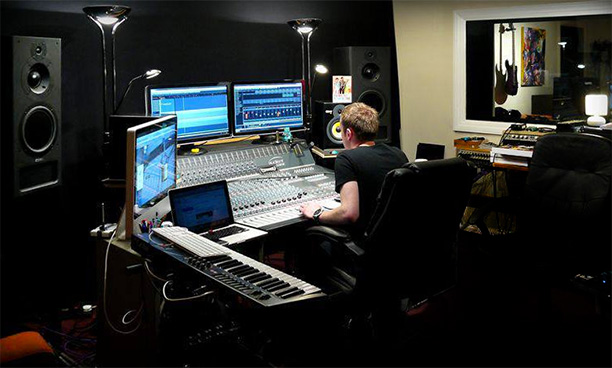 Electronic music producer, remixer, engineer and composer Chris Budd is the man behind BUDD, with an imminent EP on the mau5trap label and an album scheduled for the end of the year. In addition, he's remixed Dirty Vegas and a new single from The Wombats. Then there's his position as resident percussionist with the Ministry of Sound, including Hedkandi and Housexy, and work on music for FIA Formula E racing, which he calls 'a great challenge, which gets me out of my comfort zone'.
In his studio, he uses an Audient iD22 interface for most of his writing: 'It's the hub of my home studio,' he confirms. 'I also use it a lot for tracking – for little vocal samples and especially percussion or quirky one-hit sounds.
'The preamps in the iD22 are pretty transparent which is great for dance music, as I can record in drum or percussion samples then treat them pretty heavily knowing they won't be too coloured,' he continues. 'And the headphone out is also one of the best I've heard – I do a lot of reference work in various sets of headphones. It's always useful to know that what's coming out of the headphones is a true reflection of what's happening sonically.
'Even just simple features like being able to quickly toggle between stereo and mono are massive for me when I'm mixing, as that's one thing I tend to do constantly, as well as bouncing between monitors or headphones – it's super quick. The dim switch is also a nice little touch as my phone is always ringing.'
Budd works in-the-box, using Cubase, iD22 as the main sound card and monitor controller for Dynaudio BM5a and KRK vxt6s monitors. Essential to the process are two Roland SPD-S samplers, which are full of drum and percussion sounds that Ihave been collected from touring and studio sessions.
'I probably don't make full use of the expansion possibilities of the iD22, but it's cool knowing I can take that and a laptop out wherever I want to go and record a full drum kit or a multiple mic set-up.' He adds, 'The unit is also built like a tank so I know I can take it out on the road and it can take a good battering.'
No stranger to Audient, Budd uses the compact ASP4816 mixing console in a larger studio to track guitars and vocals, and re-amp sounds. 'The functionality of the smaller desk is super-quick and easy, and again sounds clean as a whistle. I like to treat my sounds quite heavily, or if re-amping guitars I want to build the tone off the amp/cab combo itself. I think more and more people are leaning towards smaller desks – especially for project studios – and the ASP4816 is up there with the best, in my opinion. It's versatile and sounds great, whether it's for a pop-tastic clean-as-a-whistle vocal record or for cranking up guitars and driving them pretty hard.'
As a result of his relatively recent signing to mau5trap, Budd already feels the benefit of the 'huge, loyal and very engaged fanbase from all over the world'.
'It's great to have a label who will let me make the records I want to make, have my input with things like press and artwork, as well as how to work the project as a whole,' he says. 'I'm also aware that the association brings a certain pressure to deliver, but that's all good…
'The challenge to strive to be that bit better with every record is a good motivator,' he closes. 'Especially when there is so much good music being made at the moment.'
More: www.audient.com