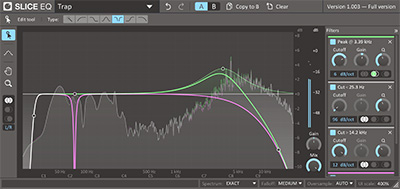 Kilohearts has released Slice EQ – the second two EQ plug-ins following the recently released Carve EQ.
A versatile parametric equaliser for surgical mixing, mastering and sound design, Slice EQ is flexible and transparent. As well as being a VST/AU/AAX plug-in, it's compatible with Kilohearts' Snap Heap and Multipass effects rack plug-ins, making it part of the broader modular Snapins system.
Up to 32 filters are clicked into the response curve in Slice EQ's main display, each automatically set to the appropriate filter type (high0cut, low0cut, peak, notch, high shelf or low shelf) for the point on the curve at which it's instantiated – low0cut below 30Hz, for example – or configured manually. Filter frequencies, resonances and roll-off slopes are edited by dragging their nodes or working the knobs in the pop-out Filters panel; roll-off slopes range from a gentle 6dB/octave to a sharp 96dB/octav.
Slice EQ features both regular stereo and mid-side modes, with linked or independent processing of left/right or mid/side channels. The graphical editor helpfully describes the mouse pointer position in musical note name as well as Hz and kHz, and the A/B buttons enable one-click comparison of two separate curves. The onboard referencing system lets you overlay the variable-resolution spectral analyser with a reference curve from a library of genre-based presets, live sidechain input or any imported audio file; and the resizable GUI adapts to suit any display.
See also: