Swedish music software developer Kilohearts has added to its extensive range of VST/AU/AAX effects plug-ins with the released of Carve EQ.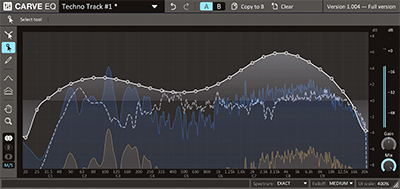 A versatile and sonically transparent equaliser plug-in aimed at mixing, mastering and sound design, Carve EQ provides powerful filtering and an efficient and intuitive set of tools.
Designing an equalisation curve in Carve EQ's graphical interface is achieved using the Sculpting tool to cut or boost width-adjustable peaking bands, the Pencil tool to draw freehand, and the Point Select tool to drag breakpoints around in the curve. Left and right or mid and side channels can be tweaked together in linked mode, or unlinked for editing as two independent curves. Alternatively, the Match tool captures the frequency profile of one track or sound and applies it to another.
Carve EQ also features a responsive spectral analyser, showing exactly what effect frequency adjustments are having on a signal, and enabling a range of onboard genre-based profiles, any imported Wav file or a live sidechain input to be used for monitoring reference. The resizable GUI is readily adaptable to any workspace, while the curve editor encourages musicality as well as precision by describing the current mouse pointer position in both pitch (Hz) and note name.
Carve EQ is compatible with Kilohearts' Snap Heap and Multipass effects rack plug-ins, making it part of the broader modular Snapins system as well as a self-contained processor.
More: https://kilohearts.com