Brainworx has announced bx_console G channel strip model of the renowned British G Series large-format mixing console, including both 'Pink' and 'Orange' EQ revisions, and featuring 72 distinct channels that use Brainworx's Tolerance Modelling Technology.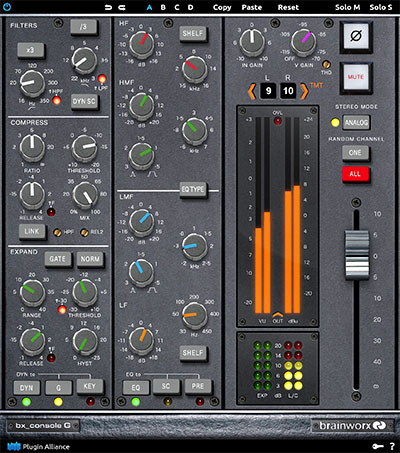 Following the bx_console E, the new plug-in claims 'true-to-life' E Series- and G Series-modelling distinguished by their respective filter sections – Pink and Orange revisions deliver contrasting characters when treating frequencies.
The G is largely known for its more mellow character while the E is more aggressive, but both G Series filters feature proportional-Q behaviour, allowing precise gain adjustments while leaving the surrounding frequencies intact.
The Pink revision also allows the HMF and LMF bands to be multiplied or divided by a factor of three to allow for an extra-wide range of tone-shaping capabilities. The G Series VCA also has a lower THD, making it a cleaner compressor option.
The plug-in also offers features not found on the original hardware, including continuously-variable THD control (adds saturation); secondary release time (Rel2) compressor control (prevents pumping); dry/wet compressor control; mid (Solo M) and side (Solo S) channel monitoring; and virtual noise floor (V Gain) control.
Where channel strip plug-ins typically only model one channel of a mixer, bx_console G uses Tolerance Modelling Technology. (TMT) to mimic the variation between channels of a hardware console. Meanwhile, bx_console G's GUI and acutely low CPU load allows recall of up to 72 slightly different-sounding channels across all plug-in instances on their tracks to create that 'mixed-on-a-large-format-analogue-console' sound. When working with bx_console G, DAW users can use its Random Channel buttons to invoke the random nature of this variation on a single instance of bx_console G, and also randomise the channels across every instance in a mix in one click.
See also:
More: www.plug-in-alliance.com/en/products/bx_console_g.html