The two 'boulder' structures that characterise Zaha Hadid's iconic Guangzhou Opera House design are each home to a theatre – and both have recently been with Midas digital systems and analogue consoles, and Klark Teknik signal processing.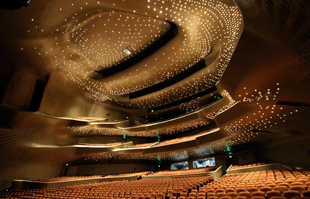 One of China's three biggest theatre facilities, the 1,800-seat Grand Theatre in the main structure now has a Midas XL8 live performance system in its control room, and a Heritage 2000. A second XL8 has been added to the networked system for stage monitoring, and can be sited depending on the requirements of a particular production.
A Pro6 live audio system and a Verona have also been installed into the control room of the 400-seat multipurpose theatre. In addition, there are two Midas Venice 160s in the rehearsal studio and one in the news room.
'Midas digital consoles have retained the legendary Midas audio quality, adding the power and convenience of onboard FX and dynamics processing while retaining their familiarly-laid out work surfaces,' says Zhou Xucun, the opera house's front-of-house engineer. 'This makes them extremely convenient to operate. The 96kHz, 24-bit sample rate is unrivalled by many other brands of digital mixing console. As for the powerful onboard FX, the EQ, preamps and general flexibility of the systems make even complicated productions a breeze.'
Since the Opera House opened, the Midas XL8 has been used for FOH on almost every live performance, including the opera Mulan, the opening ceremony of the 9th China Arts Festival, concerts by Chinese tenor Wang Hongwei, singer Zhu Zheqin and the 2010 Chinese Film Awards.
'I always recommend the XL8 to other sound engineers now,' says Zhou Xucun. 'After simple training, visiting engineers can operate the system with ease, and without having to change their way of thinking to feel comfortable. The stability, flexibility and reliability combined with ease and familiarity are just amazing.'
More: www.midasklarkteknik.com